Environment and Renewable Energy
Overview
Aiming for reducing carbon emission in society, the adoption of renewable energy will increase. In turn, this will increase both current and voltage sizes as well as the efficiency of inverters for solar and wind power generation.
Thanks to proprietary current sensors and power measurement technology, Hioki products can measure voltage, current, power, efficiency, and loss with a high degree of precision and stability, even at high voltages, high currents, and high frequencies.
Market Challenges 1: Efficiency Measurement of Solar/Wind Power Inverters
The smaller the loss in power conversion, the more the energy generated by solar and wind power generators can be effectively utilized. In recent years, power conversion efficiency of inverters have exceeded 98%. In order to improve the efficiency another 0.1% or less, evaluation must be far more accurate and reproducible than before.
Introduction of Solution Products
Best-in-class accuracy current sensors can be used in combination with the Hioki Power Analyzer in a wide range of current sizes (line-up range of 50 A to 2000 A).
6 channels simultaneously measure power (current and voltage)
DC to high frequency analysis with a single power analyzer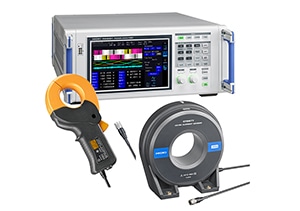 Market Challenges 2: Reactor Loss Measurement of the Booster Circuit
To output more power even when the amount of solar radiation is small, the solar inverter is equipped with a booster circuit. A reactor is used for the booster circuit. To further improve the efficiency of inverters, reducing the loss of high-frequency reactors is a challenge.
Introduction of Solution Products
Compensate for the phase error which occurs with high frequency power measurement resulting in highly accurate measurement. This is phase correction is made possible only by the Power Analyzer working in tandem with Hioki's own high accuracy current sensors designed with fine-tuned and controlled frequency characteristics.
Optimal for loss evaluation of high frequency and low power factor devices
Impedance of devices under test during actual operation can be analyzed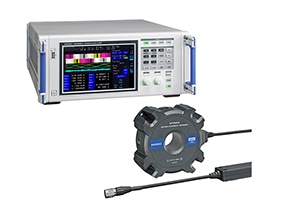 Noteworthy
Business Strategy
Learn More