Environmental Initiatives
Overview of Hioki's environmental activities
Working on a companywide basis to reduce the impact of our operations on the regional and global environment while pursuing harmony with nature
In conducting our business of developing, manufacturing, selling, and servicing electrical measuring instruments, we strive to supply environmentally responsible products and to reduce emissions of environmentally harmful substances. Reflecting our belief that pursuing an active program of environmental protection activities as a member of the local community is part of our corporate mission, we work with the Hioki Scholarship and Greening Foundation to plant trees.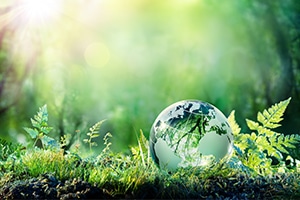 Environmental structures in our integrated management system
To better integrate our environmental initiatives with our business activities, we moved ISO 9001 and ISO 14001 certification to our integrated management system in 2016. We've created committees to address energy, waste, and chemical substances, all of which demand specialized knowledge, and we carry out related activities on a companywide basis.
Environmentally responsible product design
We take the environmental impacts of our products on customers into account during the product design process. If a product fails a comprehensive evaluation of environmental friendliness, we improve it through additional study.
Example of how we design environmentally friendly products
Product name and model
Memory HiCorder 8861-50
(previous model)
Memory HiCorder MR6000
(new model)
Product image
Resource savings
Volume
23,471 cm³
12,841 cm³: 45.3% smaller
Weight
10.5 kg
6.5 kg: 38.1% lighter
Energy efficiency improvements
Power consumption
280 W
300 W: 10 times the processing speed of the previous model at the same level of power consumption
Assembly and disassembly improvements
Fewer screws
285
228: 20% fewer parts
Recyclability improvements
Recycling rate
30.2%
37.8%: 7.6% more recyclable
Part selection
RoHS
RoHS compliant
RoHS compliant
Greenification activities
Local Forest Creation program
In 1988, employees began planting trees at Hioki Forest Hills. Starting the following year, new employees planted commemorative trees each year.
On the 60th anniversary of our founding in 1995, we donated seedlings to local schools and public facilities and launched the Local Forest Creation program, which is dedicated to greenifying the community in conjunction with local residents.
In 2005, we established the Hioki Scholarship and Greening Foundation to expand the scope of our tree-planting program. (In 2010, the foundation became the first public-interest corporation to be approved in Nagano Prefecture.) The program has now expanded to encompass the entire prefecture. To date, we've planted 74,700 seedlings at 38 locations. These tree-planting activities have involved a total of about 9,760 people.
In the Local Forest Creation program, our goal is to plant a dense mix of species that have long grown in each target location. The small seedlings grow together, sometimes contributing to each other's health, sometimes competing. They grow into a forest through their own power, without any need for humans to intervene. The Local Forest Creation program reproduces forests that closely resemble their natural counterparts.
Global tree-planting activities
The Hioki Group has been involved in planting trees since 2014. To date, we've done so in China, the U.S.A., Indonesia, and South Korea, where group employees join local residents and student volunteers in raising awareness of the need to protect the environment through tree-planting. Tree-planting activities that began with the Local Forest Creation program have spread throughout the world.
In 2007, we began supporting the Kenya Vegetation Restoration Project, an effort led by Yokohama City University to reproduce forests with water-cleaning and moisture-retention functions in Kenya, where arid regions are expanding.
Recognition of our greenification activities
Our tree-planting activities, including the Local Forest Creation program, have earned the following awards.
These greenification programs are carried out by the Hioki Scholarship and Greening Foundation.