Initiatives to satisfy customers and earn their trust
Our sales, production, and development teams form a strategic trinity by working closely to provide high-quality products and services so that Hioki can satisfy customers and earn their trust.
Sales and support
Customer support (phone and email)
We're working to build a sales network to support markets worldwide, and we offer polite, timely support in response to inquiries and requests. Valuable customer feedback is provided to involved departments, which put it to use to improve Hioki products, instruction manuals, and service.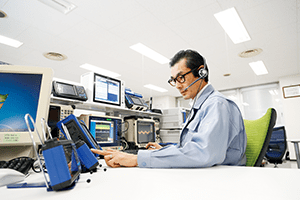 Tradeshows and seminars
We participate in numerous domestic and international tradeshows. In addition to serving as a venue for introducing the latest measurement technologies, we believe tradeshows provide important opportunities to communicate directly with customers.
We also offer online seminars about Hioki technologies and products in various sales regions so that customers can effectively utilize our instruments. These popular events address a variety of topics, including by explaining how to use electrical measuring instruments, proposing new solutions, and offering explanations about calibration and repair service.
Free member services
The membership-based "my HIOKI" account provides useful information and services to customers. Benefits provided by the service, which has no annual fee, include free instruction manual downloads and notices of product firmware upgrades.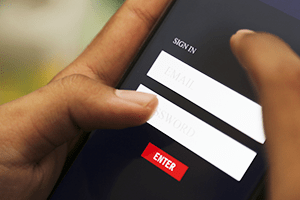 On-time delivery and consistent quality
Production innovations geared to ensure on-time delivery to customers
We sell about 1,800 products and about 23,500 parts. We're building an efficient small-lot, multi-model, variable-volume production system with the flexibility to accommodate fluctuations in demand so that we can deliver high-quality products to customers in a timely manner.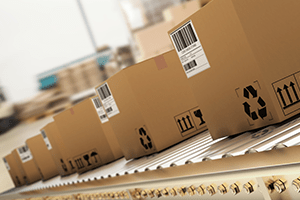 Realizing consistent quality and efficiency through automation
We're working to automate production processes so that we can ensure a stable supply of high-quality products. We've automated testing of measurement precision, a key metric for measuring instruments, for most products, and we're in the process of switching to image processing for label and appearance inspections that have been performed visually to date. We're also working to use robots to automate assembly, adjustment, and testing processes for high-volume products, and those efforts are yielding consistent quality and enhanced productivity.
Three-year product warranty
We offer a three-year product warranty (certain exceptions apply) so customers can use Hioki products with peace of mind.
Design focused on ease of use
Proposing human-based designs
Our approach to design focuses on people, and we strive to understand how customers feel when they hold and use our products so that we can create products that will grow on customers over time. Thanks in part to our longstanding philosophy of "providing appealing products that give customers joy," Hioki products have received a wide range of awards.
Hioki hosts an IEC/TC66 international conference in a first for a Japanese company
From October 16, to October 20, 2017, about 50 committee members from 10 countries including the U.S., Germany, England, China, Finland, and Japan participated in an IEC/TC66 international conference hosted by Hioki.
IEC/TC66 develops the IEC 61010 series of international standards governing the safety of measuring instruments and research equipment. The conference included discussions of views submitted by various countries in response to draft standards that are being considered. It was the second time for the conference to be held in Japan since the session that coincided with the 2014 IEC General Meeting in Tokyo, and the first time for a Japanese company to act as host. Hioki is working especially hard in the area of product safety, and we will continue to develop and sell safe products.