Creating Innovative Technologies
Research and Development Structures
Hioki's R&D departments create new products by balancing development of basic technologies needed for future products with design and development of the products demanded by the market today. We have a history of developing proprietary technologies and supplying revolutionary products that address customers' challenges based on them, including the world's first technology for no-metal-contact voltage measurement, high-precision current sensing technology, high-frequency measurement technology and laser measurement technology, and micron-level probing technology.
To ensure our ability to appropriately forecast future market trends and plan the necessary technologies and products in response, all engineers emphasize communication with customers and work to create products from customers' perspective, not only for measurement functionality, but also for safety and overall design.
Our research facility, the Hioki Innovation Center, which was completed in 2015, provides the state-of-the-art experimental research equipment needed for research and development.
Design policy: "COGNITIVE"
Developing closer relationships with customers, prioritizing richness in terms of sensibility and time in design, and increasing product value: That's our "COGNITIVE" approach. Hioki takes the sense of excitement that customers feel when they interact with its products into consideration during the design process. Our goal is to create value for customers (by resolving customers' issues) through product design.
Intellectual Property (IP) Strategy
From a strategic trinity to a patent landscape
Hioki's intellectual property (IP) strategy is closed linked to its business and development strategies, with which it comprises a strategic trinity. We are also working to establish a patent landscape in an effort to advance associated initiatives and more closely integrate IP into our business and development strategies.
Strategic trinity
Since product features vary by category, we create patent portfolios* to suite each segment and review them in a timely manner through linkages with our business and development strategies. Through continuing initiatives to solve problems together with customers, we use defensive patents for measurement solutions based on core technologies to strengthen competitiveness and offensive patents to embrace challenges in new fields.
*

This portfolio encompasses patent maps for Hioki and its markets along with other information such as research into other companies' patents and analytical results in line with various objectives.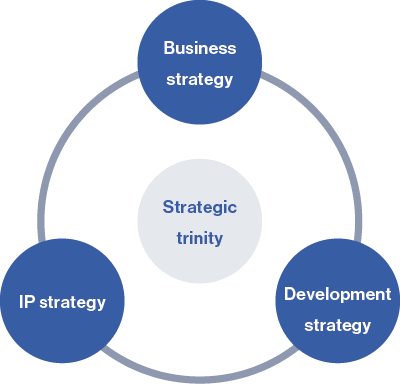 Patent landscape
The concept of the patent landscape embodies a new vision for our intellectual property strategy characterized by robust linkages to business and development strategy as part of a strategic trinity. It includes developing rights in principal markets worldwide as well as the strategic abandonment of rights based on careful analysis of their contribution to business and development. This process extends to patents we currently hold. The approach allows us to strengthen our planning and proposal capabilities from an intellectual property perspective that contributes to management by enhancing our patent portfolio and adding related information about markets and advanced technologies.
Patents, designs, and trademarks
Intellectual property applications
We offer invention bonuses an incentive to foster engineers' drive to invent new technologies, and we provide support for patent applications over the long term. In addition to technology-centric defensive and offensive patents, we actively apply for "anticipatory patents" based on R&D and market analysis.
Products that have been painstakingly engineered so that they embody exceptional industrial designs have received numerous Good Design Awards in Japan as well as international accolades such as iF Design Awards. Similarly, we hold many design rights.
Patent ownership
We currently hold some 1000 patents, including defensive patents through which we ensure market competitiveness in various fields and offensive parents through which we develop new markets. As the global market has grown in recent years, the number of patents we hold outside Japan has increased.
Penetration of Hioki's corporate brand
"Hioki", our corporate brand, is a registered trademark in 107 countries and regions worldwide, demonstrating how our measuring instruments business has grown to encompass a variety of countries and markets. We work to manage the Hioki brand and to help it penetrate various countries worldwide so that we can provide high-quality products and unparalleled service.