Research building to provide a state-of-the-art R&D environment
"PLATFORM TO THE FUTURE"
The Hioki Innovation Center was created to serve as a platform to a future where people and information gather so that innovation can arise from natural interactions, giving rise to new value for customers. Here, we will promote innovation and improve the efficiency of R&D.
Single-floor workspace
The Hioki Innovation Center will bring together all engineers on a single 108-meter by 35-meter floor capable of accommodating up to 400 workers. By increasing the number of natural interactions among engineers and promoting rich exchanges of creative ideas, this approach will provide a research and development environment that is conducive to the development of new products that are as unique as they are advanced.
Extensive experimental and research equipment
Hioki has equipped the Innovation Center with some of the world's most advanced experimental equipment in order to enable its engineers to deliver measuring instruments that satisfy customers' needs to markets worldwide. In addition to an anechoic chamber, the facility provides a clean room, performance testing center, drop testing equipment, vibration testing equipment, etc.
Environmentally friendly design
In addition to rooftop solar panels, the Hioki Innovation Center features a structure designed to make effective use of natural light. It also incorporates various design features that lessen reliance on mechanical climate control, including wind-powered natural ventilation windows and a cooling and heating trench*.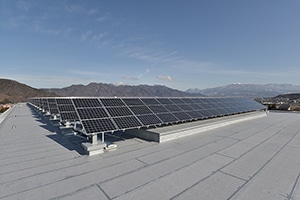 *

Cooling and heating trench: Since the temperature underground remains constant year-round, it is cooler than outside air in the summer and warmer than outside air in the winter. By passing outside air through a large, underground channel known as a cooling and heating trench before pumping it into the building, it is possible to cool the air during the summer and to warm it during the winter. This system helps lower energy use by heating and cooling systems.