Growing and developing with our partners while strengthening win-win relationships
Basic Purchasing Policies
Hioki strives to supply high-quality products and unparalleled service in line with customers' desired lead times. To that end, we value relationships of cooperation and trust with partners that are founded on consideration of the global environment and local community and a commitment to fair transactions. To strengthen relationships with partners in Japan and around the world, we actively practice supply chain management and work to grow together while communicating frequently.
Basic Purchasing Policies
1.Fairness and impartiality

We work to ensure all purchasing transactions are open, fair, and impartial, whether the partner in question is located in Japan or overseas.

2.Mutual development

We cultivate relationships with partners that allow mutual development through transactions and use communication to maintain trust-based relationships.

3.Social contribution

In keeping with our philosophy of "Contribution to Society," we comply with all applicable laws and strive to contribute to the local community through our purchasing activities.

4.Environmental responsibility

We've established a series of Green Procurement Guidelines, and we work to carry out purchasing activities in a way that protects the Earth's irreplaceable environment.
Enacted in November 2005
Revised in January 2019
Purchasing policy briefings
We've held an annual purchasing policy briefing for partners since 2009. At these sessions, we explain our purchasing policies and report on recent conditions at Hioki, priority measures, and the state of part quality. We also administer a satisfaction survey so that partners can evaluate our conduct, and we use what we learn to build trust-based relationships with partners.
Recently, more issues than ever demand rapid consideration and action as companies work to lower procurement costs, improve inventory turnover, reduce losses from disposal, and use limited resources effectively. Hioki listens to partners about material procurement management and distribution, and we're committed to boosting productivity for all parties by sharing information. We're also committed to building and reforming manufacturing structures so that we can continue to create unlimited value for customers.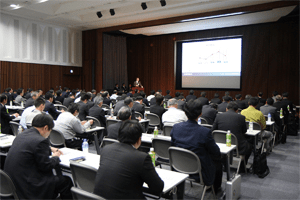 Distributor structures
Hioki products are sold through distributors. We currently deal with about 400 partners through domestic facilities and overseas sales companies, and we're building a worldwide sales network. We work actively to deepen mutual understanding by closely sharing information and to improve one another's sales capabilities by creating a variety of opportunities with distributors.