Overview
Aiming for reducing carbon emissions in society, the measurement of fuel consumption on actual roads and indoor tests under various environmental conditions are becoming even more important. In addition, the development of autonomous driving is going into full swing. This is requiring the collection of control data inside automobiles (on-board networks) under various road conditions and verification through experiments on public roads.
Hioki's proprietary wireless measurement and wireless sensing of vehicles' on-board networks enables driving tests on real roads, which will play an increasingly important role in the future, while streamlining simulations and making possible highly reliable measurement.
Market Challenges 1: Running Tests in Environmental Testing Rooms and on Public Roads
Since environmental testing rooms must be sealed off, it is difficult for measurements to be observed from a different room. In the actual road running test, it is difficult to wire from the measuring instrument in the car to inside the hood/bonnet or the bottom of the vehicle.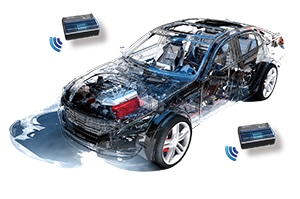 Introduction of Solution Products
Hioki provides a wireless data logger that can wirelessly connect to the measuring units (modules) so that you can check readings even in sealed rooms or other places where wiring is difficult.
Sampling every 1 ms even with wireless connection, allowing for measurement of strain, pressure, and vibration.
330 channels, revolutionary for a portable logger, can be supplied with a combination of plug-in units and wireless units.
A versatile set of measurement parameters can be measured: voltage, strain, temperature, humidity, and resistance.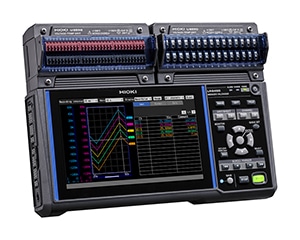 Market Challenges 2: Non-contact Measurement of CAN and CAN FD Signals
CAN is the most common in-vehicle communication network for automobiles. However, traditional acquisition of CAN data has the following issues.
The vehicle must be tested under the same state as mass-produced vehicles. However, modifications of wires which is necessary for detecting CAN signals affect the vehicle's operation. This makes same-state testing impossible.
Stable data acquisition is difficult due to vibration during driving.
Only a fraction of all CAN data can be acquired from the OBD-II terminal used for fault diagnosis.
Introduction of Solution Products
Non-contact sensing allows data acquisition without modifying the vehicle's CAN bus and does not damage the CAN wire coating.
No sub-harness is needed to monitor the CAN and CAN FD bus.
Reduces the man-hours required to acquire CAN and CAN FD data.
No effect to the CAN bus or ECU.
Accurate and reliable signal acquisition.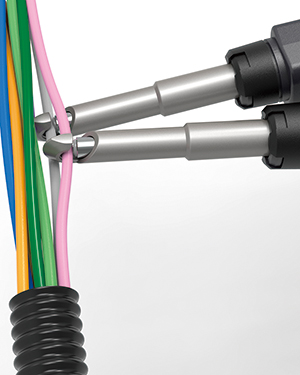 Noteworthy
Business Strategy
Learn More