Product Oct. 16, 2016
Hioki Launches Power Quality Analyzer PQ3100
Instrument Gains Ability to Monitor DC Power Quality in Response to Increasingly Widespread Use of Renewable Energy
October 16, 2016 - Nagano, Japan
Hioki is pleased to announce the launch of the Power Quality Analyzer PQ3100.
Currently, engineers use power quality analyzers to monitor and analyze power quality as they investigate the causes of electronic device malfunctions and failures triggered by power quality issues. Hioki's newly launched PQ3100 introduces DC measurement support in response to increasingly widespread use of renewable energy. In addition, the new instrument meets customers' measurement needs with features such as its Quick Set function, which guides users through the process of connecting and configuring the instrument easily and reliably.
Why Power Quality Measurement?
As power electronics devices become more common and varied, the number of electronic device malfunctions and failures that can be traced back to power supply issues is rising. Detailed knowledge of the factors that cause such issues is necessary in order to combat them effectively, but such assessment is an extremely time-consuming task due to the large number of parameters that must be investigated and the advanced level of expertise required in order to do so. By using a power quality analyzer, technicians can accurately and efficiently identify the causes of these issues.
Against this backdrop, renewable energy sources such as solar power and wind power have been entering into increasingly widespread use. Efforts are also underway to put build what is known as the "smart grid," and the need to more stringently monitor increasingly complex power transmission systems is rising. Furthermore, improvements in the power environment in developing nations such as China, India, and the countries of Southeast Asia remain inadequate due to the inability of infrastructure development to keep pace with economic growth. Consequently, power issues are an everyday occurrence.
As a result of these and related factors, the need to monitor power quality is growing.
FEATURES OF THE PQ31001. AC/DC power measurement and power quality monitoring

DC measurement is required when dealing with renewable energy sources such as solar power, which are entering into increasingly widespread use. When used with AC/DC auto-zero current sensors, the PQ3100 can measure AC and DC currents while maintaining accuracy over extended periods of time.

2. Easy, accurate connection and configuration with the Quick Set function, which guides the user through measurement procedures
The PQ3100's Quick Set function provides easy-to-understand guidance for measurement procedures. By using this function, customers can reliably connect and configure the instrument, a process which if not completed properly can lead to measurement errors.
3. More accurate analysis of issue causes thanks to the ability to record 11 seconds surrounding anomalous events
In the event of an instantaneous power outage or a swell, in which the voltage rises abnormally, the PQ3100 can record waveforms for 1 second before and 10 seconds after the anomaly. Whereas the legacy Hioki PQA PW3198 only records these pre- and post-event waveforms for 1 second, the new PQA lets engineers analyze the causes of anomalies using waveforms captured over a longer period of time.
4. Robust support for customers' analytical work thanks to a full-featured PC application
Reflecting the fact that customers often use computers to analyze measurement data and create reports, the PQ3100 ships standard with PQ ONE, a new, dedicated application. PQ ONE augments the functionality provided by Hioki's legacy PC application with new statistical functions that display the number of events detected by date and time. In this way, the application makes it easier to discover anomalies that occur during specific times of day or on specific days of the week.
5. Extensive line of current sensors to accommodate a diverse range of customer needs
Hioki offers 10 types of current sensors for use with the PQ3100 in different applications, including AC current sensors, AC flexible current sensors, AC/DC auto-zero current sensors, and AC leak current sensors. In this way, the instrument can accommodate a diverse range of customer measurement needs.
In addition, the PQ3100 can supply power to AC flexible current sensors (CT7044, CT7045, and CT7046) as well as AC/DC auto-zero current sensors (CT7731, CT7736, and CT7742). This capability eliminates the need to provide a separate AC adapter or battery for each sensor, simplifying wiring in the vicinity of the instrument and enabling long-term measurement.
6. CAT III (1000 V) safety and an operating temperature range of -20°C to 50°C
The PQ3100 is designed to support CAT III (1000 V) and CAT IV (600 V) environments.  (The legacy PW3198 supports only CAT IV  600 V environments.)
In addition, the PQ3100 improves the PW3198's operating temperature range of 0°C to 50°C, extending it to -20°C to 50°C to enable measurement in even low-temperature environments.
Learn more about the
PQ3100 Power Quality Analyzer here
.
---
About HIOKI
Established in 1935, HIOKI E.E. CORPORATION (TSE: 6866) has grown to become a world leader in providing consistent delivery of test and measuring  instruments through advanced design, manufacturing, and sales and services. By offering over 200 main products characterized by safety and quality while meeting an expansive range of applications, we aim to contribute to the efficiency and value of our customers' work in research and development, production and electrical maintenance. HIOKI products and services are available around the world through our extensive network of subsidiaries and distributors. Information about HIOKI is available at www.hioki.com.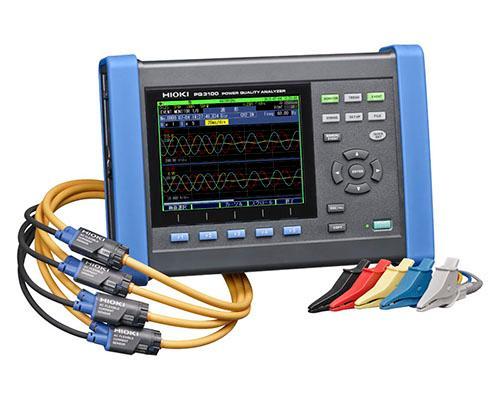 Hioki PQ3100 Power Quality Analyzer