Product Nov. 19, 2019
PQ ONE Power Quality Analysis Software Updated to Version 6.10
November 19, 2019 - Nagano, Japan
Hioki is pleased to announce that PQ ONE, the free Windows application for Hioki Power Quality Analyzer PQ3100 and PQ3198, has been updated to version 6.10 to deliver enhanced functionality and fix minor bugs.
The software will now offer the following new functions:
1.
Ability to display the calculated value of TDD
(Total Demand Distortion) which complies with IEEE519 standards in the trend graph.
TDDI=√(I22+I32+…+I492+I502)/IL
IL:Maximum demand current(configurable in settings)
2.
The % value in the statistics display can now be changed to any value.
In the previous version, the available percentages are 5, 50 and 95%. Now users can change the percentage according to the standards they follow; required percentage settings have been seen as high as 98%.
** Learn more about PQ ONE via the
Full Product Catalog for the PQ3198 and PQ3100 Power Quality Analyzers
** Watch
Video
to see the basic functionality of PQ ONE with the PQ3100 Power Quality Analyzer
---
About HIOKI
Established in 1935, HIOKI E.E. CORPORATION (TSE: 6866) has grown to become a world leader in providing consistent delivery of test and measuring instruments through advanced design, manufacturing, and sales and services. By offering over 200 main products characterized by safety and quality while meeting an expansive range of applications, we aim to contribute to the efficiency and value of our customers' work in research and development, production and electrical maintenance. HIOKI products and services are available around the world through our extensive network of subsidiaries and distributors. Information about HIOKI is available at www.hioki.com.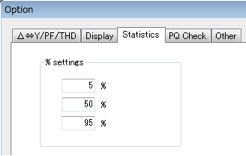 Set user-specified statistics percentages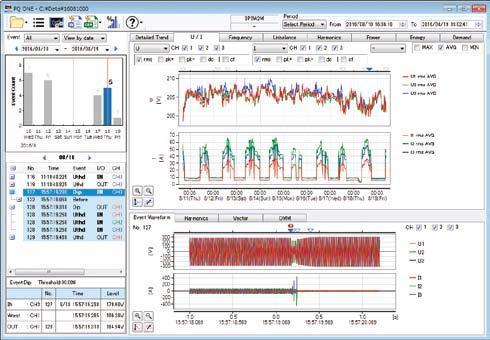 PQ ONE Application