Product Mar. 22, 2018
Hioki Launches AC Clamp Meter CM3289
Lower-Profile Sensor Provides Improved Ease Of Use In Confined Spaces
Nagano, Japan - March 22, 2018
Hioki is pleased to announce the launch of the AC Clamp Meter CM3289 with true RMS measurement.
The CM3289 is an improved version of the AC Clamp Meter 3280-20F that incorporates a lower-profile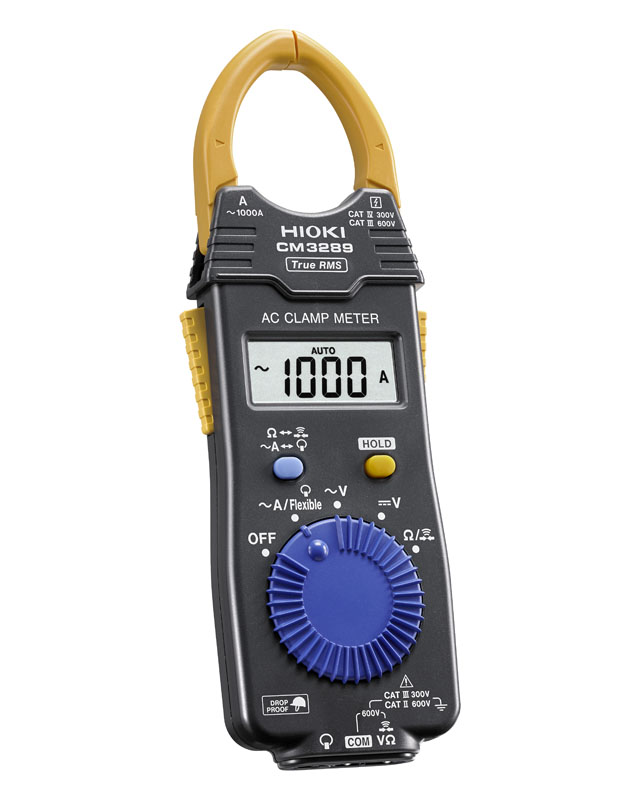 sensor for improved ease of use in confined spaces.
CM3289 Features
1. Lower-profile sensor for improved ease of use in confined spaces
Regular maintenance and management are essential in order to keep electrical equipment in buildings and manufacturing plants working properly, and current and voltage measurement comprises an important part of that process. Hioki has long supplied customers with measuring instruments and clamp meters that are used in the field to perform such maintenance and management.
In recent years, the decreasing size of distribution panels and other changes have led to increased wire density, placing in cables in such close proximity that older sensor designs are too large to fit between cables so that they can be applied to the cable being measured. The newly launched CM3289 features a lower-profile sensor with pointed jaws so that it can be more easily inserted between wires in confined spaces. Whereas the 3280-20F's sensor measured 82 mm across in the open position, the CM3289's sensor measures just 71 mm, a reduction of 11 mm.
Comparison of the New and Legacy Model
| | | | |
| --- | --- | --- | --- |
| | Sensor width | Thickness at tip of sensor jaws | Width with sensor open |
| Legacy 3280-20F | 58 mm | 9.3 mm | 82 mm |
| New CM3289 | 50.4 mm | 8.3 mm | 71 mm |
Features Inherited From The Legacy Product (3280-20F)
1. Broad operating temperature range to allow use in a variety of temperature environments
The CM3289 has an operating temperature range of -25°C to 65°C. Thanks to the breadth of this range, it can be used in a variety of climates worldwide, from cold-weather areas characterized by subzero temperatures to hot regions where air temperatures exceed 40°C.
2. Flexible current sensor support to facilitate measurement of tangled wires
The AC Flexible Current Sensor CT6280 is available as an option for the CM3289. The CT6280's flexible sensor can be applied in locations where the CM3289's rigid resin sensor (jaws) cannot. In addition, the CT6280's cable has a cross-sectional diameter of 5 mm, making it thinner than competitors' products and allowing easier application in locations where wires are tangled together.
Furthermore, the CT6280 supports large currents and can measure currents of up to 4199 A when used with the CM3289. (By itself, the CM3289 can measure currents of up to 1000 A.)
3. True RMS measurement to allow accurate measurement of currents with distorted waveforms
There are two methods for measuring AC currents: the mean method and the true RMS method. Either method can accurately measure current with a distortion-free sine wave, but only the true RMS method can accurately measure waveforms that have been distorted by equipment such as an inverter or switching power supply. To accurately measure such currents, it is necessary to use a clamp meter that supports true RMS measurement. Since the CM3289 supports such measurement, it can accurately measure even currents with distorted waveforms.
---
About HIOKI
Established in 1935, HIOKI E.E. CORPORATION (TSE: 6866) has grown to become a world leader in providing consistent delivery of test and measuring instruments through advanced design, manufacturing, and sales and services. By offering over 200 main products characterized by safety and quality while meeting an expansive range of applications, we aim to contribute to the efficiency and value of our customers' work in research and development, production and electrical maintenance. HIOKI products and services are available around the world through our extensive network of subsidiaries and distributors. Information about HIOKI is available at www.hioki.com.