Business and Applications
A Manufacturer of Electrical Measuring
Instruments Supporting Technological Advancement
Electrical measuring instruments, known as the "mother tools" of industry, play an essential role in research and development, manufacturing, maintenance, and service. They also continue to contribute to social progress, mirroring developments in technology as their designers anticipate the changing needs of the times.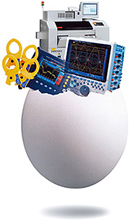 Supporting applications ranging from R&D to maintenance and service with four product groups
HIOKI electrical measuring instruments comprise four product groups: automatic test equipment, data recording equipment, electronic measuring instruments, and field measuring instruments. Collectively, these products are used in an extensive range of industries and fields, from research and development to facility and equipment maintenance and service.
Testing of electronic circuit boards and boards with embedded active and passive devices

Quality control testing of electronic circuit boards used in smartphones, computers, and other high-tech products

Development of transport-related equipment and monitoring to detect equipment malfunctions

For example, using electrical signal waveforms to analyze ride comfort in automobiles or elevators

Testing of electronic components and evaluation of the quality of energy-saving equipment and power supplies

For example, checking the quality of electricity generated from alternative energy sources to ensure that it can be used safely by people in their daily lives

Maintenance and inspection of electrical work and equipment

Verifying equipment operating status and checking for malfunctions by measuring current levels safely and easily at sites such as power receiving and distribution facilities
Applications
HIOKI is present in all industries and segments to provide people worldwide safe and comfortable lifestyles.
HIOKI electrical measuring instruments are used in a broad range of industries and fields, from maintenance and inspection of electrical work and equipment to testing of electronic components used in smartphones and computers and development of electric vehicles and solar power generation technologies.
Development of hybrid and electric vehicle motors, batteries, and other components, and evaluation of their performance
Evaluation of electronic circuits and communications functionality in automobiles, which are being transformed into "drivable computers" as a result of the accelerating use of electronic control technologies

Assessment of power utilization by electrical equipment and facilities and promotion of energy conservation
Evaluation of the quality and efficiency of alternative energy sources such as solar and wind
Central management of power utilization at dispersed sites such as manufacturing plants and stores by means of wireless technologies and other communications infrastructure

Quality control testing of electronic circuit boards and touch panels used in smartphones and other products
Evaluation of the performance of electronic components such as resistors, capacitors, and inductors

Construction and facilities
Household appliances, office, and communications
Chemical, food product, and pharmaceutical research
Medical research