CLAMP ON POWER LOGGER PW3365
Eliminate the Risk of Short-Circuits and Electrical Accidents
PW3365 Product Video
Hioki Clamp On Power Meters are multi-channel power measuring devices utilizing clamp sensor input to accurately and safely measure power on single-phase to three-phase lines. The PW3365 power logger takes safety and convenience one step further by being the world's first non-metallic contact power meter that utilizes completely covered voltage clips that can be attached to any part of a cable or busbar. Customers can now monitor power demand and other power parameters to aid in energy audits and validate energy saving measures without risk of short-circuit accidents, power interruptions, or bodily injury due to electrocutions.
Key Features
Measure voltage from the top of the cable with zero risk of short circuit

Supports single to three-phase, 4-wire circuits

Measure between 90 V to 520 V

Display harmonics up to the 13th order

Slim, compact design that can be placed anywhere

Store months of data on SD cards

QUICK SET function guides you in making the right connections
Model No. (Order Code)
| | |
| --- | --- |
| PW3365-20 | English model, main unit only |
Note: Clamp On Power Logger PW3365 by itself does not support current and power measurements. Current and power measurements require clamp on sensors, sold separately. Use only Hioki SD cards guaranteed to work for saving measurement data (options, sold separately).
Award
- German Design Award Special 2016 (For Voltage Sensor PW9020)
- 2015 The Nikkan Kogyo Shimbun MACHINE DESIGN AWARD Distinctive Merit Award (For PW3365)
Safely and easily measure power without the need to shut off the circuit breaker first with a clamp-on power logger
Although technicians had to connect instruments to metal terminals in order to measure voltage when measuring power in the past, Hioki's newly developed no-metal-contact voltage sensor makes it possible to measure voltage simply by clamping the sensor around an insulated wire. This approach completely eliminates the risk of short-circuits since metal never comes into contact with live components, and it simplifies the sensor attachment process even when terminals are covered since the sensor can be simply clipped around the cable without removing the cover.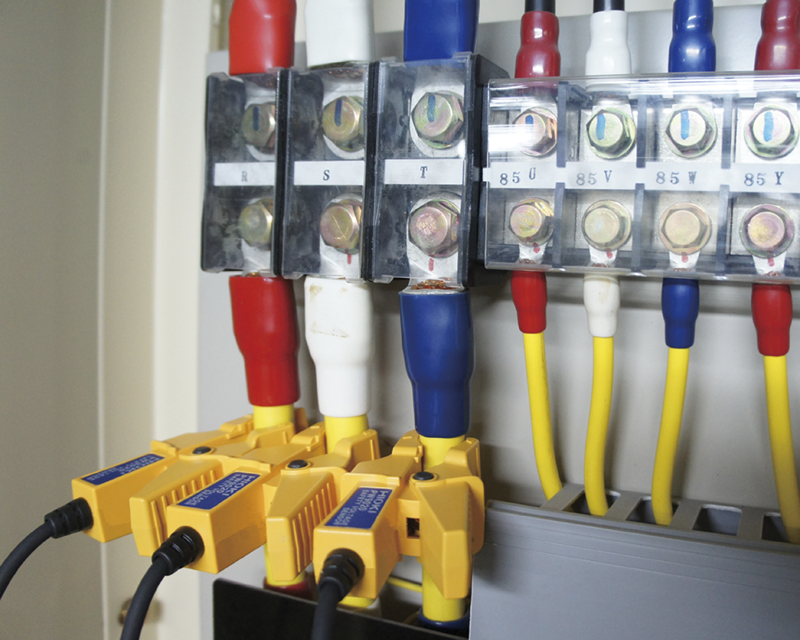 Harmonic Testing | Analyze from the fundamental wave up to the 13th order with the PW3365 Clamp On Power Logger (from version 2.00)
Use the Hioki PW3365 Clamp On Power Logger to analyze the fundamental waveform up to the 13th order of harmonic components that are included in the voltage and current signals of 50/60Hz power lines. Display the total harmonic distortion (THD) and RMS and harmonic content of each harmonic order as a numerical list or graph. In particular, you can now safely and easily measure the 5th and 7th harmonic within the harmonic component which tend to have the greatest impact on power quality.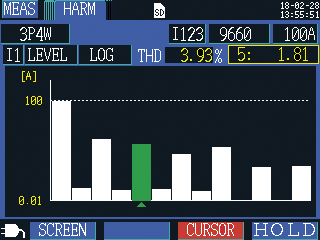 Graphical, easy-to-understand guidance on how to connect the clamp-on power logger
The PW3365's Quick Setup feature guides you through the process of setting up the instrument for measurement, right up to starting measurement, to make even 3-phase power measurement a breeze. Since any mistaken connections will trigger a FAIL message, the feature also helps prevent measurement mistakes.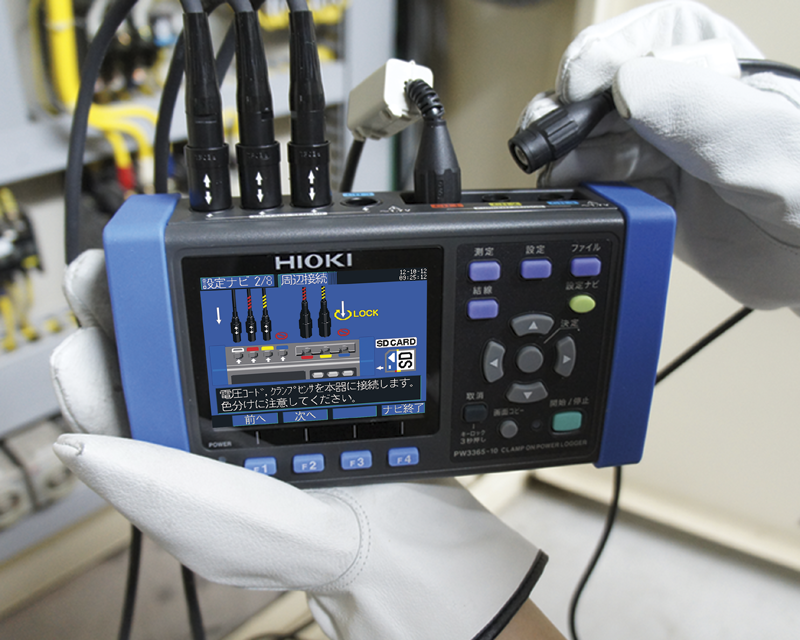 Display clamp-on power logger measurement results as a graph so you can review them at a glance
The PW3365 displays recorded measured values as a graph for convenient use in power management. In addition to instantaneous measured values, you can review maximum, minimum, and average values by moving the cursor on the demand and trend graph displays.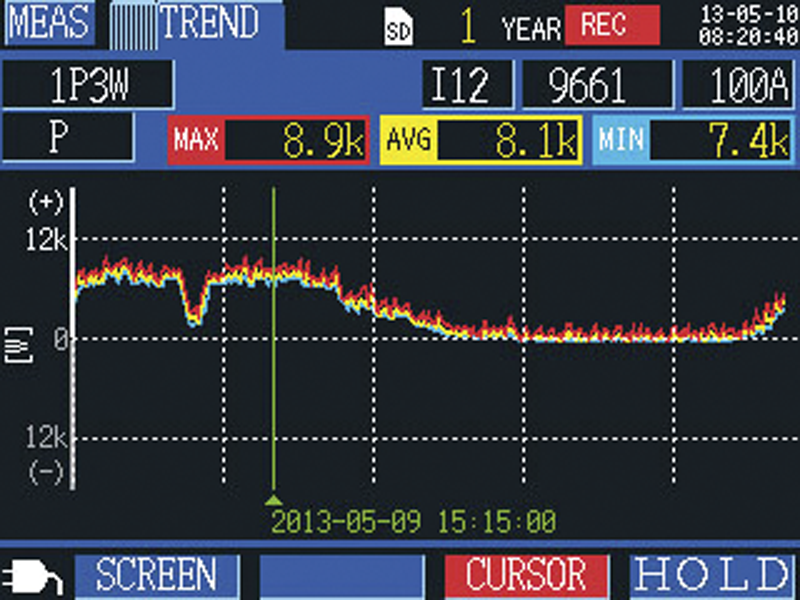 Get results from the job site in real-time, GENNECT CROSS SF4000
Capture data on the PC while testing remotely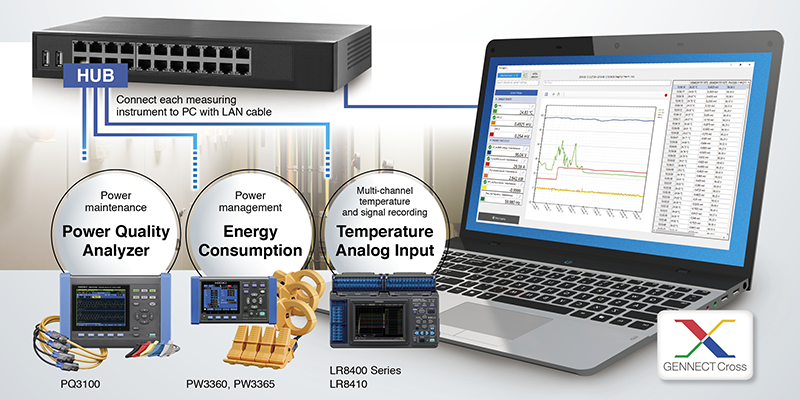 Basic specifications
Accuracy guaranteed: 1 year
Measurement line & number of circuits
50/60 Hz, Single phase 2 wires (1/2/3 circuits), Single phase 3 wires (1 circuit), Three phases 3 wires (1 circuit), Three phases 4 wires (1 circuit), Current only: 1 to 3 channels
Measurement items
Voltage RMS, current RMS, voltage fundamental wave value, current fundamental wave value, voltage fundamental wave phase angle, current fundamental wave phase angle, frequency (U1), voltage waveform peak (absolute value), current waveform peak (absolute value), active power, reactive power, apparent power, power factor (with lag/lead display) or displacement power factor (with lag/lead display), active energy (consumption, regeneration), reactive energy (lag, lead), energy cost display, active power demand quantity (consumption, regeneration), reactive power demand quantity (lag, lead), active power demand value (consumption, regeneration), reactive power demand value (lag, lead), power factor demand
Voltage ranges
400 V AC (Effective measurement range: 90.0 V to 520.0 V)
Harmonic
Harmonic voltage, harmonic current, voltage total harmonic distortion (THD-F or THD-R), current total harmonic distortion (THD-F or TDH-R), up to 13th order
Current ranges
500.00 mA to 5.0000 kA AC (depends on current sensor in use),
50.000 mA to 5.0000 A AC (Leak clamp on sensor only)
Power ranges
200.00 W to 6.0000 MW (depends on voltage/current combination and measured line type)
Basic accuracy
Voltage : ±1.5% rdg. ±0.2% f.s(combined accuracy with PW3365-20 + PW9020)
Current : ±0.3% rdg. ±0.1% f.s. + clamp sensor accuracy
Active power : ±2.0% rdg. ±0.3% f.s. + clamp sensor accuracy (at power factor = 1)
Display update rate
0.5 sec (except when accessing SD card or internal memory, or during LAN/USB communication)
Save destination
SD/SDHC Memory card, or internal memory at real time
Data save interval
1 sec to 30 sec, 1 minute to 60 minutes, 14 selections
Save items
Measurement value save: Average only / Average, Maximum, Minimum value
Screen copy: BMP form (saved every 5 min. at minimum interval time)
Waveform save: Binary waveform data
Interfaces
SD/SDHC memory card, LAN 100BASE-TX: HTTP server function, remote settings via communication program, data download, USB 2.0: When connected to a PC, the SD Card and internal memory are recognized as removable storage devices, remote settings via communication program, data download
Functions
Connection check, Quick Set navigation guide, clock
Power supply
AC adapter Z1008: (100 to 240 V AC, 50/60 Hz), 45 VA (including AC adapter)
Battery pack 9459: (DC 7.2 V, 3 VA, charging time 6 hr 10 m), 5 hours of continuous use (with back light off)
Dimensions and mass
180 mm (7.09 in)W × 100 mm (3.94 in)H × 48 mm (1.89 in)D, 540 g (19 oz) without PW9002
180 mm (7.09 in)W × 100 mm (3.94 in)H × 68 mm (2.68 in)D, 820 g (28.9 oz) with PW9002
Included accessories
Safety Voltage Sensor PW9020 ×1 set, AC adapter Z1008 ×1, USB cable ×1, Instruction manual ×1, Measurement guide ×1, Color clip (red, yellow, blue and white each 4), Spiral tubes in black (cord bundling for current sensors and voltage sensors) ×10
SAFETY VOLTAGE SENSOR PW9020 Specifications
Compatible conductor types
Insulated wires*
In door PVC or metal parts
*Shielded wires cannot be measured. The product may not be able to accurately measure multi-core cables or cables that have thick insulation.
Compatible conductor diameters
Finished outer diameter φ6mm to φ30mm
Effective measurement range
90 V rms to 520 V rms
Cord length
3m (9.84 ft)
Current measurement (8)
Leak current (2)
For leak current measurement (not capable of power measurement)
Caution: Up to 5 A on Model PW3365
Adapter (1)
Voltage input (0)
*PW9020 ×4 pieces are bundled, additional single sensors also available
Storage media (2)
SD Card Precaution
Use only SD Cards sold by HIOKI. Compatibility and performance are not guaranteed for SD cards made by other manufacturers. You may be unable to read from or save data to such cards.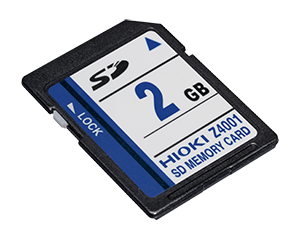 SD MEMORY CARD 2GB Z4001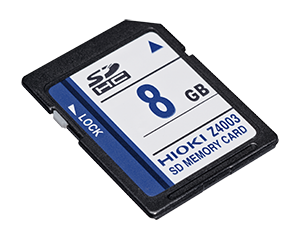 SD MEMORY CARD Z4003
Power supply (3)
*Z1008 is bundled, Model 9459 is a replacement battery pack included with the Battery Set PW9002.

BATTERY SET PW9002
Battery case and Battery Pack 9459 Set

BATTERY PACK 9459
NiMH, Charges while installed in the main unit

AC ADAPTER Z1008
Other options (3)
Z5004 hang the cords on the metal surface. C1005 store Current sensor ×2, Voltage sensor ×3 pieces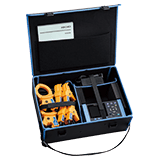 CARRYING CASE C1008
For PW3365, for storing Current sensor ×3, Voltage sensor ×4 pieces

MAGNETIC STRAP Z5004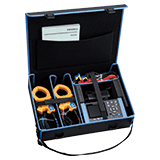 CARRYING CASE C1005
For PW3360/PW3365 series, for storing options
PC peripherals (3)

LAN CABLE 9642
Straight Ethernet cable, supplied with straight to cross conversion adapter, 5 m (16.41 ft) length