DC SIGNAL SOURCE SS7012
DC Voltage and Current Signal Generator and Tester for Routine Maintenance of Standard Devices
The Hioki SS7012 is a compact DC signal source and calibrator that is used to perform maintenance or loop tests of instrumentation systems and can be operated from a computer via a USB cable. It can also be used to calibrate thermometers and measure DC voltage and DC current.


Key Features
Improve stability and reduce calibration costs compared with the previous HIOKI model

For instrumentation systems (4 - 20 mA) and loop testing

Check temperature control equipment and electric distribution

8 types of thermocouples to test thermoelectric power generation

Ideal for electrical device evaluating and routine maintenance of production equipment such as calibrators

Use the max. 25 mA DC sink as an electric load
Model No. (Order Code)
Use of the AC Adapter and /or rechargeable batteries and dedicated charger is recommended.
Basic specifications [Generation functions]
Accuracy guaranteed: 1 year
Circuit method
Bipolar sink and source
Constant voltage
2.5 V: 0 to ±2.5000 V (±0.03 % of setting ±300 μV, 100 μV resolution)
25 V: 0 to ±25.000 V (±0.03 % of setting ±3 mV, 1 mV resolution)
Constant current
25 mA: 0 to ±25.000 mA (±0.03 % of setting ±3 μA, 1 μA resolution)
Thermoelectric power generation
K: at TC: 0 ˚C, -174.0 to 1372.0 ˚C (±0.05 % of setting ±0.5 ˚C, 0.1 ˚C resolution), Other types: E, J, T, R, S, B, N selectable
Thermoelectric power generation
K: at TC: RJ, -174.0 to 1372.0 ˚C (±0.05 % of setting ±1.0 ˚C, 0.1 ˚C resolution), Other types: E, J, T, R, S, B, N selectable
Standard resistance (Rs)
100 Ω (±0.2 Ω)
Automatic generation
Number of memory steps: 20, Interval time: 1 to 99 sec (at CV, CC, TC mode)
[Measurement functions]
Voltage
2.5 V: 0 to ±2.8000 V (±0.03 % rdg. ±300 μV, 100 μV resolution, 1 MΩ input resistance)
25 V: 0 to ±28.000 V (±0.03 % rdg. ±3 mV, 1 mV resolution, 1 MΩ input resistance)
Current
25 mA: 0 to ±28.000 mA (±0.03 % rdg. ±3 μA, 1 μA resolution, smaller than 30 Ω input resistance)
Temperature
-25.0 to 80.0 ˚C (±0.5 ˚C at 23 ±5 ˚C, 0.1 ˚C resolution, use with the RJ sensor 9184)
Sampling rate
Approx. 1.67 times/sec
[General functions]
Additional functions
Zero adjustment, Overflow display, USB communication, Monitor
Power supply
AC adapter 9445-02/-03 (100 to 240 V AC 50/60 Hz, 9 VA),
Ni-MH battery HR6 × 4, 6 VA, (fully charged 2500 mAh Ni-MH batteries: 170 minutes continuous use), or LR6 (AA) alkaline battery × 4, 6 VA
Dimensions and mass
104 mm (4.09 in) W × 180 mm (7.09 in) H × 58 mm (2.28 in) D, 660 g (23.3 oz) (including LR6 × 4 batteries)
Included accessories
Input cord 9168 ×1, Test lead L9170-10 ×1, Fuse ×1, LR6 (AA) alkaline battery ×4, Instruction manual ×1
Cables (2)

TEST LEAD L9170-10

INPUT CORD 9168
Options (5)
Commercially available rechargeable batteries (AA Ni-MH batteries ×4) may also be used to power the SS7012. Using locally purchased rechargeable batteries and dedicated battery chargers is recommended; however, HIOKI will not be able to guarantee operatin

CARRYING CASE 9782
Includes compartment for options, resin-coated
AC ADAPTER 9445-02
For USA, 100 to 240 V AC, 9 V/ 1 A

TEMPERATURE PROBE 9184
For reference contact compensation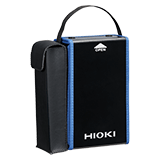 CARRYING CASE 9380
For storing the instrument only, soft type

COMMUNICATION PACKAGE SS9000
USB cable, USB driver software included