INFRARED THERMOMETER FT3700, FT3701
Non-contact Infrared Thermometer - Sharply Focus on Measurement Spots with Two-Beam Laser Marker, Ideal for HVAC Applications
The FT3700 and FT3701 are non-contact thermometers using infrared rays, accurately pinpointing the spot with a two-beam laser marker. The infrared temperature guns identify the surface temperature of an object by measuring the energy level of the infrared rays emitted from the object without physically coming in contact with it.


For industrial use only. Cannot measure body temperature. The laser marker beams are very dangerous if it gets into your eyes.
How to Use the Hioki Infrared Thermometer FT3700/FT3701
Basic introduction to using a Hioki infrared thermometer
Introduces how to use Hioki's FT3700/FT3701 Infrared Thermometer, from activating the laser marker and setting the emissivity to making measurements. The instrument makes it easy to measure the temperature of targets such as an air-conditioner outlet some distance away, a circuit-breaker in a distribution panel that poses the risk if touched, and an operating motor.
Key Features
Pistol design with easy-to-see display

A full menu of basic measuring functions

Easily test in difficult locations, moving objects or where there is danger of electric shock
Model No. (Order Code)
| | |
| --- | --- |
| FT3700-20 | Long-focus type |
| FT3701-20 | Long focus, precise-field type |
A caution label is attached to the thermometer. Be sure to observe the operating precautions on the label.
Choose from the two models according to your measurement location
FT3700-20: Long-focus, For measuring temperature over a wide area
FT3701-20: Long-focus, Precise-field, For measuring temperature at a single point

Identify the measurement location reliably Two-point laser marker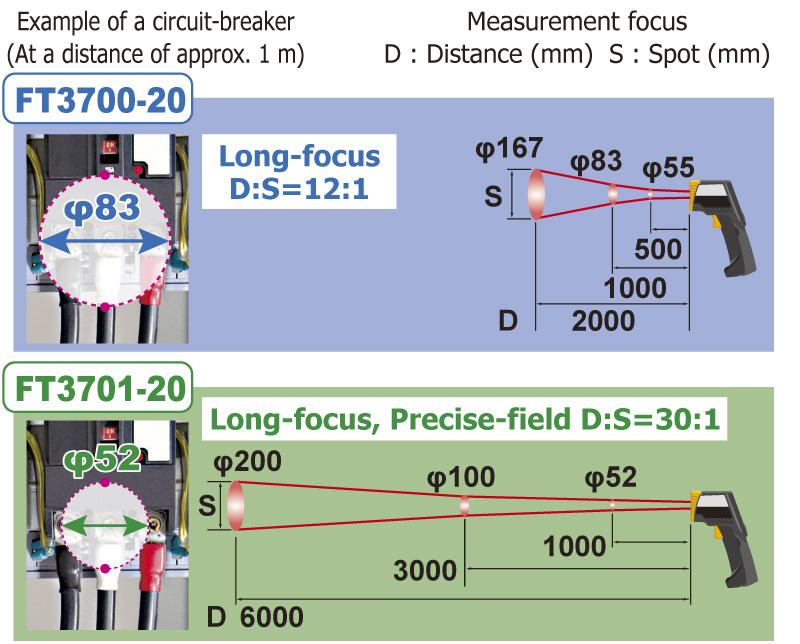 Non-contact infrared thermometer featuring simple, one-touch measurement
Easy operation: just pull the measurement trigger
Release it to hold the measured value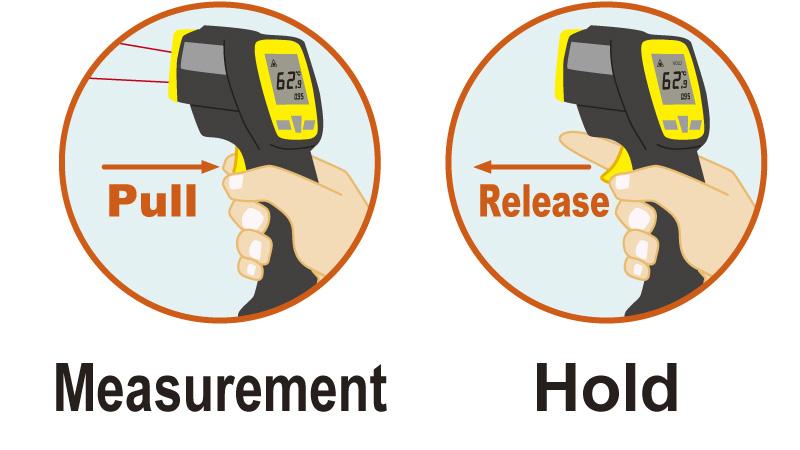 Since the instrument measures radiation temperature, it's easy to make readings in hazardous or unreachable locations
Locations that cannot be touched due to moving parts
Locations that pose the risk of electric shock
Unreachable locations

It's optimal for measuring temperature anywhere.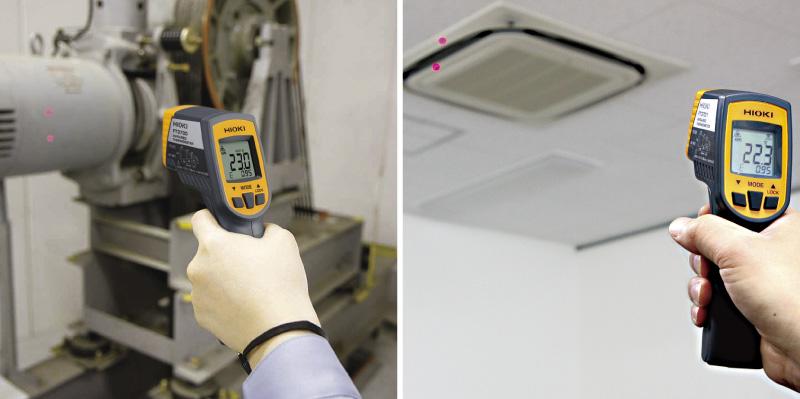 Basic specifications
Accuracy guaranteed: 1 year
 
FT3700-20
FT3701-20
Measurement temperature range
-60.0˚C to 550.0˚C (-76˚F to 1022˚F), 0.1˚C resolution
-60.0˚C to 760.0˚C (-76˚F to 1400˚F), 0.1 ˚C resolution
Accuracy
-35.0˚C to -0.1˚C (-31.0˚F to 31.9˚F) : ±10 %rdg. ±2˚C
0.0˚C to 100.0˚C (-32.0˚F to 212.0˚F) : ±2˚C
100.1˚C to 500.0˚C (212.1˚F to 932.0˚F) : ±2% rdg.
Note: -60.0˚C to -35.1˚C (-76.0˚F to -31.1˚F), and over 500.1˚C (932.0˚F), Accuracy not specified
Response time
1 sec (90%)
Measurement wavelength
8 to 14 µm
Thermal emissivity compensation
ε=0.10 to 1.00 (0.01 step)
Measurement field diameter
ε=0.10 to 1.00 (0.01 step)
φ 100 mm at 3000 mm (3.94 in at 9.84 ft)
(Distance : Spot = 30 : 1)
Sighting
Two-beam laser marker Max 1 mW (class 2), Red
Functions
Continuous measurement mode, MAX/ MIN/ DIF (MAX - MIN)/ AVG measurement, Alarm, Backlight, Auto power-off
Power supply
LR03 (AAA) alkaline battery ×2, 150 mVA, Continuous use of 140 hours (With laser marker, backlight and buzzer are OFF)
Dimensions and mass
48 mm (1.89 in) W × 172 mm (6.77 in) H × 119 mm (4.69 in) D, 256 g (9.0 oz), (including batteries)
Included accessories
Instruction manual ×1, LR03 alkaline battery ×2, Carrying case ×1