Product Oct. 05, 2022
Hioki Develops Technology for Measuring Batteries Directly from EVs' Rapid-charging Connectors
New technology will aid in performance testing and appraisal of used-car value
Hioki is pleased to announce that it has developed technology for connecting a dedicated instrument to the rapid-charging connectors on EVs and PHEVs to measure the characteristics of vehicle battery packs.
The technology makes it possible to directly measure battery pack characteristics and ascertain the battery's condition based on the results.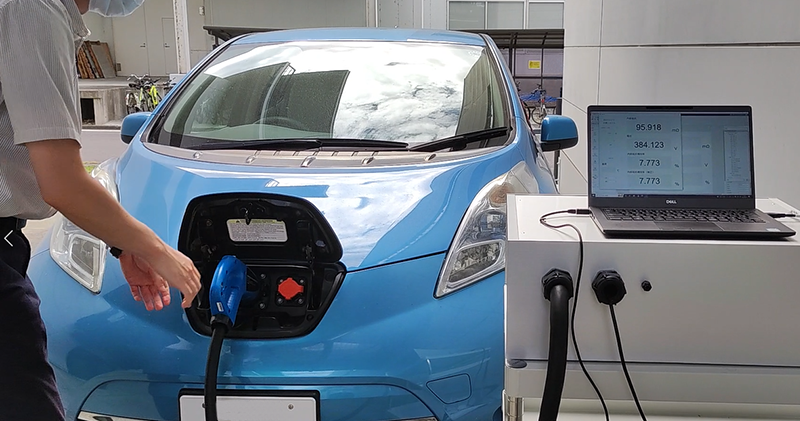 Development background
Hioki supplies a wide range of testing equipment for use in lithium-ion battery (LIB) cell, module, and pack manufacturing processes. A number of products, particularly impedance instruments (battery testers) have become de facto standards in the industry, and Hioki has played a leading role in quality testing in the industry since the earliest days of LIB commercialization. More recently, the company has been developing testing technologies not only for manufacturing processes and new-product testing, but also for evaluating degraded LIBs during and after use.
The transition to electric vehicles has been gathering momentum worldwide. To realize an economic growth strategy founded on decarbonization, it is not enough to merely adopt LIBs as a power source for automobiles; it will also be essential to streamline resource recycling systems and establish an appropriate value chain. Assessing the performance of the EV battery packs will be a key part of building the LIB value chain. As a result, there's a need for technology that can be used by third parties to test the condition of battery packs for the purpose of evaluating EV performance, appraising used EVs, and managing automotive fleets*.
However, information related to the condition of the battery packs used in EVs is generally managed by an onboard controller, making it difficult for third parties to test battery condition. Although third parties can access LIB-related information transmitted on vehicle networks like CAN buses and use that data for diagnostic purposes, the fact that such data is acquired by the EV itself means that the diagnostic process cannot be accomplished entirely by third-party means.
In response to this situation, Hioki drew on impedance measurement technology developed over many years to develop a solution that makes it easy to measure battery pack characteristics via the rapid-charging connectors on EVs and PHEVs.
*Fleet management: The process of managing fleets of company- and business-use vehicles operated by businesses and other organizations.
Principal applications
Diagnosing the performance of and appraising used EVs
Testing battery pack condition during EV maintenance
Testing the condition of battery packs to facilitate efficient EV fleet management
The technology allows the same measurement techniques to be used regardless of whether the battery pack being tested is installed in a vehicle. As a result, it promises to help improve traceability of battery condition during each phase of the battery pack life cycle: prior to installation, while installed in a vehicle, and during reuse or rebuilding after removal from the vehicle.
Hioki is dedicated to working with stakeholders in a variety of industries to use this technology to solve social issues.
About HIOKI
Established in 1935, HIOKI E.E. CORPORATION (TSE: 6866) has grown to become a world leader in providing consistent delivery of test and measuring instruments through advanced design, manufacturing, and sales and services. By offering over 200 main products characterized by safety and quality while meeting an expansive range of applications, we aim to contribute to the efficiency and value of our customers' work in research and development, production and electrical maintenance. Hioki products and services are available around the world through our extensive network of subsidiaries and distributors. For more information, visit us at www.hioki.com.