Hioki Launches Memory HiCorder MR8740T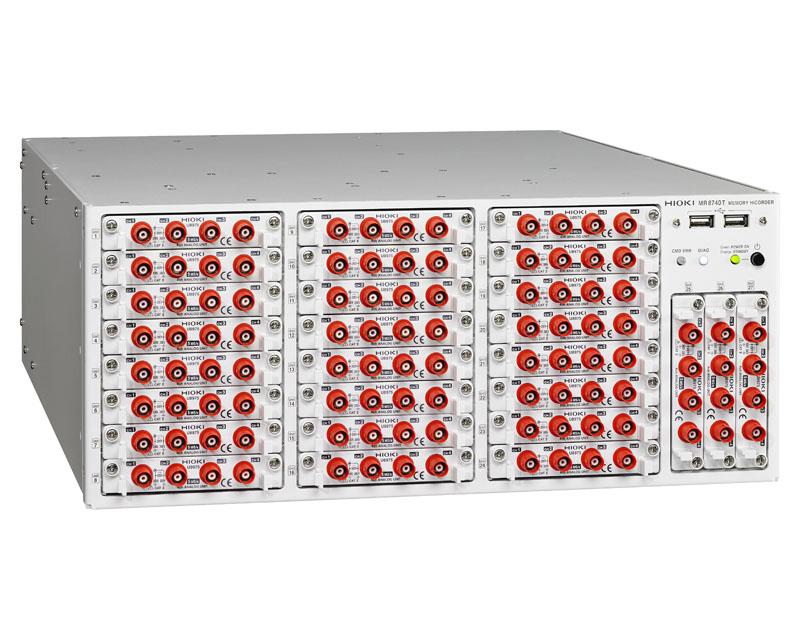 Memory HiCorder MR8750T with plug-and-play modules
November 2, 2018 - Nagano, Japan
New Memory Recorder System is Ideal for Multipoint Testing of High-Performance Circuit Boards
Hioki is pleased to announce the launch of the Memory HiCorder MR8740T. The new multichannel recorder doubles the number of channels of the previous model, the Memory HiCorder MR8740, to 108 (for analog measurement) while providing the ability to save data to storage media up to 100 times faster than that instrument.
Designed to record waveforms over extended periods of time, Memory HiCorders accept plug-and-play measurement modules such as voltage measurement and pulse generator units, enabling users to build a variety of test models.
Hioki laid the groundwork for the MR8740T when it released the Memory HiCorder
MR8740
as a multipoint measurement solution in 2012. The instruments in that line were the first of their kind in Japan to deliver simultaneous, high-speed measurement of 54 channels at 20 M samples per second.
Control circuit boards and control devices have been reaching new levels of performance in recent years in a diverse range of fields, including automobiles, power devices, and aerospace. These increases in performance are driving growth in the number of test points, creating demand for the ability to measure more than 100 signal channels at high speed.
Hioki recognized this need and developed a multichannel product based on the Memory HiCorder
MR6000
, an instrument launched last year with the best specifications in the history of the series. The MR8740T delivers unprecedented multipoint measurement capability with new functionality developed for the MR6000 while inheriting other key features of the Memory HiCorder line, including isolated input for all channels, simultaneous sampling of all channels, high resolution, and high precision.
Hioki also broadened the instrument's measurement potential by simultaneously launching the Digital Voltmeter Unit U8991 and the VIR Generator Unit U8794.
Memory HiCorder MR8740T Features
1. Measure up to 108 channels in a compact footprint
Equipped with the 4ch Analog Unit U8975, the MR8740T can measure up to 108 channels—twice the number of the previous model—despite using an enclosure of the same size (426 [W] × 177 [H] × 505 [D] mm).
2. Save data to storage media up to 100 times faster
The MR8740T shares the MR6000's ability to transfer data at high speeds to storage media or a computer, performing this task 100 times more quickly than its predecessor. This capability eliminates the need to wait around for the instrument to finish saving data, helping improve work efficiency.
3. Check data in vivid detail on a 4K display
The MR8740T supports a 4K display so that you can differentiate and review waveforms in vivid detail, even when measuring a large number of channels. You can also use a mouse and keyboard to navigate the instrument's interface smoothly on a large screen. (Display not included.)
4. Use an extensive line of modules to build a variety of test models
The MR8740T can accommodate 27 modules out of a total of 15 different types. The ability to combine multiple modules means you can build a variety of test models.
5. Generate and measure signals with a single instrument
Capable of outputting simulated waveforms with signal generator units and of measuring the simulated results with measurement units, the MR8740T offers a single-instrument solution for generation and measurement, eliminating the need to provide separate generation and measurement instruments.
Digital Voltmeter Unit U8991 Features
The Digital Voltmeter Unit U8991 can measure minuscule variations in sensor output from an automobile or voltage fluctuations in a battery or other device with a high degree of precision and resolution. Hioki studied the functionality of the previous MR8990 and doubled the number of channels to 4 to accommodate growing demand for more test points.
VIR Generator Unit U8794 Features
Each VIR Generator Unit U8794 can generate 8 channels each of DC voltage, DC current, and resistance output. This module is ideal for use in applications such as generating simulated sensor signals as an electronic control unit (ECU) test device, testing electronic components, and maintaining equipment.
---
About HIOKI

Established in 1935, HIOKI E.E. CORPORATION (TSE: 6866) has grown to become a world leader in providing consistent delivery of test and measuring instruments through advanced design, manufacturing, and sales and services. By offering over 200 main products characterized by safety and quality while meeting an expansive range of applications, we aim to contribute to the efficiency and value of our customers' work in research and development, production and electrical maintenance. HIOKI products and services are available around the world through our extensive network of subsidiaries and distributors. Information about HIOKI is available at www.hioki.com.


・ Memory HiCorder MR8740T Complete Product Catalog [4MB]