News May. 09, 2023
Purchase of J-credits derived from the forests in Nagano Prefecture, toward a sustainable society
HIOKI E.E. Corporation (Ueda City, Nagano Prefecture, President: Takahiro Okazawa) announces that it will purchase J-Credits derived from forests in Nagano Prefecture sold by Nagano Public Corporation of Forestry , which held at a press conference on April 13, through an introduction by The Hachijuni Bank, Ltd. .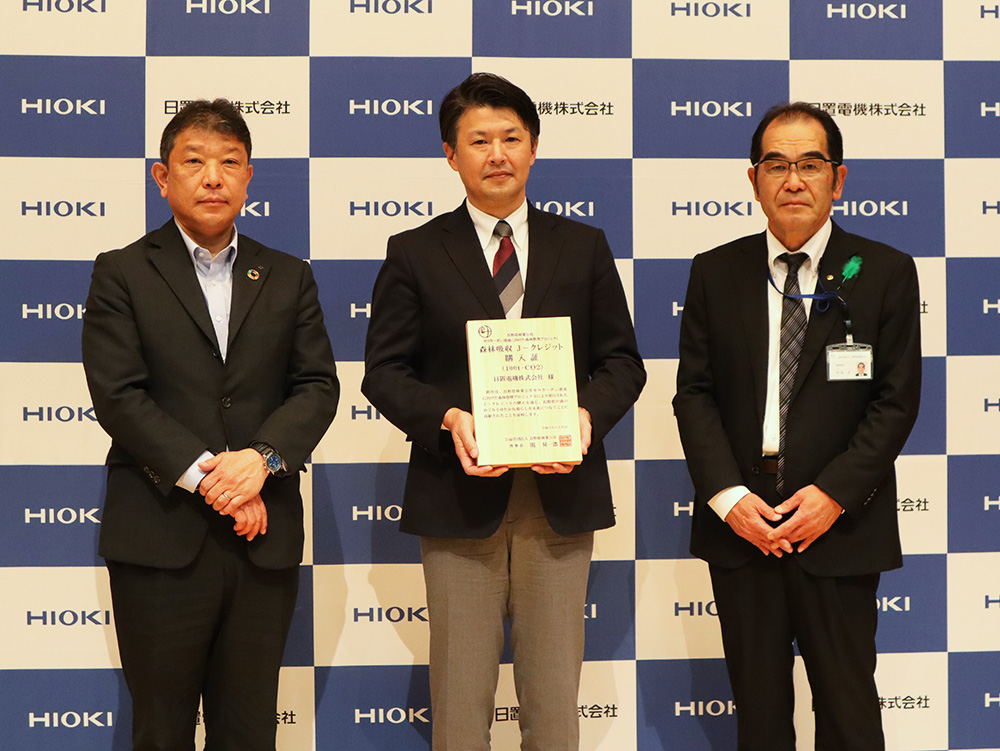 J-Credit Purchase Certificate Presentation Ceremony
In February 2022, we formulated the "Basic Sustainability Policy" and the "HIOKI Sustainability Declaration", which sets targets for CO2 emission, with the aim of realizing a sustainability society. The HIOKI Sustainability Declaration calls for achieving Scope 1 and Scope 2 carbon neutrality by 2025 (the 90th anniversary of HIOKI's founding) and achieving Scope 3 carbon neutrality by 2035 (the 100th anniversary of that).
This time, we will purchase 100 t-CO2 J-credits derived from forests in Nagano Prefecture to offset Scope1 gasoline. This will offset approximately 1/3 of the gasoline/diesel oil consumption in all domestic offices in Japan including the headquarter.
As a future measure, we will gradually switch to Evs, hybrid vehicles, PHVs to reduce the amount of gasoline and diesel used, in order to achieve carbon neutrality.
The cost of the Nagano Prefecture forest-derived J-Credits will be used for forest conservation and biological protection in Nagano Prefecture. Believing that it will be useful for environmental conservation as set forth in the Basic Sustainability Policy, we have decided to purchase J-Credit.
* Basic Sustainability Policy and Sustainability Declaration
About HIOKI
Established in 1935, HIOKI E.E. CORPORATION (TSE: 6866) has grown to become a world leader in providing consistent delivery of test and measuring instruments through advanced design, manufacturing, and sales and services. By offering over 200 main products characterized by safety and quality while meeting an expansive range of applications, we aim to contribute to the efficiency and value of our customers' work in research and development, production and electrical maintenance. Hioki products and services are available around the world through our extensive network of subsidiaries and distributors. For more information, visit us at www.hioki.com.