Product May. 13, 2016
Hioki Launches the Display Unit CM7291
May 12, 2016 - Nagano, Japan
Product Sends and Receives Data using Bluetooth® Smart Wireless Technology
Hioki is pleased to announce the launch of the Display Unit
CM7291
.
Technicians need to measure power when testing train cars and when maintaining and managing electrical equipment in solar power systems. Hioki launched the
CT7000
series of current sensors and the Display Unit CM7290 last December to meet these and similar measurement needs. The CM7290 can be combined with the CM7000 series to measure current and output signals to a data recorder.
The newly launched CM7291 inherits the features of the
CM7290
, which was launched last year, while adding communications functionality implemented with Bluetooth® Smart (also known as Bluetooth® Low Energy) wireless technology. A free dedicated application called GENNECT Cross can be used in conjunction with this wireless technology to display and review measured values and waveforms in real time on a smartphone or tablet, making the measurement process dramatically more convenient.
CM7291 & CT7000 SERIES APPLICATIONS
Testing of trains and automobiles
Maintenance management of elevators, solar power system electrical equipment, and manufacturing plants
Measurement of current in order to save power, etc.
CM7291 KEY FEATURE
: More convenient measurement thanks to communications functionality using Bluetooth® wireless technology
The CM7291 features communications functionality implemented using Bluetooth® wireless technology. This technology can be used in conjunction with the GENNECT Cross dedicated application to display and review measured values and waveforms in real time on a smartphone or tablet, making the measurement process significantly more convenient.  This free application can be downloaded from
Google Pla
y™ or the App Store®.
Bluetooth®, a registered trademark of Bluetooth SIG, Inc., is used under license by HIOKI E.E. CORPORATION.
Android™ and Google Play™ are registered trademarks of Google, Inc.
App Store® is a service mark of Apple Inc.
FEATURES SHARED WITH THE CM72901. Expanded current measurement capability when used with an extensive range of current sensors

The CM7291 uses the CT7000 series of current sensors in order to measure current. The series consists of nine sensor models that can be selected by customers according to the measurement application, measured current values, and frequency band. The extensive range of sensors makes possible current measurement that meets customers' needs.
2. Automatic detection of current sensors

When a current sensor is connected to the CM7291, the unit automatically detects and the sensor model and configures itself accordingly. Consequently, there is no need to change settings manually each time the current sensor is changed. The unit operates on either three AA batteries or an AC adapter in order to accommodate measurement over both short and extended periods of time.
3. Four types of waveform output to accommodate various applications

In maintenance management, technicians use data loggers to record and analyze variations in current over time. The CM7291 and CT7000 series provide four types of waveform output to accommodate various analysis applications.
*Waveform output (unmodified current waveform output)
Example: To record the amount of current generated by a solar panel

* RMS value output (result of converting the current waveform to a stream of RMS values)
Example: To record or monitor the amount of current used at a manufacturing plant as RMS values
* Peak output (absolute value of the peak value of the current waveform)
Example: To measure or monitor the maximum rating of an equipment power supply
*Frequency output (current frequency)
Example: To check the frequency of a compressor or motor
---
About HIOKI
Established in 1935, HIOKI E.E. CORPORATION (TSE: 6866) has grown to become a world leader in providing consistent delivery of test and measuring  instruments through advanced design, manufacturing, and sales and services. By offering over 200 main products characterized by safety andquality while meeting an expansive range of applications, we aim to contribute to the efficiency and value of our customers' work in research and development, production and electrical maintenance. HIOKI products and services are available around the world through our
extensive network of subsidiaries and distributors. Information about HIOKI is available at www.hioki.com.
For more information, please contact
os-com@hioki.co.jp
.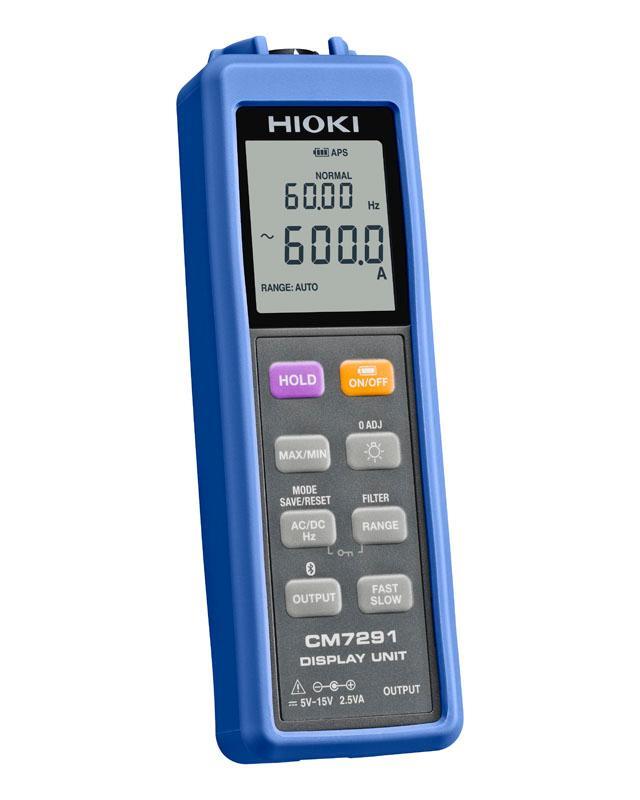 Hioki C7291 Display Unit