GENNECT CROSS SF4071, SF4072
Free Smartphone and Tablet App Connects to Hioki Instruments - Record Data and Create Reports
GENNECT CROSS is a free app that connects Hioki instruments to your smartphone or tablet using Bluetooth wireless technology. Simply pair compatible instruments like to your mobile device to easily record data and create reports.


GENNECT Cross Website
GENNECT Cross, a free app designed specifically for use with Hioki measuring instruments, lets you check and manage measurement results and create reports.
The software provides a range of functionality that helps manage data in the field, including photographing measurement sites, placing measurement results on photographs, and saving hand written memos.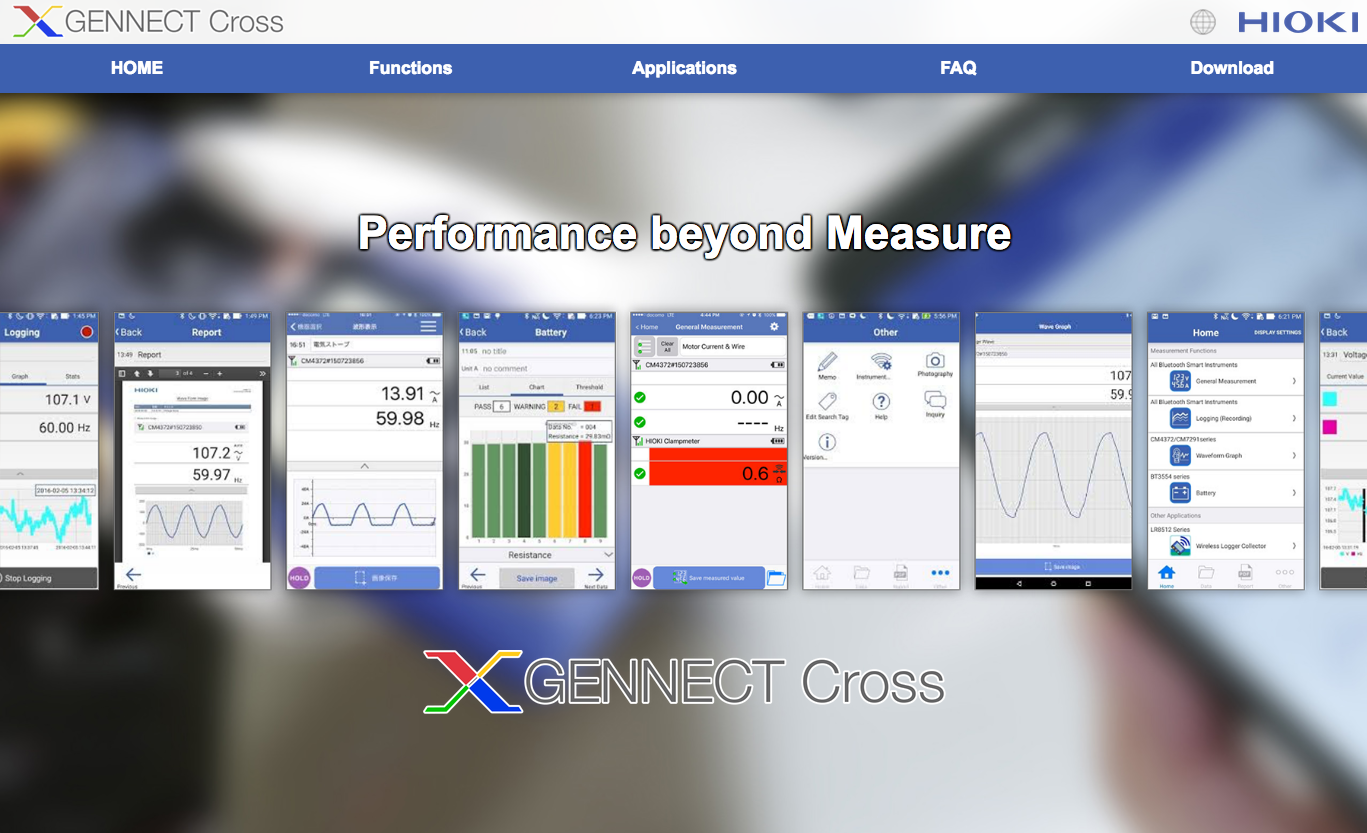 Key Features
Connect instruments to your smart phone or tablet

Save all measured values on your smart phone

Use the logging function to save measured values automatically at a set interval

Model No. (Order Code)
| | |
| --- | --- |
| SF4071 | Mobile app for iOS |
| SF4072 | Mobile app for Android |
*Android, Google Play and the Google Play logo are trademarks of Google Inc. *iOS is a registered trademark of Cisco Technology, Inc. and/or its affiliates in the United States and certain other countries. *iPhone, iPad, iPad mini, iPad Pro and iPod touch are trademarks of Apple Inc. *Apple and the Apple logo are trademarks of Apple Inc. App Store is a service mark of Apple Inc. *Microsoft, Windows, Windows Vista, and Excel are either registered trademarks or trademarks of Microsoft Corporation in the United States and/or other countries. *Company names and Product names appearing in this catalog are trademarks or registered trademarks of various companies. *The Bluetooth® word mark and logos are registered trademarks owned by Bluetooth SIG, Inc. and any use of such marks by HIOKI E.E. CORPORATION is under license.
Standard measurement
Touch the app's [Hold] button to hold measured values and capture data by touching the [Save Measured Value] button. If connected to an instrument with a hold function, you can use the instrument's HOLD feature to trigger the app to capture the measured value.
Logging Function
You can specify a logging interval (from 5 sec. to 24 hr.) and then capture data while communicating with the instrument. You can shrink and enlarge graphs of measurement data on the handset. You can also display data for up to eight channels, and you can display statistical data.
Waveforms
The simple oscilloscope function is handy if you think the measured values you're getting may be anomalous. You can send waveform data such as motor starting current to the app by linking it to the instrument's INRUSH function.
*CM4372, CM4374, CM7291 only
Battery
You can send data automatically to the app simply by placing the probes in contact with measurement points. This capability allows you to save linked measurements without needing to touch your smartphone at all. In addition, the app can automatically generate a PASS/FAIL judgment for the battery based on data captured from the battery tester.
*BT3554-50, BT3554-01 only
Creating reports in the field
You can manipulate measured value data and image data as selected from the data list to create a PDF-format report right there in the field. You can include a title, subtitle, recipient, author, and corporate logo on the report's cover sheet.
Basic specifications (Free software)
Bluetooth(R) connection
Bluetooth(R) 4.0 LE (N/A: Bluetooth(R) 2.1+EDR)
Supported OS
SF4071: iOS 10.0 or later (iPhone, iPad, iPod touch)
SF4072: Android TM 4.3 or later
Measurement data management
Local, e-mail / cloud sharing
Report function
Various template reports
Picture / Memo recording
Ok
Measurement functions
General measurement: Ok
Logging: Ok
Pass/Faile judge: Ok
Waveform display: CM4372, CM4374, CM7291 and CM3286-01 only
Battery: BT3554-01/-11/-50 only
Detect electricity theft: CM3286-01 only
Harmonic measurement: CM3286-01 only
Lux measurement: FT3425 only
Compatible products (8)
(As of Jan. 2018)
*For the latest information about countries and regions where wireless operation is currently supported, please visit the Hioki website.
Compatible products with the Wireless Adapter Z3210 (optional) * (9)
(As of Feb. 2021)
* Connect the Wireless Adapter Z3210 (optional) to the instrument for Bluetooth®︎ communication.