WIRELESS UNIVERSAL UNIT LR8511
Logging Multi-point Data Has Never Been So Easy with a Wireless Data Logger
Hioki Memory HiLoggers are high-speed data loggers for recording multiple channels of voltage, temperature, resistance or humidity signals, some models providing complete isolation between channels and strong noise resistance. The Hioki LR8511 is a wireless, 15-channel universal input module for measuring voltage, temperature, humidity or resistance, utilizing Bluetooth® wireless technology to send measured data to the Hioki LR8410 Wireless Logging Station.


Key Features
Input module to capture logging data using Bluetooth® wireless technology. Install in hard-to-reach locations (*1)
Choose an input module based on the parameters you wish to measure (15-channel type)

Easily add up to 7 input modules wirelessly to keep your environment free of tangled wires (*2)
100 msec simultaneous sampling across all channels using rapid scanning method
*1:

Over line-of-sight distances of up to 30 meters. The presence of obstructions may shorten this range.

*2:

For a total of up to 7 modules for the LR8410 main unit, max. 105 channels when using 15-channel modules.
Model No. (Order Code)
The LR8511 alone is not capable of making measurements. Wireless logging station Model LR8410-20 is necessary to measure. The main unit and input modules are not bundled with the Battery Pack Z1007. Thermocouples are not provided by HIOKI, and must be purchased from a separate vendor. Models LR8512 to LR8515 may only be used in countries in which they have been certified. These products emit radio waves. Use of radio waves is subject to licensing requirements in certain countries. Use in countries or regions other than those listed above may constitute a violation of law, exposing the operator to legal penalties. For the latest information about countries and regions where wireless operation is currently supported, please see the specifications.
Make measurements of interior conditions from the outside, with the door closed
● Have you dealt with problems like these?
We can't close the windows or doors due to all the wires. As a result, there's a gap in the gasket, and the vehicle cannot be sealed.

● Resolved with wireless data transmission
Wires do not protrude outside the vehicle, allowing the windows and doors to be closed so that the vehicle can be tested under airtight conditions.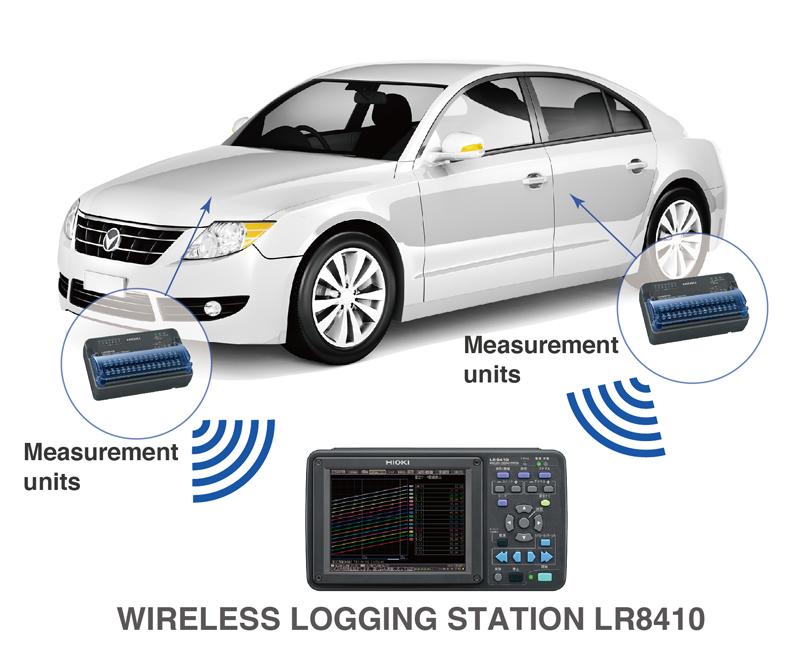 Basic specifications
Supported model
Model LR8410-20
Control and communications
Between instrument and unit: Bluetooth® 2.1 + EDR, Communications range: 30 m (98.43 ft), Security: SSP
Measurement parameters
[No. of channels] 15 analog channels; isolated scanning method input (4 terminals: push-button type)
[Voltage] ±10 mV to ±100 V, 1-5 V f.s., max. 500 nV resolution
[Temperature: Thermocouples] -200 ˚C to 2000 ˚C (depends on sensor), Thermocouples (K, J, T, or other), max. 0.01 ˚C resolution
[Temperature: Pt 100, JPt 100 sensor] -200 ˚C to 800 ˚C, max. 0.01 ˚C resolution (not isolated between channels)
[Resistance] 0 Ω to 200 Ω f.s., max. 0.5 mΩ resolution (not isolated between channels)
[Humidity] 5.0 to 95.0 % rh (use with optional sensor), 0.1 % rh resolution (not isolated between channels)
[Max. rated voltage between isolated input channels] 300 V DC
[Max. allowable input] ±100 V DC
[Max. rated voltage from isolated terminals to ground] 300 V AC, DC
Operating temperature
-20°C to +60°C (-4°F to 140°F)
Power supply
[AC adapter] Using the AC adapter Z1008 (100 to 240 V AC, 50/60 Hz), 23 VA Max. (including AC adapter), 7 VA Max. (exclusive of AC adapter)
[Internal battery] Using the Battery Pack Z1007 (optional accessory), 24 hours of continuous use (at 100 ms recording interval, 23 ˚C reference data), 120 hours of continuous use (at 1 minute recording interval, 23 ˚C reference data), 0.6 VA Max.
[External power] 10 to 28 V DC, 7 VA Max.
Dimensions and mass
150 mm (5.91 in) W × 90 mm (3.54 in) H × 56 mm (2.20 in) D, 320 g (11.3 oz)
Included accessories
Instruction manual ×1, AC adapter Z1008 (with supplied power cord) ×1, Bracket ×1, M3×4 mm screw ×2
Countries and regions where wireless operation is currently supported (LR8511)
Last update: August 2022
| | |
| --- | --- |
| Countries and regions where wireless operation is currently supported | Australia, Austria, Bangladesh, Belgium, Bulgaria, Canada, Chile, China, Colombia, Croatia, Cyprus, Czech Republic, Denmark, Estonia, Finland, France, Georgia, Germany, Greece, Hong Kong, Hungary, Iceland, India, Indonesia, Ireland, Israel, Italy, Japan, Kenya, Latvia, Liechtenstein, Lithuania, Luxembourg, Macao, Malta, Myanmar, Netherlands, New Caledonia, New Zealand, Norway, Poland, Portugal, Romania, Saudi Arabia, Singapore, Slovakia, Slovenia, Spain, Sweden, Switzerland, Taiwan, Thailand, Turkey, United Arab Emirates (UAE), United Kingdom, United States, Viet Nam |
| Note | Use of devices that emit radio radiation requires approval in the country of use. Thus, use of the instrument in a country or region where they have not been approved may be subject to penalty as a violation of law. |
Optional sensors (1)

HUMIDITY SENSOR Z2000
(Analog output), 3 m (9.84 ft) length
Power supply (2)
*AC adapter is bundled with the LR8410-20, LR8510/8511

BATTERY PACK Z1007
Li-ion, charges while installed

AC ADAPTER Z1008
---
Related Products