Product Nov. 20, 2019
Hioki Launches Short-Open Tester FA1221
System is Specifically Designed for Multichannel Resistance Testing and Embedding in Automated Equipment to Facilitate Smart Factories
November 19, 2019 - Nagano, Japan
Hioki is pleased to announce the launch of the Short-Open Tester FA1221, the first Hioki product of its kind to be specifically designed for use in multichannel resistance testing applications.

Based on the recently-launched In-Circuit Tester FA1220, the FA1221 is specifically designed for short1 and open2 testing, as well as resistance testing. The compact module, which comprises an independent measurement unit engineered using the resistance testing expertise Hioki has accumulated over its long history as a manufacturer of electrical measuring instruments, can be embedded in customers' automated equipment to facilitate smart factories (with unmanned or reduced-manpower operations).

■ DEVELOPMENT BACKGROUND 
Short/open testers, which make evaluations based on electrical tests that detect short-circuits and open circuits, are used in testing of components such as flexible printed circuit boards, connectors, and wire harnesses. As electronic devices become more sophisticated, the components they incorporate are shrinking in size, becoming more capable, and gaining more pins. The concentration of more pins and circuits in a confined area makes short-circuits more likely, increasing the importance of component testing.

At the same time, fuel cell batteries, which are entering into increasingly widespread use, consist of multiple cells. High tab weld resistance in cells results in battery degradation, leading manufacturers to treat resistance testing of welds as a key quality control parameter and creating demand for the ability to perform highly reliable testing across large numbers of channels in an efficient manner.

As demand for fast, accurate testing of large quantities of circuit boards grows, the production lines of the future will need to adopt a "smart factory" approach as typified by the Society 5.0 (Japan) and Industry 4.0 (Germany) initiatives. It was against this backdrop that Hioki developed the FA1220 as a modular system that delivers high-quality, high-reliability measurement in a compact package that can be embedded in customers' automated equipment. For the same reason, Hioki developed the FA1221 as a compact, modular system designed specifically for use in multichannel resistance testing and engineered it to deliver the kind of highly reliable performance that customers expect from an electrical measuring instrument manufacturer.

■ KEY FEATURES
1.Resistance testing-specific design
The FA1221 provides all the functionality customers need to carry out open/short testing and resistance testing. It is capable of high-speed testing of low (400 μΩ) to high (40 MΩ) resistance values. It also offers the kind of robust support for four-terminal measurement that you'd expect from an electrical measuring instrument manufacturer, and its ability to measure low resistance values in a stable manner translates into highly reliable testing.

2.High-speed, multichannel testing thanks to improved digital processing capability
The FA1220 model on which the FA1221 is based boasts digital processing capacity that is about 16% higher than legacy models. The FA1221 shares this enhanced capability, which makes it possible to carry out multichannel test control sequences3 more smoothly than ever before.

3.Compact, modular design that can be integrated into automated equipment
Measuring just 200 (W) by 323 (H) by 298 (D) millimeters, or about the size of a mini-tower computer, the FA1221 is small enough to be embedded in customers' automated equipment. The ability to continue using existing equipment frees up limitations for manufacturers in terms of installation space and cost, and using it to perform testing processes helps improve production efficiency as part of a "smart factory" approach that hinges on unmanned or reduced-manpower operations.
  
4.CE Marking and KC Marking certification
The FA1221 has been certified as compliant with requirements imposed by the CE marking (indicating compliance with EU member country safety standards) and the KC marking (indicating compliance with South Korean safety standards). These labels assure the product's ability to deliver the same test quality in all countries.

5.Support for cell production
The FA1221 can be embedded in an automated system or paired with a computer for use in cell production. It can be combined with a compact, benchtop press or existing test system to build a compact, space-saving work environment.

■ PRINCIPAL APPLICATIONS
• Testing of flexible printed circuit boards used in smartphones, notebook computers, and electronic control units (ECUs) in electric vehicles (EVs)
• Resistance testing of connectors and other components
• Detection of improper connections in wire harnesses
• Weld resistance testing in fuel cell batteries

1Contact with a different electric circuit.
2A break in an electric circuit.
3A control process that carries out a sequence of tasks according to a predefined order or procedure.
---
About HIOKI

Established in 1935, HIOKI E.E. CORPORATION (TSE: 6866) has grown to become a world leader in providing consistent delivery of test and measuring instruments through advanced design, manufacturing, and sales and services. By offering over 200 main products characterized by safety and quality while meeting an expansive range of applications, we aim to contribute to the efficiency and value of our customers' work in research and development, production and electrical maintenance. HIOKI products and services are available around the world through our extensive network of subsidiaries and distributors. Information about HIOKI is available at www.hioki.com.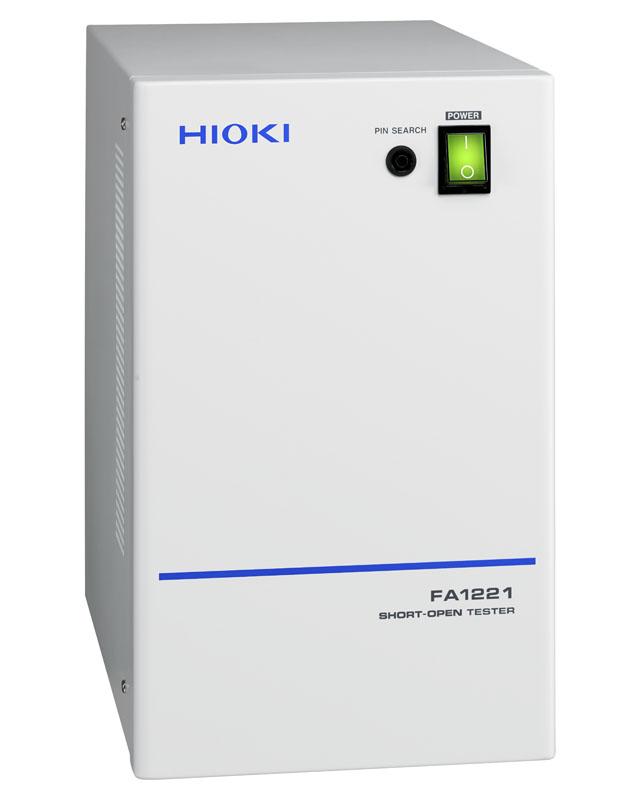 HIOKI FA1221 Short-Open Tester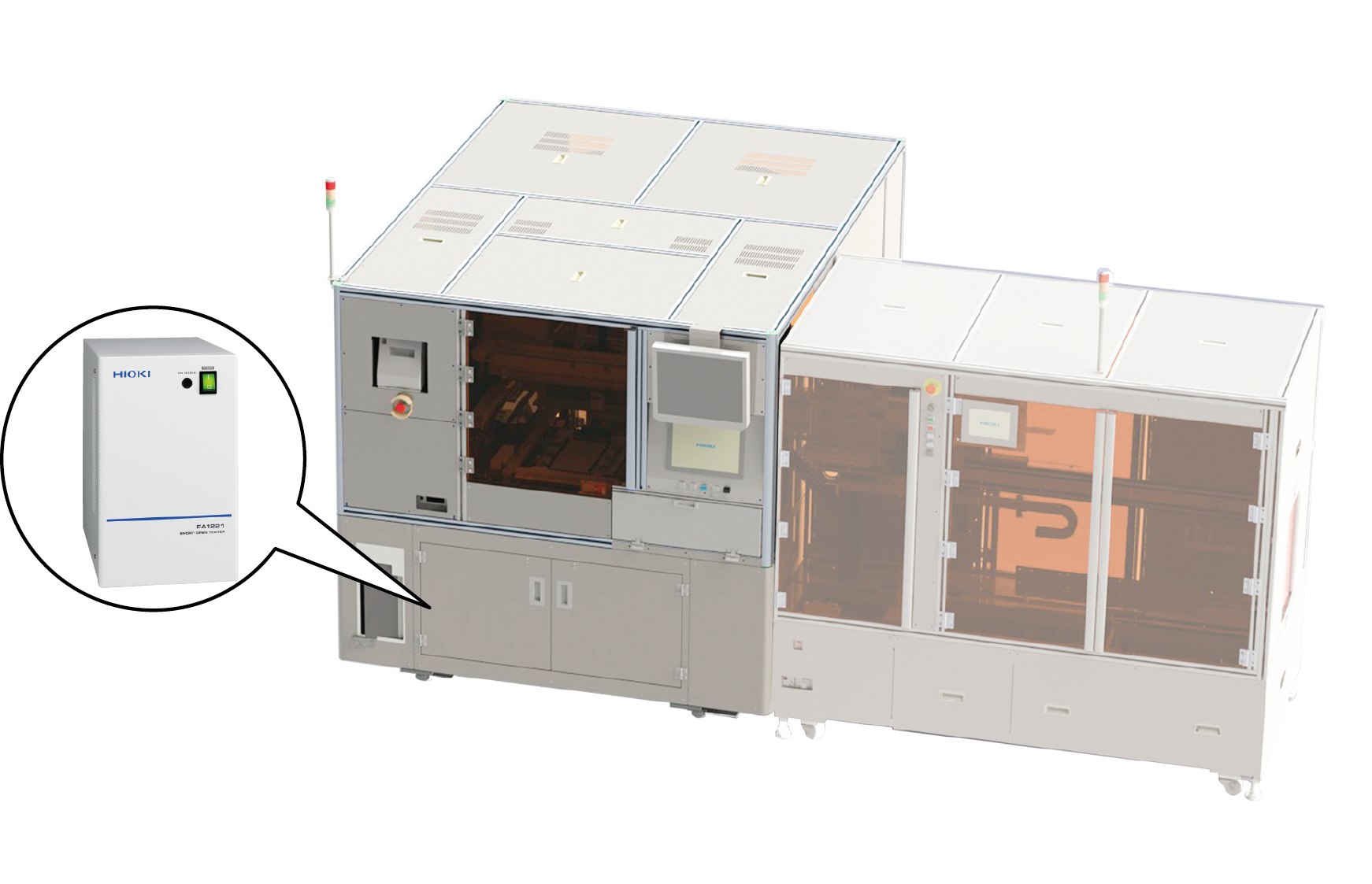 Compact Footprint Easily Integrates into Exising Equipment