Product Oct. 30, 2019
Hioki Launches In-Circuit Tester FA1220
Designed to be Embedded in Automated Equipment, Compact Modular Populated Board Testing System will Bolster "Smart Factory" (Unmanned or Reduced-Manpower) Facilities
October 29, 2019 - Nagano, Japan
Hioki is pleased to announce that it has launched the In-Circuit Tester FA1220, a populated board
1
testing system capable of conducting multiple electronic component tests.
The FA1220 is a compact, modular system that comprises an independent measurement unit engineered based on Hioki's many years of expertise. The system can be embedded in customers' automated equipment to further the deployment of "smart factory" (unmanned or reduced-manpower) testing processes. The new test tool delivers 3.2 times the number of test points per unit of installed volume as the previous In-Circuit HiTester 1220-50 despite being about the same size as the legacy product. The ability to accommodate a large number of tested components with a single embedded unit translates into even greater space savings for customers.
■ DEVELOPMENT BACKGROUND
Electronic devices contain circuit boards that are populated with electronic components. Because they are used in important devices with critical functionality, for example electronic control units or ECU
2
for electric vehicles (EVs) and motor drive circuitry for industrial robots, such circuit boards must deliver a high level of quality and reliability.
In-circuit testers are used to assure quality by performing electrical testing to detect malfunctions of the electronic components on those boards as well as mounting defects. The number of defects that are difficult to detect with visible inspections has been increasing in recent years due to the trend toward smaller components that are mounted at higher densities. The need to acquire equipment to perform high-reliability electrical testing imposes installation space and funding requirements on manufacturers.
As demand for fast, accurate testing of large quantities of circuit boards grows, the production lines of the future will need to adopt a "smart factory" approach as typified by the Society 5.0 (Japan) and Industry 4.0 (Germany) initiatives. It was against this backdrop that Hioki developed the FA1220 as a modular system that delivers high-quality, high-reliability measurement in a compact package that can be embedded in customers' automated equipment.
■ KEY FEATURES1. Compact, modular design that can be embedded into automated equipment
Measuring just 200 (W) by 323 (H) by 298 (D) millimeters, or about the size of a mini-tower computer, the FA1220 is small enough to be embedded in customers' automated equipment. The ability to continue using that equipment lowers the bar for manufacturers in terms of installation space and cost, and using it to perform testing processes helps improve production efficiency as part of a "smart factory" approach that hinges on unmanned or reduced-manpower operations. 
2. Optimal performance for large numbers of tested components
The FA1220 provides 3.2 times more test points than the previous In-Circuit HiTester 1220-50, whose dimensions it roughly shares. (The 1220-50 accommodated up to 320 pins per unit, while the FA1220 accommodates up to 1,024 pins per unit). With the previous model, applications with numerous test components required multiple units. Thanks to its additional test points, the FA1220 makes it possible to save space inside automated equipment.
3. CE Marking and KC Marking certification
The FA1220 has been certified as compliant with requirements imposed by the CE marking (indicating compliance with EU member country safety standards) and the KC marking (indicating compliance with South Korean safety standards). These labels assure the product's ability to deliver the same test quality in all countries.
4. High-speed, multichannel testing made possible by improved digital processing capacity
Digital signal processing has been revamped from the previous In-Circuit HiTester 1220-50 to deliver a processing capacity improvement of about 16%. This enhancement allows the product to easily complete multichannel test control sequences.
5. Support for cell production
In addition to integration into automated equipment, the FA1220 supports conventional cell production. It can be combined with a compact, benchtop press or existing test system to build a compact, space-saving work environment.
■ PRINCIPAL APPLLICATIONS
• Testing of ECUs for use in EVs
• Testing of populated boards used in smartphones and other mobile devices
• Testing of populated boards used in industrial robots and industrial equipment control systems
1
Printed wiring boards on which electronic components such as resistors and capacitors have been mounted
2
Units that provide electronic control over systems
---
About HIOKI
Established in 1935, HIOKI E.E. CORPORATION (TSE: 6866) has grown to become a world leader in providing consistent delivery of test and measuring instruments through advanced design, manufacturing, and sales and services. By offering over 200 main products characterized by safety and quality while meeting an expansive range of applications, we aim to contribute to the efficiency and value of our customers' work in research and development, production and electrical maintenance. HIOKI products and services are available around the world through our extensive network of subsidiaries and distributors. Information about HIOKI is available at
www.hioki.com
.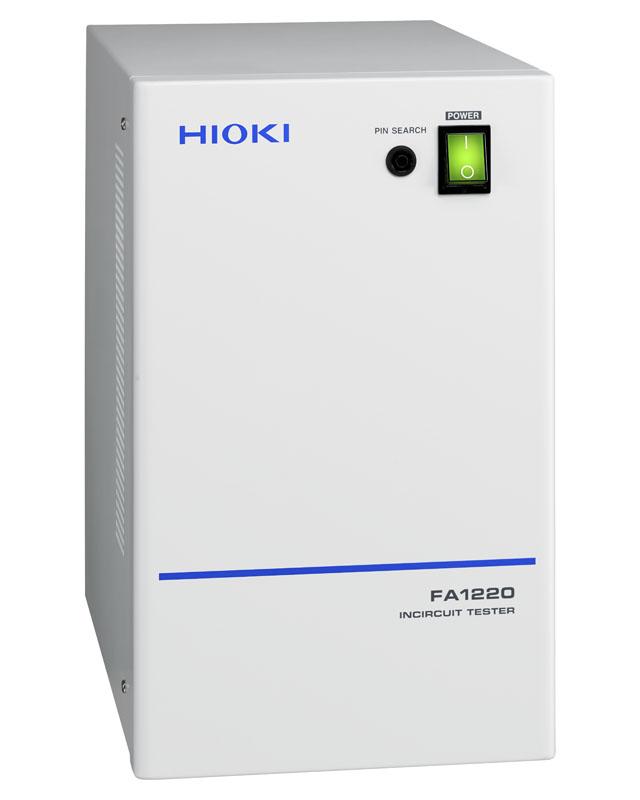 Hioki InCircuit Tester FA1220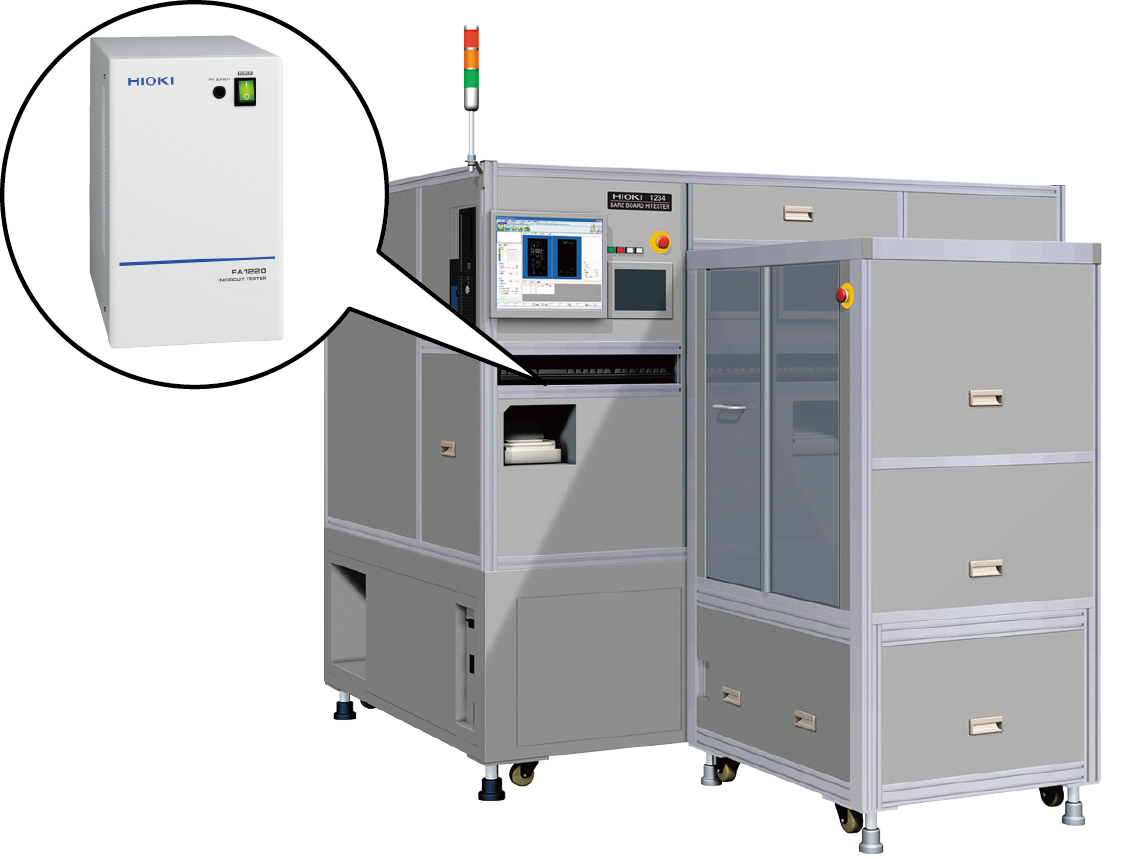 FA1220 embedded into automated system