Product Jul. 02, 2019
Hioki Launches Electrode Resistance Measurement System RM2610
Designed to Contribute to Lithium-Ion Battery Electrode Sheet R&D, the System Quantifies Electrode Sheet Composite Layer Resistance and Interface Resistance, which have been Impossible to Visualize until now.
July 1, 2019 - Nagano, Japan
Hioki is pleased to announce the launch of the Electrode Resistance Measurement System RM2610.
The RM2610 isolates and quantifies the resistance characteristics of electrode sheets, a major component of lithium-ion batteries (LIBs), as two components: the composite layer resistance and the interface resistance between the composite layer and collector. The system allows users to visualize these two quantities by measuring the surface of the electrode sheet with a test fixture that consists of an array of test probes and then using proprietary analytical techniques to quantify them. By quantifying resistance characteristics that have been impossible to visualize in the past, the RM2610 assesses electrode sheet characteristics and quality trends and to help LIB developers visualize how resistance characteristics vary in response to changes in composite materials and composition. In this way, it facilitates improvements in the quality and development of lithium-ion batteries.
■ DEVELOPMENT BACKGROUND
Lithium-ion batteries are rechargeable batteries in which the movement of lithium ions between positive and negative electrodes causes the battery to charge or discharge. This type of battery has entered into widespread use in compact devices such as smartphones and computers because it delivers high capacity in a lightweight package. Mass-production of lithium-ion batteries on a global scale is growing rapidly in the wake of efforts to evolve, improve, and develop them for use as rechargeable batteries in electric vehicles (EVs) as the world moves toward a carbonless society.  
Electrode sheets are made by coating a collector (the part that attracts electricity; typically with a positive electrode made of aluminum and a negative electrode made of copper) with a liquid (the composite) containing ingredients such as an active substance (which serves to capture and release lithium ions) and a conductive auxiliary agent (which serves to facilitate electron conductivity). The sheets are used as electrodes in lithium-ion batteries. Since lower internal resistance means higher performance in terms of output and service life, it is extremely important to observe the resistance characteristics of electrode sheets, which are as a major component of lithium-ion batteries.
However, until now it has been impossible to evaluate electrode sheets until the lithium-ion battery they're used in is fully assembled, making it necessary to spend a significant amount of time and effort creating prototypes. Complicating the issue is the fact that it has not been possible to measure the overall resistance characteristics of electrode sheets using traditional measurement techniques (measurement of pass-through resistance and 4-wire volume resistivity measurement), leaving no means of assessing the resistance of the composite layer or of the interface (plane of contact) between the composite layer and collector. Accurate knowledge of these characteristics not only makes possible the fine-grained observation of which materials, compositions, and manufacturing conditions yield improved performance, but also their evaluation at the electrode sheet stage of the battery manufacturing process. These capabilities promise to drive significant improvement in LIB quality and development efficiency.
Hioki focused on the issues described above and utilized proprietary analytical techniques to engineer the RM2610 so that it could quantify the interface resistance between the composite layer and collector, which has been impossible to visualize until now.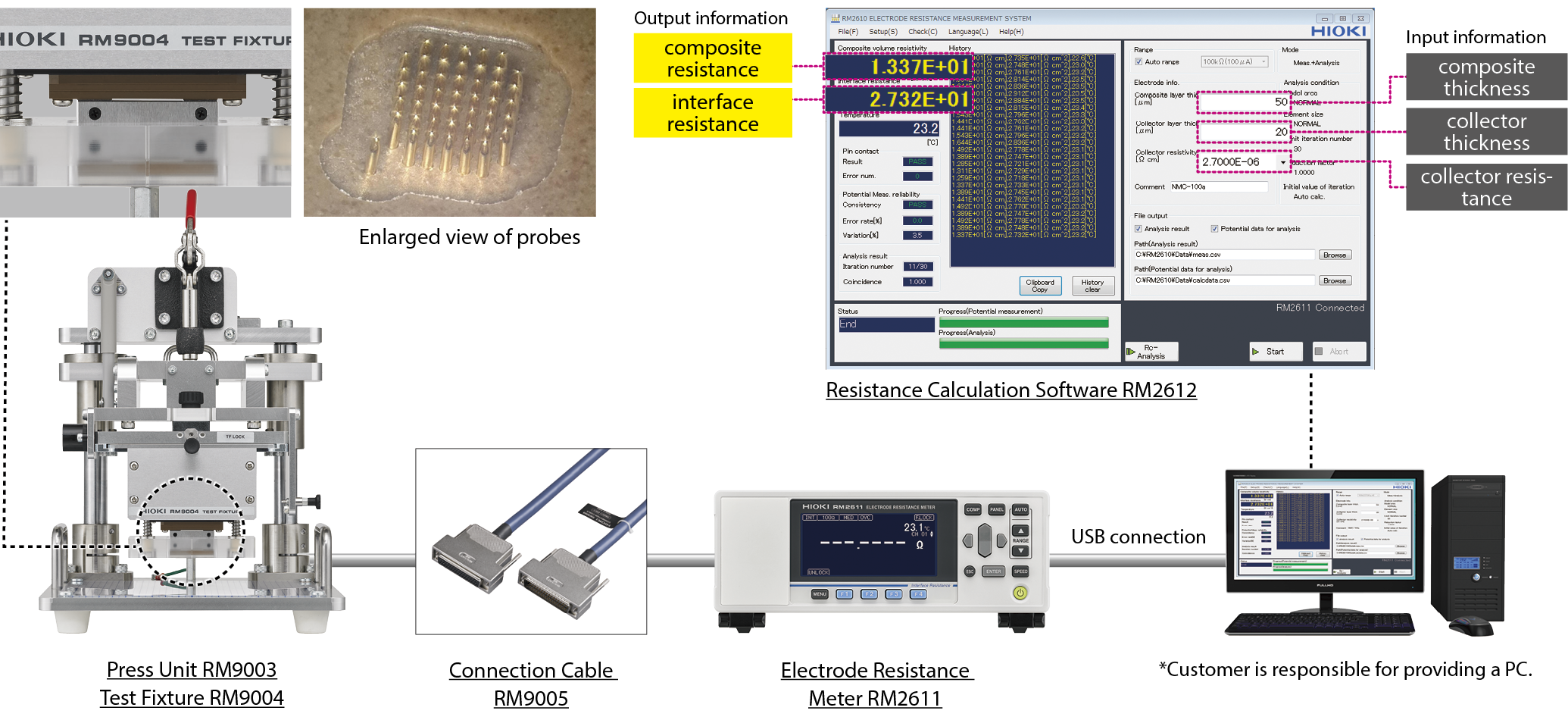 ■ Electrode Resistance Measurement System RM2610: System components
・Press Unit RM9003
・Test Fixture RM9004
・Connection Cable RM9005
・Electrode Resistance Meter RM2611
・Resistance Calculation Software RM2612
■ PRINCIPAL MARKETS
 ・Lithium-ion battery manufacturers and venture companies
 ・Manufacturers of materials used in lithium-ion batteries
---
About HIOKI
Established in 1935, HIOKI E.E. CORPORATION (TSE: 6866) has grown to become a world leader in providing consistent delivery of test and measuring instruments through advanced design, manufacturing, and sales and services. By offering over 200 main products characterized by safety and quality while meeting an expansive range of applications, we aim to contribute to the efficiency and value of our customers' work in research and development, production and electrical maintenance. HIOKI products and services are available around the world through our extensive network of subsidiaries and distributors. Information about HIOKI is available at www.hioki.com.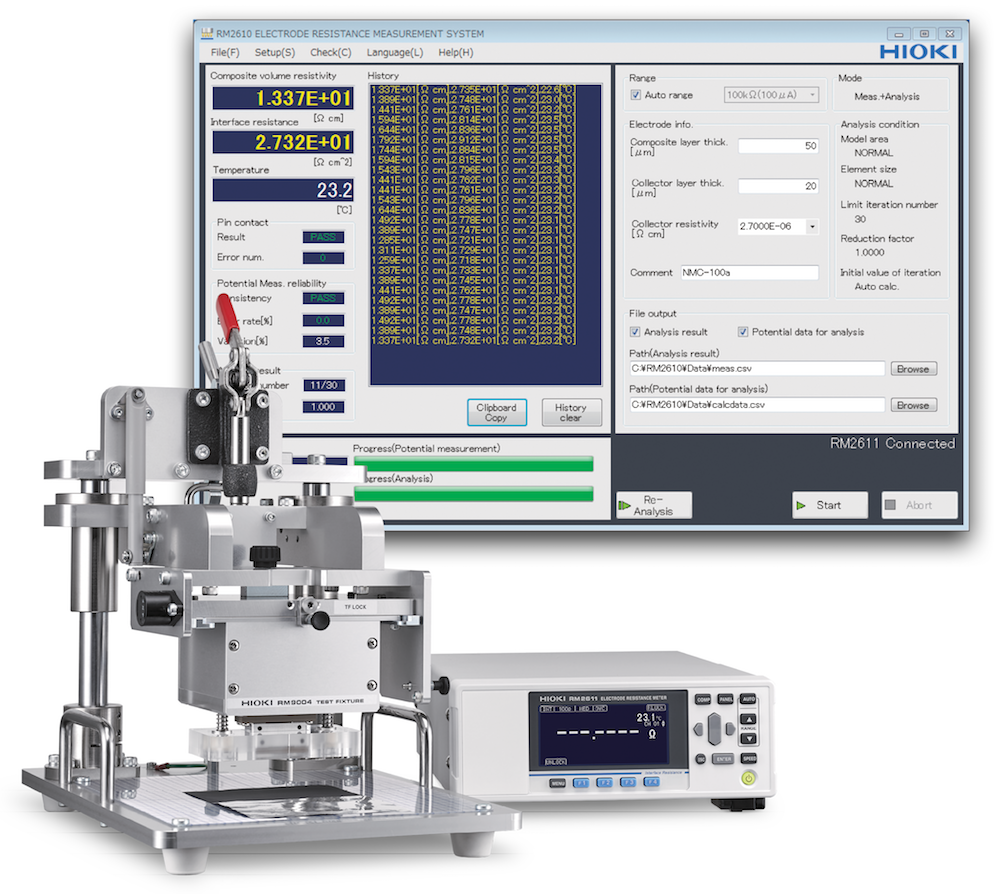 Electrode Resistance Measurement System RM2610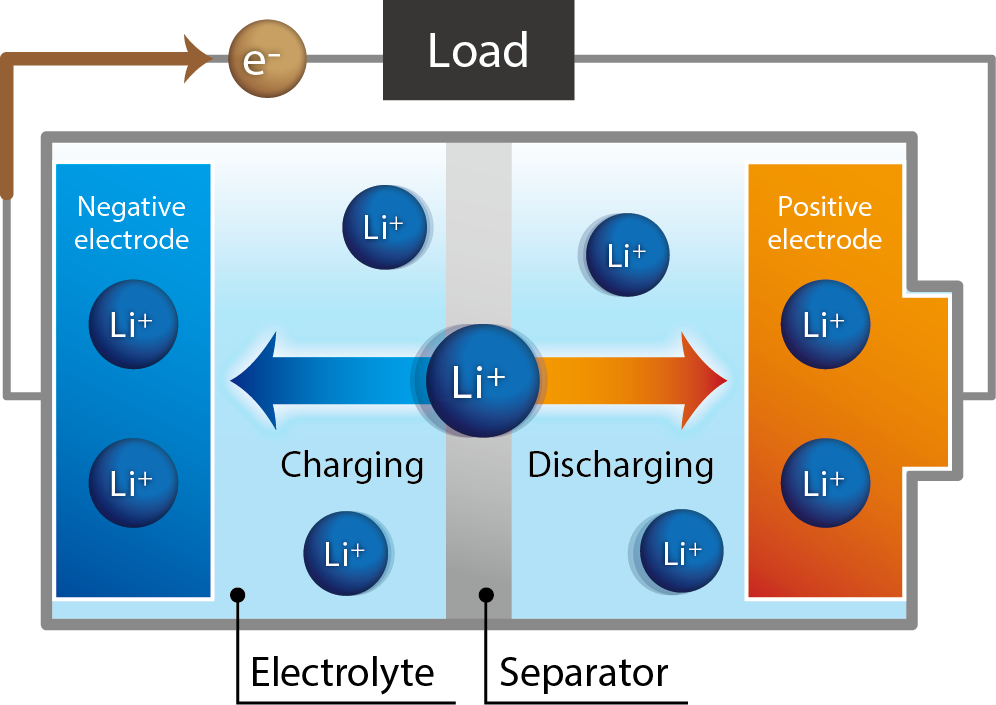 Lithium-ion battery structure
Electrode sheet diagram