Product Jun. 25, 2019
Hioki Launches Flying Probe Tester FA1816
Introducing a high-speed testing system for unpopulated boards - System features a revamped interface for improved operability

June 25, 2019 - Nagano, Japan
Hioki is pleased to announce the launch of the Flying Probe Tester FA1816, an automatic testing system designed to inspect printed wiring on bare boards
*1
. This horizontal
*2
, two-arm unpopulated board testing system is ideal for conducting shipping inspections of multi-model, small-lot, short-lead-time products. It uses Hioki's capacitive testing method
*3
, which slashes testing times by making pass/fail judgments for unpopulated boards with a small number of test points.
The FA1816 also features an updated test data creation process. The control screens and software used by the previous model (the Flying Probe Tester FA1116-03) have been revamped to deliver improved operability and reduced operator workload.
Development Background

Printed circuit boards (PCBs) onto which electronic components have been mounted can be found in industrial equipment, automotive devices, consumer electronics, and other products, where they play an extremely important role by providing device operation and control functionality. To ensure their electronic components function properly, bare boards must exhibit high quality and reliability.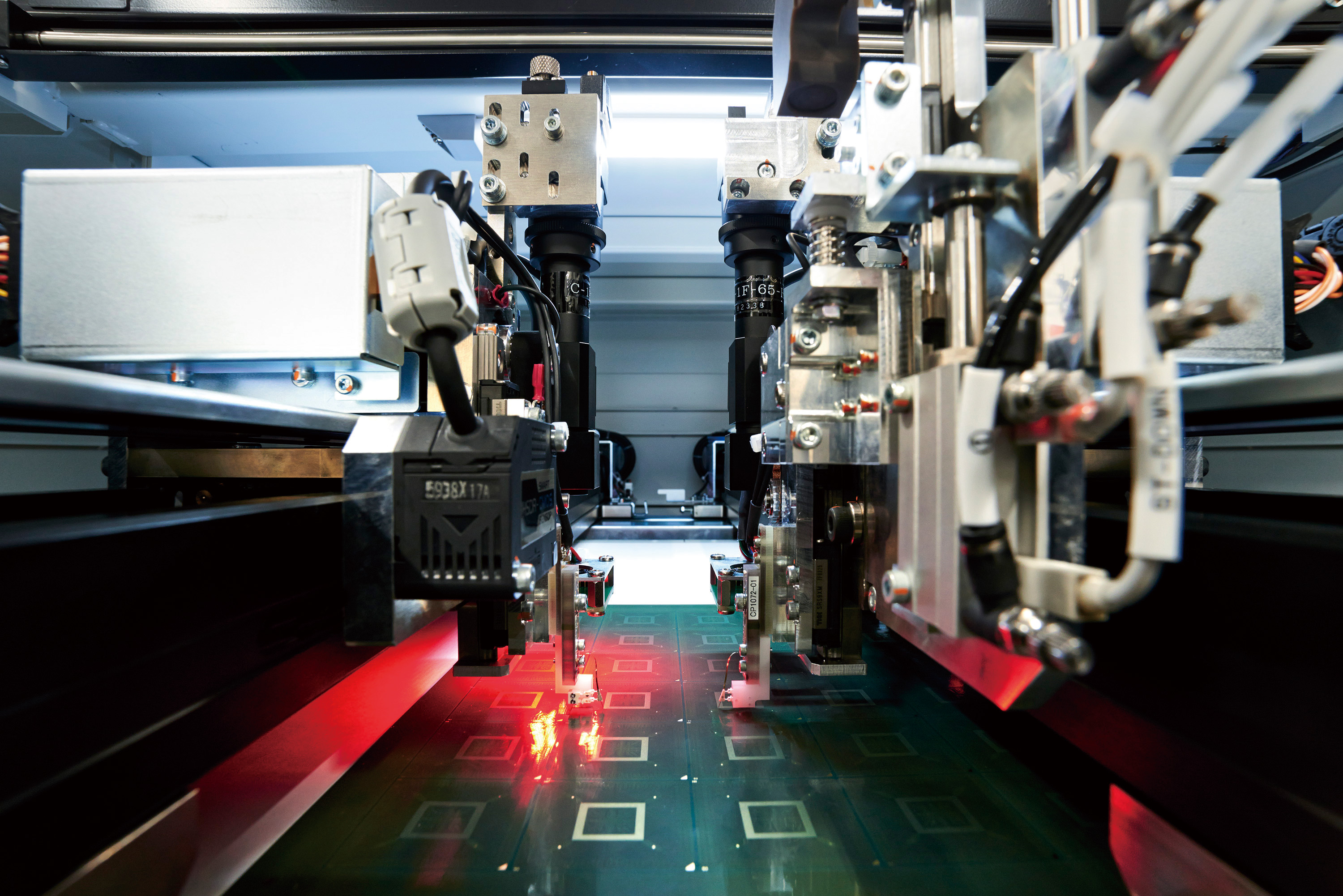 Hioki, a manufacturer of electrical measuring instruments, offers an extensive line of instruments and testing systems. Thanks to an array of sophisticated technological capabilities that it has developed over time, the company is able to offer a superior level of quality.
Despite a reputation for unparalleled test quality, Hioki received customer feedback indicating a desire for simpler operation, for example in the test data creation process. As a result, the company revamped control screens and software during the development of the FA1816 to deliver improved operability while reducing the operator workload.
Key Customers

Manufacturers of printed wire boards
Key Features
1. Revamped operation for significantly improved operability
Screens:
Important information has been consolidated on a single screen, and a graphical interface allows intuitive operation.
Control:
A workflow menu is now available to streamline the test data creation process.
Master data creation:
Previously, operators had to carry out a variety of steps, including acquiring basic data and qualifying a sample board as a reference master, in order to create the master data that serves as the standard for pass/fail judgment. The FA1816 automates this process so that the operator need only click a single button, shortening control time and reducing operator workload.
2. High-speed pattern testing using the capacitive testing method

Two test methods—capacitive testing and resistance testing—are used to test unpopulated circuit boards. The FA1816 uses the former, which allows pass/fail judgments to be made with fewer test points than the latter. Consequently, tests can be completed more quickly.
3. Half the Probe Mark Depth

Traditionally, probes are placed in contact with the board to carry

out bare board testing in a process that leaves probe marks on the board. On high-density bare boards, even small marks can have a serious effect. Probe marks from the probes of previous products were already slight, but the FA1816 uses the High-density Probe CP1072, which was developed using proprietary Hioki technology, in order to further reduce the size and depth of these marks. Probe mark depth has been halved compared to that of previous products to minimize damage to bare boards.
4. Support for a broad range of testing scenarios, from low-resistance measurement to high-insulation-resistance measurement, despite use of the faster capacitive testing method

Hioki has taken advantage of its exceptional technological capabilities in the areas of low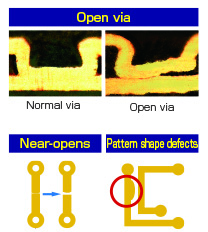 -resistance measurement and insulation resistance measurement to deliver the ability to measure low resistance as well as high insulation resistance of 500 MΩ/250 V. This capability makes it possible to detect causes of latent defects on unpopulated boards that would go undiscovered by systems that use only capacitive testing, delivering a superior level of quality.
The FA1816's low-resistance measurement functionality measures minuscule fluctuations in resistance values to detect open-via defects. By means of its high-insulation-resistance measurement capabilities, the system also detects insulation abnormalities and arc discharge phenomena caused by the effects of pattern shape anomalies and impurities, voids, and other defects that exist between patterns.
5. Defect analysis with the newly developed Process Analyzer (a standard accessory)

The Process Analyzer software application makes it easy to load accumulated test results data in a batch and then create statistical data from it. Test step results can be visualized using such means as value changes, histograms, and distribution maps to facilitate analysis of defects. By generating information about analyzed defects that can be provided as feedback to design and manufacturing processes, the Process Analyzer helps customers improve yields in bare board manufacturing.
*1
Bare board: A printed wire board (PWB) onto which no electronic components have been mounted.
*2
Unpopulated boards are loaded into the system in a horizontal orientation.
*3
Capacitive measurement method: When a circuit board is tested with the FA1816, its patterns have a certain capacitance relative to the system's electrically isolated test electrode, and that value is proportional to the area of the pattern. If there is a short-circuit, wiring break, or other issue with the integrity of the pattern, its area—and by extension, its capacitance—will change. Defective boards with wiring breaks have a lower capacitance than non-defective boards, while defective boards with short-circuits have a higher capacitance since the two short-circuited patterns' capacitance values are combined
---
About HIOKI
Established in 1935, HIOKI E.E. CORPORATION (TSE: 6866) has grown to become a world leader in providing consistent delivery of test and measuring instruments through advanced design, manufacturing, and sales and services. By offering over 200 main products characterized by safety and quality while meeting an expansive range of applications, we aim to contribute to the efficiency and value of our customers' work in research and development, production and electrical maintenance. HIOKI products and services are available around the world through our extensive network of subsidiaries and distributors. Information about HIOKI is available at www.hioki.com.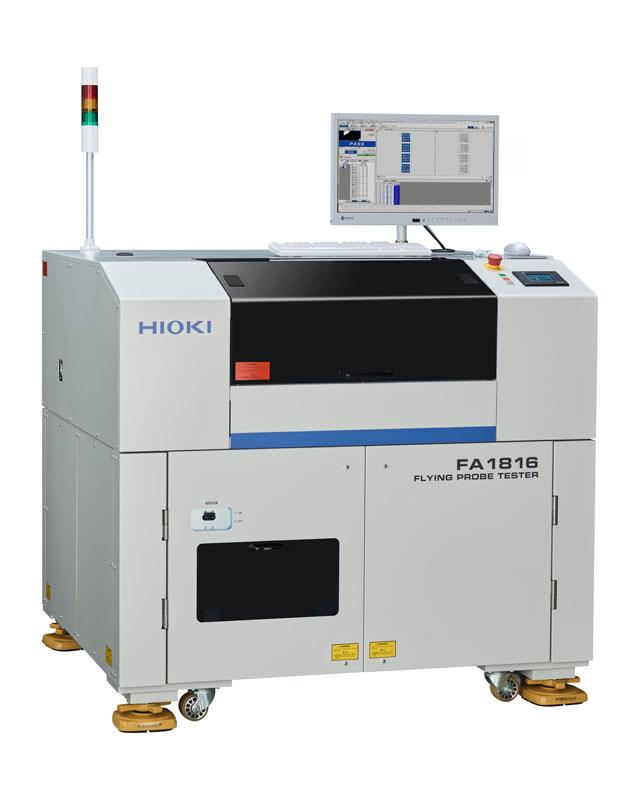 Flying Probe Tester FA1816