Product Nov. 30, 2016
Hioki Launches Analog Earth Tester FT3151
November 29, 2016 - Nagano, Japan
Instrument Offers Dramatically Improved Setup And Cleanup Efficiency

Hioki is pleased to announce the launch of the Analog Earth Tester FT3151.
The FT3151 is an analog-type grounding resistance tester that enables users to read measured values intuitively based on the deflection of a needle. The auxiliary rods and measurement cord reels that come with the instrument have been redesigned from those offered with the legacy earth tester to deliver dramatically improved setup and cleanup efficiency.
NEED FOR GROUNDING RESISTANCE MEASUREMENT
Grounding refers to the act of connecting an electrical device to the ground. It is essential as a means of preventing electric shock in the event electrical equipment fails or deteriorates over time.
Devices are grounded by inserting an electrode into the ground, and the resistance that occurs between this electrode and the surrounding soil is known as the grounding resistance. For safety reasons, grounding resistance must be less than or equal to a predetermined reference value, and it is necessary to measure grounding resistance in order to verify the safety of grounding installations.
SUPPORTED MEASUREMENT METHODS
3-electrode method (for use with Class A through Class D grounding installations) / 2-electrode method (for Class D grounding installations)
PRODUCT FEATURES
1. New, thinner auxiliary grounding rods for improved work efficiency
When measuring grounding resistance, it is necessary to insert auxiliary grounding rods into the ground. Past products used thick auxiliary rods, requiring them to be driven into the ground with a hammer and making them difficult to remove from the ground once measurement is complete. Since the FT3151's auxiliary rods are thinner than those used by those products, they can be inserted easily into the ground by hand. The new design increases work efficiency. 
2. Convenient cord winders (included) for more efficient setup and cleanup
The most troublesome aspect of measuring grounding resistance is setting up and cleaning up the measurement cords.  Before grounding resistance can be measured, the operator must string measurement cords that are 10 to 20 meters in length to connect the measuring instrument to auxiliary grounding electrodes that have been inserted into the ground. The legacy product's design consisted of reels onto which the measurement cord has to be manually wound, requiring the operator to lay out one cord at a time on the ground and then to wind each cord around its reel by hand when cleaning up.
The FT3151's measurement cords include winders. As a result, the operator can pay out two cords at once while holding the two winders with both hands. In addition, since the reels can be rotated for rewinding purposes, the cords can be retrieved at least twice as quickly as with the previous product's design. In this way, the FT3151 improves setup and cleanup efficiency.
FT3151 Analog Earth Tester Specifications
---
About HIOKI
Established in 1935, HIOKI E.E. CORPORATION (TSE: 6866) has grown to become a world leader in providing consistent delivery of test and measuring  instruments through advanced design, manufacturing, and sales and services. By offering over 200 main products characterized by safety and quality while meeting an expansive range of applications, we aim to contribute to the efficiency and value of our customers' work in research and development, production and electrical maintenance. HIOKI products and services are available around the world through our extensive network of subsidiaries and distributors. Information about HIOKI is available at www.hioki.com.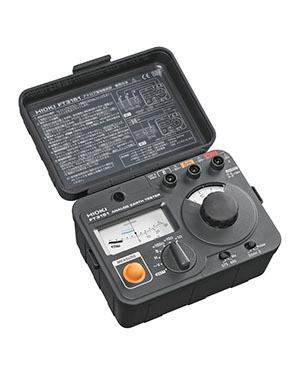 Hioki FT3151 Analog Earth Tester