Product Aug. 09, 2016
Hioki Launches SMD Test Fixture IM9201
August 5, 2016 - Nagano, Japan
Device Supports 6 SMD Sizes and High-Frequency Measurement at Up to 3 GHz

Hioki is pleased to announce the launch of the SMD Test Fixture IM9201. Manufacturers are using increasingly high-frequency electronic components (SMDs) in smartphones and other devices, and those components must be tested and evaluated at high frequencies ranging from several hundred megahertz to 1 GHz. The newly launched IM9201 can measure these increasingly high-frequency SMDs thanks to a usable frequency range that extends to 3 GHz.
The IM9201 attaches to a Hioki impedance analyzer for precise testing.
Development Background
As information age technologies continue to develop, mobile devices such as smartphones are operating at increasingly high frequencies of up to several gigahertz. As a result, the operating frequencies of electronic components (SMDs) mounted on boards in mobile devices, for example high-frequency inductors and ferrite beads, have also been increasing. Because these electronic components must be tested and evaluated at high frequencies ranging from hundreds of megahertz to 1 GHz, demand for high-frequency measuring instruments was rising. Recognizing this market environment, Hioki launched impedance analyzers with measurement frequency bands of 300 MHz (IM7581), 600 MHz (IM7583), and 1.3 GHz (IM7585).
SMD test fixtures allow SMDs to be connected to impedance analyzers for testing and evaluation. Since the newly launched IM9201 supports measurement at up to 3 GHz, it can be used to test and evaluate electronic components that operate at increasingly high frequencies.
Principal Applications
Sampling and shipping inspections of electronic components by electronic component manufacturers, evaluation of component characteristics during product development, and measurement of characteristics under actual operating conditions
Key Features
1. Simple, reliable SMD measurement at up to 3 GHz
The IM9201's usable frequency range extends to 3 GHz, enabling it to measure increasingly high-frequency electronic components. In addition, a mechanism for properly positioning the sample on the device guide and lowering a pusher-arm to secure it in place as shown below ensures that measurement can be performed easily and reliably.
2. Support for 6 SMD sizes
The IM9201 supports the following six SMD sizes: 0603 (0.6 mm × 0.3 mm), 1005 (1.0 mm × 0.5 mm), 1608 (1.6 mm × 0.8 mm), 2012 (2.0 mm × 1.25 mm), 3216 (3.2 mm × 1.6 mm), and 3225 (3.2 mm × 2.5 mm).
*Compatible Hioki impedance analyzers: IM7580, IM7580A, IM7581, IM7583, IM7585, IM7587
*The following peripherals are required in order to use the IM9201:
            Test Fixture Stand IM9200
            Adapter IM9906 (3.5 mm to 7.mm)
            Calibration Kit IM9905
---
About HIOKI
Established in 1935, HIOKI E.E. CORPORATION (TSE: 6866) has grown to become a world leader in providing consistent delivery of test and measuring  instruments through advanced design, manufacturing, and sales and services. By offering over 200 main products characterized by safety andquality while meeting an expansive range of applications, we aim to contribute to the efficiency and value of our customers' work in research and development, production and electrical maintenance. HIOKI products and services are available around the world through our extensive network of subsidiaries and distributors. Information about HIOKI is available at www.hioki.com.
For more information, please contact os-com@hioki.co.jp.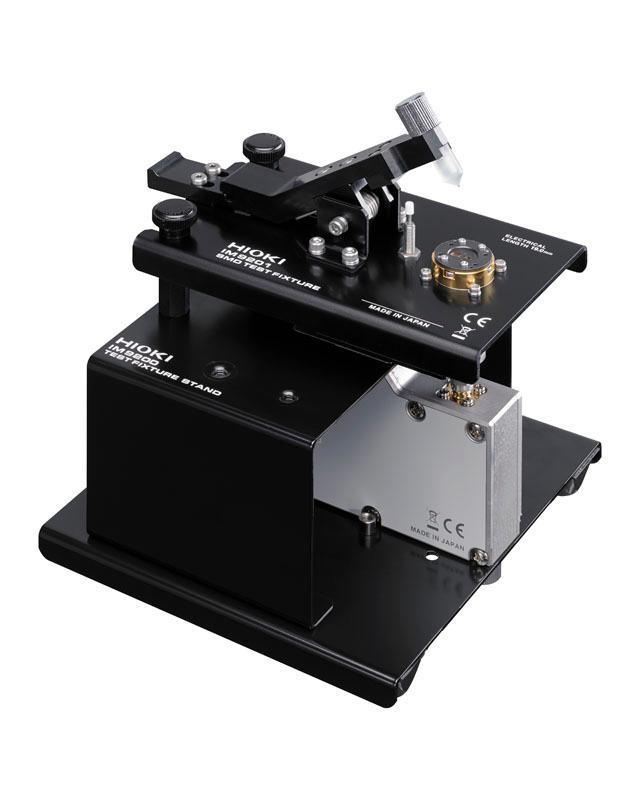 Hioki IM9201 SMD Test Fixture