Product Jan. 07, 2016
Hioki Launches Memory HiCorder MR8847A
Instrument Simplifies Maintenance and Malfunction Analysis When Paired with

Various Units
January 7, 2016 - Nagano, Japan
Hioki is pleased to announce the launch of the Memory HiCorder MR8847A.
The instrument is an update to the MR8847, which was launched in May 2011. Used in combination with the newly launched Arbitrary Waveform Generator U8793 and High Voltage Unit U8974, the new instrument simplifies maintenance and malfunction analysis while inheriting the MR8847's features.
MR8847A Series Applications


Power equipment, generating plants, and electrical substations
Power interruption tests, equipment diagnostics, and malfunction analysis
Motor development and testing
Defect analysis and quality assurance
Service and maintenance of elevators and other equipment
Sequencing circuit maintenance and malfunction analysis
Machine tools and production equipment
Maintenance and malfunction analysis
New Features
1.  Simplified maintenance and malfunction analysis when used in combination with newly launched units
In October, Hioki launched the Arbitrary Waveform Generator U8793 and High Voltage Unit U8974. When used in combination with the Arbitrary Waveform Generator, which generates user-defined electrical signal waveforms, the MR8847A can reproduce and generate problematic waveforms measured in the field. This combination can be used in applications such as  simulation testing to aid in the analysis of equipment malfunctions. The MR8847A can perform  all associated tasks, from measurement to generation and analysis of problematic waveforms.

Since the High Voltage Unit U8974 can accept input of voltages of up to 1000 V DC and 700 V AC, it enables the MR8847A to measure overseas high-voltage power lines operating at voltages such as 380 V and 480 V.


2.  Availability of a 128 GB recording media SSD unit as an additional option
The MR8847A is available with a new, internal SSD unit that can store a large volume of data thanks to its large 128 GB capacity.


 3.  MR8847 features such as high-speed sampling and fully isolated channels
The MR8847A inherits the high-speed sampling capabilities of the MR8847, which can perform measurement at speeds of up to 20M samples per second (meaning the instrument can acquire 20 million data points per second). Since all analog channels, up to the maximum complement of 16, are fully isolated, the MR8847A can perform measurement without regard to potential  differences, in the manner of an oscilloscope.


---
About HIOKI

Established in 1935, HIOKI E.E. CORPORATION (TSE: 6866) has grown to become a world leader in providing consistent delivery of test and measuring  instruments through advanced design, manufacturing, and sales and services. By offering over 200 main products characterized by safety andquality while meeting an expansive range of applications, we aim to contribute to the efficiency and value of our customers' work in research and development, production and electrical maintenance. HIOKI products and services are available around the world through our
extensive network of subsidiaries and distributors. Information about HIOKI is available at www.hioki.com.

For more information, please contact: os-com@hioki.co.jp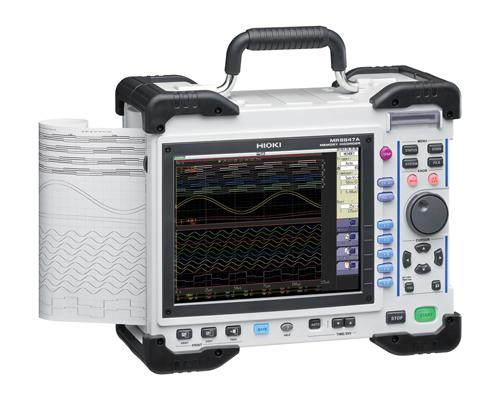 Hioki MR8847A Memory HiCorder