Product Nov. 17, 2015
Hioki Voltage Sensor PW9020 Receives German Design Award 2016 Special Mention
November 17, 2015 - Nagano, Japan
Hioki is pleased to announce that its proprietary Voltage Sensor PW9020 has received a German Design Award 2016 Special Mention. Hioki looks forward to drawing encouragement from this international design accolade as it continues to develop unique products through a thoroughgoing focus on customers.
About the German Design Award
The German Design Award is presented annually by the German Design Council. Because nomination for the award is conditional on the product in question having already received another international design award, simply being nominated is considered an honor. The award has become known as "an award among awards" due to the rigorous nature of the judging process.
In addition to receiving a 2014 Good Design Award (from the Japan Institute of Design Promotion), Hioki's PW9020 was chosen for inclusion in the Good Design Best 100, a group of Good Design-winning products that received particularly high praise from the judging committee. The product has also been honored with an additional, special accolade in the form of a Design for the Future Award. It is based on this history of recognition that the PW9020 was nominated for the German Design Award 2016.
About the PW9020
As the voltage sensor for the Clamp On Power Logger PW3365, the world's first no-metal-contact power meter, the Voltage Sensor PW9020 measures voltage from outside conductor insulation.
Currently, numerous companies are working to save energy. As the number of opportunities for measuring power consumption as part of those efforts grows, workers without adequate knowledge and experience are being called upon to make power measurements.
Clamp-on power meters are the standard instrument used in power measurement, and while it has been possible to use clamp-on sensors to measure currently safely from outside conductor insulation, it remains standard practice to measure voltage by placing clips in contact with metal terminals on circuit breakers or other components. This approach exposes workers to the risk of short-circuit accidents, which can be caused if they inadvertently allow a metal clip to come into contact with a nearby metal terminal, as well as electric shock, which can occur if they mistakenly touch a metal conductor themselves.
By allowing the PW3365 to accurately measure voltage from outside conductor insulation, the PW9020 makes it possible for the first time for workers to avoid the risk of electric shock and short-circuit accidents during power measurement. The German Design Award 2016 Special Mention recognizes this innovative contribution to the field. Furthermore, the judging committee praised the design of the grip, which is shaped so as to enable slip-free manipulation while wearing gloves, and of the jaws, whose different lengths make it easy to apply them to cables of different diameters.
=================================================

About HIOKI
Established in 1935, HIOKI E.E. CORPORATION (TSE: 6866) has grown to become a world leader in providing consistent delivery of test and measuring instruments through advanced design, manufacturing, and sales and services. By offering over 200 main products characterized by safety and quality while meeting an expansive range of applications, we aim to contribute to the efficiency and value of our customers' work in research and development, production and electrical maintenance. HIOKI products and services are available around the world through our extensive network of subsidiaries and distributors. Information about HIOKI is available at
www.hioki.com
.
For more information, please contact:
os-com@hioki.co.jp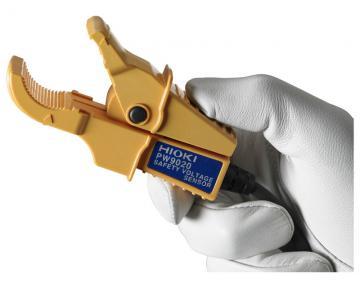 Hioki Voltage Sensor PW9020