Product Oct. 08, 2015
Hioki Launches Compact, Lightweight Heat Flow Logger LR8432
Data Logger is Ideal for Evaluating Insulation Performance and Analyzing the Causes of Temperature Changes


October 8, 2015 - Nagano, Japan
Hioki is pleased to announce the launch of the Heat Flow Logger LR8432 to the global market.
Hioki entered the heat flow measurement market domestically in March, when it launched the Wireless Heat Flow Logger LR8416 in Japan in response to growing demand for an instrument that would be capable of indicating heat flows and their magnitude in applications such as performance evaluation in automobile development and of equipment used in residential and other buildings. Compared to the wireless LR8416, the new LR8432 offers 10 wired channels and a compact, lightweight body at an affordable price.
Heat Flows and an Example Application
In processes that are accompanied by a change in temperature, there is always a corresponding movement of heat. Heat flows are used to express the magnitude of such movements, and the LR8432 can measure them over extended periods of time.
Currently, demand for the ability to measure heat flows is increasing in a variety of settings. One such area is in automobile development. In the automotive industry, manufacturers are giving priority to R&D projects targeting fuel efficiency. Since air-conditioner use has a detrimental effect on fuel efficiency, automakers are vying to reduce the frequency and extent of air-conditioner operation and thereby eek out gains in fuel efficiency by making cars more impervious to the effects of outside air temperature—that is, by increasing their heat-insulating properties.
High heat-insulating performance means reduced movement of heat (heat flow). The LR8432, which is designed to record heat flows, delivers valuable capabilities for this type of measurement application.
Principal Applications
* Automobile market (evaluating the flow of heat into the vehicle interior from the engine compartment, assessing heat damage to vehicle parts, identifying sources of heat, etc.)
* Home market (evaluating the insulation performance of building materials, evaluating the performance of radiant heating systems, etc.)
Product Features1. Smallest, most lightweight body in class
The LR8432 has the smallest, most lightweight body in its class and fits comfortably in the palm of the hand.
2. Sampling of all 10 channels at up to 10 ms
The LR8432 samples at 10 ms (1/100 sec.), delivering a level of performance that satisfies the need for high-speed operation in development of automobiles, where incorporation of electronic components is accelerating (for example, in development of electric and hybrid vehicles).
3. Ability to measure minute heat flows at a high level of sensitivity
The LR8432 provides a new level of sensitivity with voltage/heat flow measurement ranges down to 10 mV f.s. This capability ensures its ability to deliver accurate, reliable measurement, even of targets with small temperature changes.
4. Easy heat flow sensor configuration
The sensors used to measure heat flows (heat flow sensors) have different sensitivities, and in the past it was necessary to calculate and set the conversion ratio for each 1 V of output based on the sensitivity constant. The LR8432's configuration process improves work efficiency by requiring only that the sensitivity constant be input.
=================================================
About HIOKI
Established in 1935, HIOKI E.E. CORPORATION (TSE: 6866) has grown to become a world leader in providing consistent delivery of test and measuring instruments through advanced design, manufacturing, and sales and services. By offering over 200 main products characterized by safety and quality while meeting an expansive range of applications, we aim to contribute to the efficiency and value of our customers' work in research and development, production and electrical maintenance. HIOKI products and services are available around the world through our extensive network of subsidiaries and distributors. Information about HIOKI is available at
www.hioki.com
.
For more information, please contact:
os-com@hioki.co.jp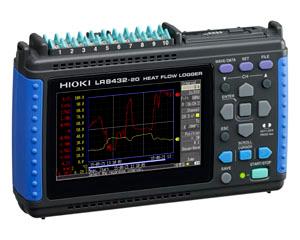 Hioki LR8432 Heat Flow Logger