Product Aug. 27, 2015
Hioki Launches AC/DC Clamp Meter CM4371 and CM4373
Durable Clamp Meters Enable Professionals to Work Quickly
August 25, 2015 - Nagano, Japan
Hioki pleased to announce the launch of the CM4371 and CM4373 AC/DC Clamp Meters.
Developed to let professionals work more quickly in a range of demanding operating environments, these durable clamp meters feature a number of improvements that allow them to measure AC and DC currents under harsh conditions, including a stronger current sensor and a broader operating temperature range than current products. In addition, their warranty has been extended to three years (up from one) so that they can be used for a longer period of time with confidence and peace of mind.
The CM4371 has a rated current of 600 A, while the CM4373 has a rated current of 2000 A.
PRODUCT FEATURES1. Automatic AC/DC detection
When the user sets the rotary switch to the current measurement or voltage measurement position, the CM4371 and CM4373 will automatically detect whether the current being measured is AC or DC. This feature helps prevent measurement errors by eliminating the need to operate the switch in areas where lines carrying AC and DC currents are intermingled.

2. Inrush current measurement
The CM4371 and CM4373 can simultaneously measure and display RMS and maximum wave height values for inrush currents generated by starting motors and welding equipment. Since they also automatically detect and measure the duration of the inrush current, the instruments are capable of more accurate measurement than clamp-on meters whose measurement interval is fixed to 100 ms.

3. Damage-resistant jaws (current sensor)
Hioki reviewed the design of the jaws (current sensor) for both the CM4371 and CM4373 to improve strength. As a result, the warranty has been extended to 30,000 open/close cycles (up from 10,000 in legacy models), enabling operators to use the instrument for longer periods of time.
4. Broader operating temperature range (-25C to 65C) and improved durability
Whereas the legacy model (3285-20) has an operating range of 0C to 40C, the CM4371 and CM4373 have an operating temperature range of -25C to 65C, enabling their use in subzero and hot environments.
5. Product design that yields improved operability and convenience
In keeping with Hioki's commitment to providing customers worldwide with high-quality products that have been developed and manufactured in the city of Ueda in Japan's Shinshu region, the CM4371 and CM4373 have been designed to deliver enhanced operability and convenience based on customer needs.
Both models' rotary switch is designed so that it can be operated single-handed while wearing work gloves. In addition, the instruments incorporate a white backlight so that measured values are visible even in dim locations and a display with a wide viewing angle so that measured values can be read from any angle.
6. IP54 dustproof and waterproof enclosure
The CM4371 and CM4373 feature an enclosure that delivers IP54-level dustproof and waterproof protection*, ensuring that measurement functionality can be maintained despite exposure to particulate matter such as dust and sand as well as water droplets. (The legacy 3285-20 does not deliver this level of protection.)
*Jaws (current sensor): IP50
7. CAT IV (600 V) safety for an expanded range of measurement targets
To facilitate the safe use of measuring instruments, the IEC 61010 safety standard establishes measurement categories ranging from CAT II to CAT IV based on the locations in which the instrument is used. Higher category numbers indicate a broader range in which measurement is possible.
Whereas the legacy 3285-20 was compatible with CAT III (600 V) applications, the CM4371 and CM4373 are designed for use in CAT IV (600 V) environments. This additional level of protection allows them to be applied safely to service lines and distribution panels with terminal-to-ground voltages of up to 600 V.
8. High-voltage DC measurement capability
Whereas the legacy 3285-20 was able to measure DC voltages of up to 600 V, the CM4371 and CM4373 can measure up to 1700 V. As a result, the instruments can be used in no-load voltage inspections of solar power equipment, an area where there is an increasing level of need in the market.
PRINCIPAL APPLICATIONS
* Maintenance inspections of electrical equipment and solar power equipment
* Development, repair, and maintenance of products such as electric vehicles
=================================================
About HIOKI
Established in 1935, HIOKI E.E. CORPORATION (TSE: 6866) has grown to become a world leader in providing consistent delivery of test and measuring instruments through advanced design, manufacturing, and sales and services. By offering over 200 main products characterized by safety and quality while meeting an expansive range of applications, we aim to contribute to the efficiency and value of our customers' work in research and development, production and electrical maintenance. HIOKI products and services are available around the world through our extensive network of subsidiaries and distributors. Information about HIOKI is available at
www.hioki.com
.
For more information, please contact:
os-com@hioki.co.jp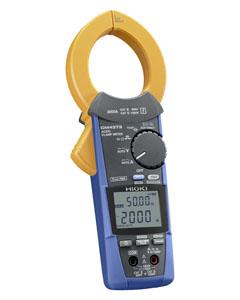 Hioki CM4373 AC/DC Clamp Meter