Corporate Apr. 03, 2015
HIOKI Innovation Center Completed
New Research Building to Provide a
State-Of-The-Art R&D Environment
Nagano, Japan
Hioki is pleased to announce that construction work on the HIOKI Innovation Center, a new research building located on the site of the company's Head Office and Main Plant, was completed on March 19.
Hioki is marking the 80th anniversary of its founding in 2015. Looking to capitalize on the milestone as an opportunity to better equip itself to create products that fulfill customer expectations and to develop new and innovative elemental technologies, the company began construction on the HIOKI Innovation Center in
September 2013 with the goal of enhancing its research and development environment by building a state-of-the-art testing and research facility. By bringing together engineering and development personnel who had been scattered across multiple locations at the Head Office and Main Plant in a "flat" workspace on a single floor, the new building will provide new opportunities for natural interactions among researchers. Hioki believes this approach will both promote innovation and streamline the research and development process.
On March 19,a total of 34 guests, including local government officials, design and administrative personnel, and the project's main contractor, joined company officials at a dedication ceremony for the new building and a ribbon-cutting ceremony in the foyer at the Center's main entrance. Hioki plans to have installed all experimental and research equipment in the new facility and to have begun research and development work there by May.
About the HIOKI Innovation Center

1. Overview
* Address: 81 Koizumi, Ueda, Nagano
(Located at the site of Hioki's Head Office and Main Plant)
* Structure: Three-story steel construction with a vibration-damping structure
* Dimensions: 110 m (north-south) 36 m (east-west) 17 m (high)
* Total floor area: About 10,000 m
2
* Project cost: About 3.8 billion (planned)
* Construction project duration: September 2013 to December 2014
2. Extensive experimental and research equipment
Hioki has equipped the new Innovation Center with some of the world's most
advanced experimental equipment in order to enable its engineers to
deliver measuring instruments that satisfy customers' needs to markets
worldwide. In addition to an anechoic chamber, the facility provides a
clean room, performance evaluation center, drop testing equipment,
vibration testing equipment, and other equipment.
3. Single-floor workspace
The Center will bring together a total of about 250 engineers on a single
108-meter by 35-meter floor capable of accommodating 400 workers. By
increasing the number of natural interactions among engineers and
promoting rich exchanges of creative ideas, this approach will provide a
research and development environment that is conducive to the
development of new products that are as unique as they are advanced.
4. Environmentally friendly design
In addition to rooftop solar panels, the Center features a structure
designed to make effective use of natural light. It also incorporates
various design features that lessen reliance on mechanical climate
control, including wind-powered natural ventilation windows and a
cooling and heating trench*.
*Cooling and heating trench: Because the temperature underground remains constant year-round, it is cooler than outside air in the summer and warmer than outside air in the winter. By passing outside air through a large, underground channel known as a cooling and heating trench before pumping it into the building, it is possible to cool the air during the summer and to warm it during the winter. This system helps lower energy use by heating and cooling systems.
====================================================

About HIOKI
Established
in 1935, HIOKI E.E. CORPORATION (TSE: 6866) has grown to become a world
leader in providing consistent delivery of test and measuring
instruments through advanced design, manufacturing, and sales and
services. By offering over 200 main products characterized by safety and
quality while meeting an expansive range of applications, we aim to
contribute to the efficiency and value of our customers' work in
research and development, production and electrical maintenance. HIOKI
products and services are available around the world through our
extensive network of subsidiaries and distributors. Information about
HIOKI is available at
www.hioki.com
.
For more information, please contact:
os-com@hioki.co.jp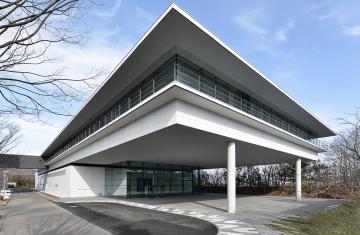 New HIOKI Innovation Center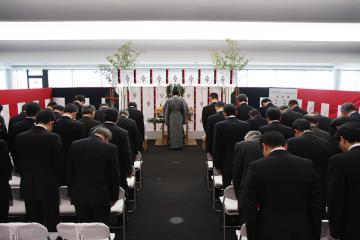 Traditional Dedication Ceremony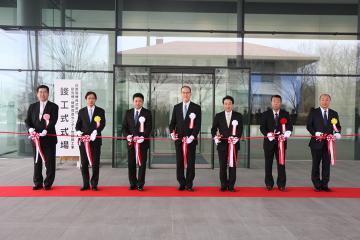 Tape-Cutting Ceremony