Product Jan. 06, 2015
Hioki Launches Current Probe CT6700 and CT6701
Advanced Sensors Offer 10x the Sensitivity for Precise Observation of Very Low Current Waveforms
Nagano, Japan
Hioki is pleased to announce the launch of the Current Probe CT6700/CT6701. Both products offer sensitivity that is 10 times greater than that of probes in the existing product line, making it possible to analyze waveforms of very low currents down to 1 mA.
Demand for the Ability to Measure Very Low Currents Continues to Grow.
Manufacturers of compact, battery-powered portable devices such as mobile phones and smartphones are working to extend the operating times of their products by lowering their current consumption. Similarly, manufacturers of environmentally friendly electric products and devices as well as automobiles are under pressure to achieve ever-higher levels of energy efficiency as a way to combat global warming. The ability to observe rapid variations in operating current is essential in the development of both products such as these and electronic components.
To meet these customer needs, measuring instruments must deliver the ability to observe very low current waveforms with a high degree of precision along with broad frequency response.
Hioki has been delivering current probes with broad frequency characteristics that are capable of measuring low currents to the industry for some time, but it chose to develop new current probes with even higher sensitivity than those in the existing product line in response to the need for higher-sensitivity performance.
CT6700 and CT6701 Features

1. Precise observation of 1 mA waveforms thanks to sensitivity that is 10 times greater than that of legacy products
Current probes use a sensor to detect current and convert the reading into a voltage that can be input to a recording device to allow observation of the associated waveform. Existing products have a conversion rate that enable them to output 0.1 V for every 1 A of current (0.1 V/A). By contrast, the newly launched CT6700 and CT6701 both have an output rate of 1 V/A, which represents a tenfold increase in sensitivity. In short, since the new probes can output 10 times greater voltage for a given current value than legacy products, they can display more precise waveforms. This heightened sensitivity allows even low-current waveforms of 1 mA to be observed precisely.
2. Measurement of very low currents that had been unintelligible due to noise
When low currents were measured with an oscilloscope using an existing current sensor, it was difficult to obtain a clear picture of the current waveform due to the sensor's low output voltage. When the current and voltage output rate (V/A) is low, it becomes necessary to set the oscilloscope to a high-sensitivity range with a low S/N ratio*, causing the low current signal to be obscured by noise.
However, thanks to an output rate that is 10 times better than existing models and circuitry designed to reduce the effects of noise, the CT6700 and CT6701 enable measurement at low-sensitivity ranges that have a high S/N ratio. The result of these improvements is a waveform that is rendered more precisely than that generated by legacy products for a given current value.
*S/N ratio: A logarithmic representation of the amount of noise relative to the amount of signal. Larger S/N ratios are characterized by less, enabling high-quality signal measurement.
3. User-friendly thanks to a more compact design
The CT6700 and CT6701 are about 40% smaller by volume than legacy products. The more compact design provides greater flexibility when working in a confined space with numerous wires.
4. Warning function for peace of mind
A warning lamp on the probe will flash in the event a current in excess of the probe's rating is input. In addition, an "UNLOCKED" indicator and flashing warning lamp combine to alert the operator if the probe is not fully locked. These features provide peace of mind when making measurements.
5. Automatic zero-adjustment and degaussing with a single button for increased measurement efficiency
To eliminate measurement errors, it is necessary to perform degaussing and zero-adjustment prior to use to adjust the position of the zero measured value. This process was bothersome in the past as it had to be performed manually, but the CT6700 and CT6701 complete both tasks automatically with a single button press, boosting measurement efficiency.
In addition, it is necessary to eliminate error with the degaussing function after measuring a large current since the sensor is affected by the current. Degaussing and zero-adjustment can be performed by pressing and holding the button.
*A separate power supply is required in order to use the Current Probe CT6700/CT6701.
====================================================

About HIOKI
Established in 1935, HIOKI E.E. CORPORATION (TSE: 6866) has grown to become a world leader in providing consistent delivery of test and measuring instruments through advanced design, manufacturing, and sales and services. By offering over 200 main products characterized by safety and quality while meeting an expansive range of applications, we aim to contribute to the efficiency and value of our customers' work in research and development, production and electrical maintenance. HIOKI products and services are available around the world through our extensive network of subsidiaries and distributors. Information about HIOKI is available at
www.hioki.com
.
For more information, please contact:
os-com@hioki.co.jp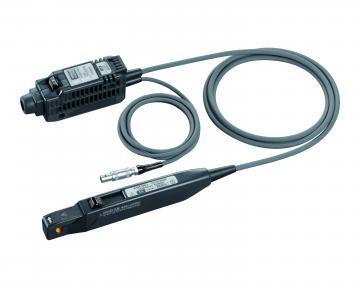 Hioki CT6700 and CT6701 Current Probes