Product Mar. 13, 2015
Hioki Launches Wireless Fungal Logger LR8520
Data Logger Quantifies Likelihood of Fungal Growth
Nagano, Japan
Hioki is pleased to announce the launch of the Wireless Fungal Logger LR8520.
Hygiene management geared to prevent fungal growth is an important priority from the standpoint of implementing quality control at food warehouses and protecting cultural properties at facilities such as art museums. The LR8520 Wireless Fungal Logger measures the fungal index, an indicator that is used to forecast the amount of time until fungal growth begins. Since the new instrument incorporates Bluetooth® wireless communications technology, it can be used to efficiently gauge the fungal index wirelessly, helping to prevent damage caused by fungal growth.
Development Background
Hygiene management is critical in preventing fungal growth in order to maintain quality in the warehousing industry, where companies store food and documents, and in order to protect cultural properties at facilities such as art and other museums. Typical regimes involve measuring temperature and humidity at regular intervals in order to prevent fungal growth. However, it is difficult to accurately assess the state of fungal growth on the basis of temperature and humidity measurement alone. Hioki focused on the fungal index, an indicator used to forecast how long until fungal growth begins, and developed the new LR8520 so that facilities managers can prevent damage from fungal growth by identifying the fungal index.
Fungal Index
The fungal index was developed by doctor of agriculture Keiko Abe, director of the Institute of Environmental Biology, as an indicator for forecasting the likelihood of fungal growth. There is a correlation between fungal growth, temperature, and relative humidity, and the fungal index can be calculated from the latter two data. Its principal use is to quantify the indoor fungal growth environment (patent: 2710903).
Key Features
1. Extremely easy measurement of fungal index, temperature, and humidity in a palm-sized unit
Since the LR8520 fits in the palm of your hand, it can be placed anywhere. Recording fungal index, temperature, and humidity data requires only a press of the "Start" button.
2. Data downloading and one-stop management of data using Bluetooth wireless communications technology for dramatically improved measurement efficiency
The LR8520 incorporates Bluetooth® wireless communications technology, allowing it to send and receive data over line-of-sight distances of up to 30 meters. Data can be downloaded and managed easily using a tablet, smartphone, or computer, dramatically improving measurement efficiency. (Only Windows and Android™ are supported.)
In addition, data can be gathered using Hioki's Wireless Logging Station LR8410 or Wireless Heat Flow Logger LR8416, which are already available.
Bluetooth® is a registered trademark of Bluetooth SIG, Inc., and is used by HIOKI E.E. CORPORATION under license.
====================================================

About HIOKI
Established in 1935, HIOKI E.E. CORPORATION (TSE: 6866) has grown to become a world leader in providing consistent delivery of test and measuring instruments through advanced design, manufacturing, and sales and services. By offering over 200 main products characterized by safety and quality while meeting an expansive range of applications, we aim to contribute to the efficiency and value of our customers' work in research and development, production and electrical maintenance. HIOKI products and services are available around the world through our extensive network of subsidiaries and distributors. Information about HIOKI is available at
www.hioki.com
.
For more information, please contact:
os-com@hioki.co.jp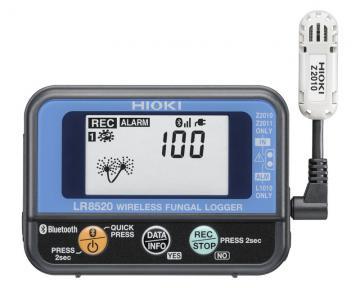 Hioki LR8520 Wireless Fungal Logger