Measure the Insulation Resistance of Electric Vehicles
Overview
Measure insulation resistance for the maintenance of electric vehicles (EVs) and hybrid electric vehicles (HEVs).
Highlights
Measure electrical insulation to prevent electric shock accidenst during the maintenance of electric and hybrid vehicles.
How to use
1.

Disconnect the connectors of the battery and inverter. Insulation resistance cannot be measured under high pressure.

2.

Connect the negative terminal of the insulation resistance tester to the ground point of the car body.

3.

Connect the positive terminal to each motor phase terminal.

4.

Measure the insulation resistance at a test voltage of 500 V (which varies depending on the battery voltage). * The measurement method varies depending on the vehicle type. For details, refer to the service manual.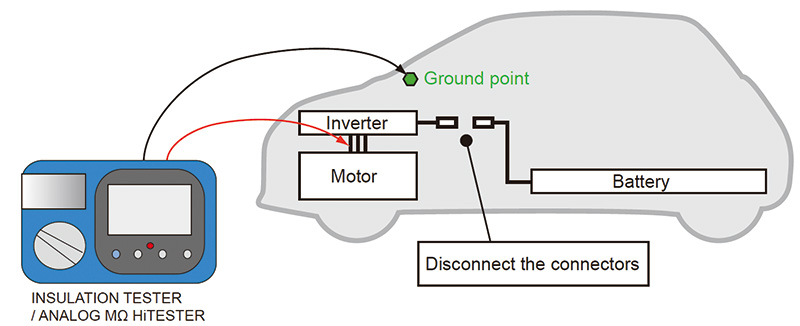 Related Products List