SUPER MEGOHM METER SM7420
4ch micro current model - perfect for automated-systems integration
The Hioki SM Series Super Megohm Meters are high resistance and ultra low current inspection devices with a 0.1 fA resolution to offer precise testing on production lines.  The SM7420 is industry's fastest 4-channel simultaneous super megohm meter that supports applications for improving the productivity of passive components such as capacitors and filters.
Key Features
300 times better noise resistance
6000 ps/minute - ideal for mass production
Channel-independent low capacity contact check
Perfect for equipping on automated machines
Built-in EXT I/O, RS-232C, GP-IB and USB
Min. 0.1 fA resolution
Ideal for mounting in automated lines, easy to construct MLCC leakage current inspection lines
Model No. (Order Code)
| | |
| --- | --- |
| SM7420 | 4ch, Dedicated micro current measurement |
Note: Measurement leads are not included. Purchase the appropriate lead option for your application separately.
4CH Microcurrent Measurement SUPER MEGOHM METER SM7420
Characteristics of the MLCC Leakage Current Test System
This high-speed test system combines the 4ch microcurrent SUPER MEGOHM METER SM7420 with an external power source, or the 8ch SUPER MEGOHM METER SM7810, developed for leakage current tests, with a 32ch output POWER SUPPLY UNIT SM7860.
Perfect for equipping on automated machines, use this to construct the fastest MLCC leakage current inspection line.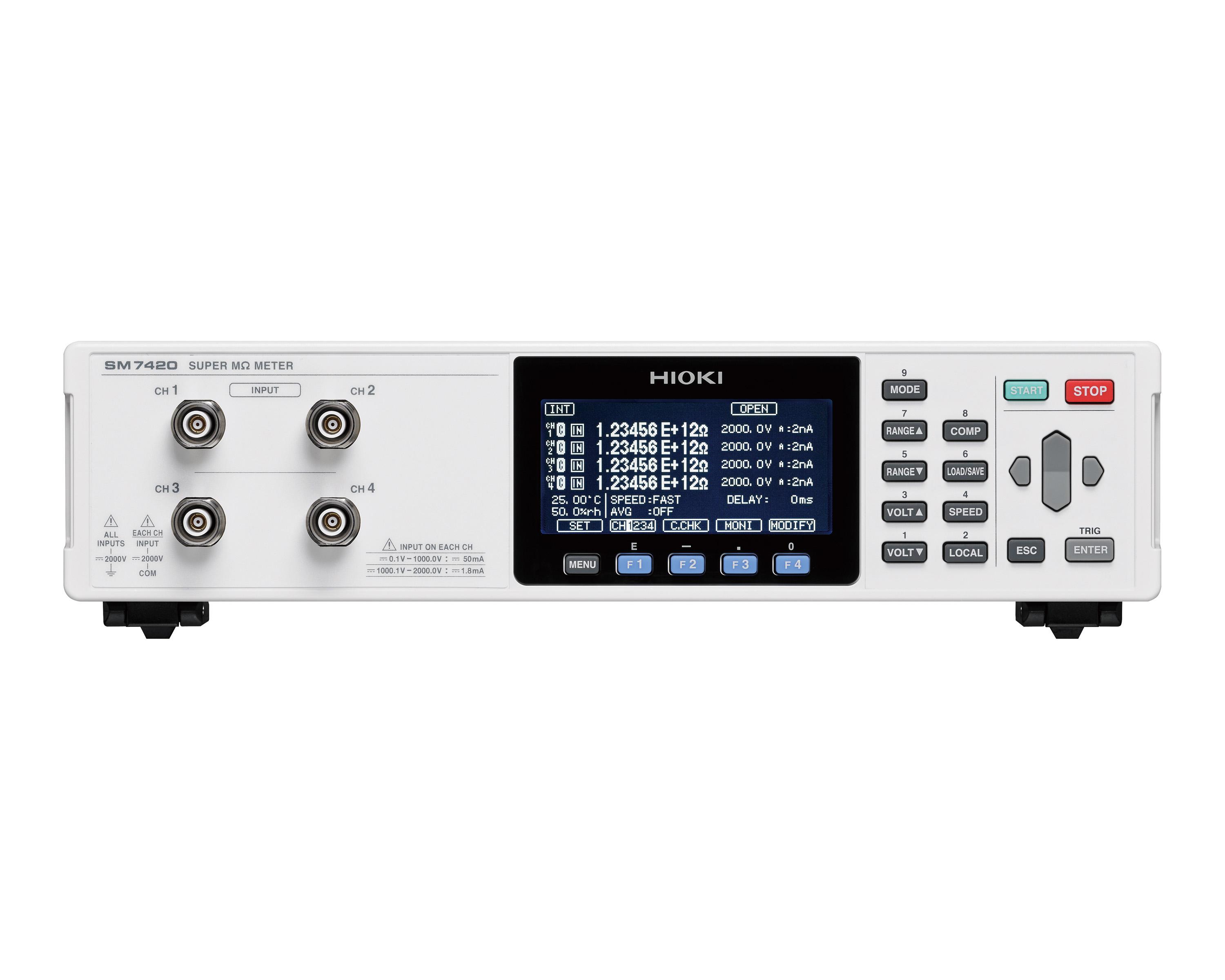 High-Performance Contact Checks
[Low capacity contact checks]
The SM7420 is equipped with contact checks that can identify low-capacity capacitors of only a few pF as well as measured objects with a small capacitance.
(Reference value: 0.1 pF to 99.99 pF)

[CH independent contact checks]
The SM7420 using an external power source enables check frequencies and delay settings to be changed for each measurement channel, achieving detailed settings that match the line design.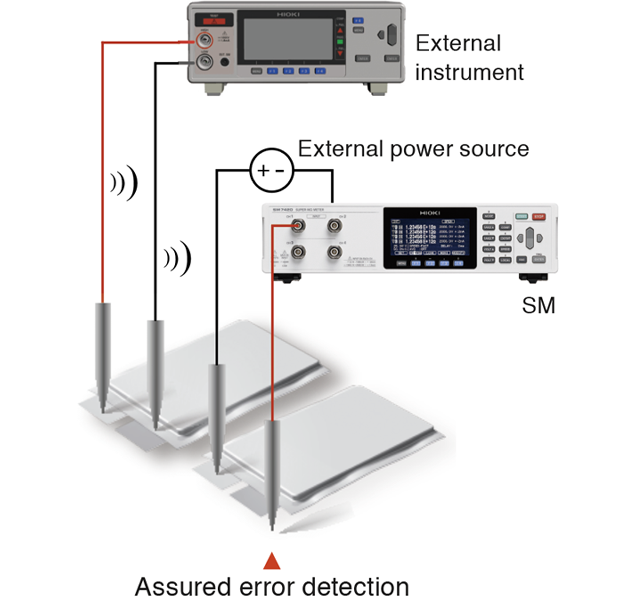 1/60 Variability, 300x Noise Resistance
Stability (repeatability) against power supply noise and external noise has improved dramatically due to a combination of new Super Megohm floating circuitry and triaxial connectors.
Variability in normal usage environments is reduced to 1/60 compared to previous models, and to 1/300* in conditions where 50 V noise is applied.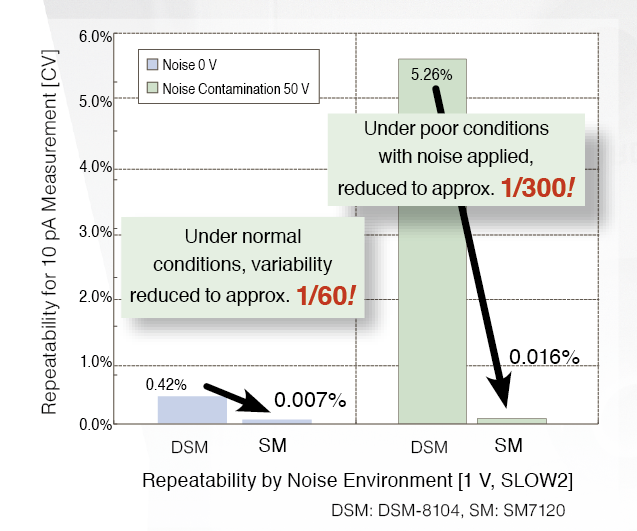 Basic specifications
Accuracy guaranteed: 1 year
Number of channels
4 ch
DC current measurement
20 pA range (0.1 fA resolution), Accuracy: ±(2.0 % of rdg. +30 dgt.)
200 pA range (1.0 fA resolution), Accuracy: ±(1.0 % of rdg. +30 dgt.)
2 nA range (10 fA resolution), Accuracy: ±(0.5 % of rdg. +20 dgt.)
20 nA range (100 fA resolution), Accuracy: ±(0.5 % of rdg. +10 dgt.)
200 nA range (1 pA resolution), Accuracy: ±(0.5 % of rdg. +10 dgt.)
2 μA range (10 pA resolution), Accuracy: ±(0.5 % of rdg. +10 dgt.)
20 μA range (100 pA resolution), Accuracy: ±(0.5 % of rdg. +10 dgt.)
200 μA range (1 nA resolution), Accuracy: ±(0.5 % of rdg. +10 dgt.)
*2 mA range (1 nA resolution), Accuracy: ±(0.5 % of rdg. +30 dgt.)
(1) Measurement speed SLOW2 (internal integration time 13PLC)
(2) At a temperature of 23 °C ±5 °C with humidity of 85% rh
(3) 2 mA range (Measurement speed FAST only)
Resistance measurement capabilities
50 Ω to 2 × 10 ^19 Ω
Note: Resistance measurement accuracy is defined by the current range accuracy and voltage setting accuracy.
Measurement time setting
Delay: 0 to 9,999 msec
Functions
CH independent low capacity contact checks, CH independent cable length correction, CH independent jig capacity open compensation, comparator
Display
LCD (8 lines of 30 characters), with backlight, high voltage warning indicator
Interfaces
USB, RS-232C, GP-IB, EXT I/O (NPN/PNP can be switched)
Power supply
100 to 240V AC , 50/60 Hz, 45 VA
Dimensions and mass
330 mm (12.99 in)W × 80 mm (3.15 in)H × 450 mm (17.72 in)D, 6.5 kg (229.3 oz)
Included accessories
Power cord ×1, Instruction manual ×1, CD-R (Communications command instruction manual, USB driver) ×1, EXT I/O male connector ×1
Measurement Leads (6)

PIN TYPE LEAD (RED) L2230
PIN TYPE LEAD (BLACK) L2231

CLIP TYPE LEAD (RED) L2232

CLIP TYPE LEAD (BLACK) L2233

OPEN LEAD (RED) L2234

OPEN LEAD (BLACK) L2235
PC communication (2)

RS-232C CABLE 9637
9 pin - 9 pin, cross, 1.8 m (5.91 ft) length

GP-IB CONNECTOR CABLE 9151-02
Humidity sensor (1)

HUMIDITY SENSOR Z2011