Product Nov. 27, 2020
Hioki Launches AC Leakage Clamp Meter CM4002, CM4003
New instruments help resolve current leakage problemsquickly with effi cient investigation and high-precision measurement capabilities
Hioki is pleased to announce the launch of the AC Leakage Clamp Meter CM4002 and CM4003, which streamline current leakage investigations and deliver high-precision, high-reliability leakage current measurement capability.
The new instruments, which update the Clamp on Leak HiTester 3283, can measure parameters ranging from AC leakage current to load current.
In addition to a newly designed sensor that allows accurate detection of minuscule currents, the instruments support the optional Wireless Adapter Z3210, which can be connected to enable Bluetooth® wireless communications with smartphones and tablets. The CM4002 and CM4003 signifi cantly reduce the time required to resolve current leakage issues.
Development Background
The process of maintaining electrical equipment in buildings and plants includes periodic insulation management. Since current leaks can lead to equipment malfunctions and electric shock, it is essential to locate them quickly. Additionally, in today's world where electric power is critical to our everyday lives, electricity users demand maintenance methods that do not necessitate power interruptions.
Technicians use leakage clamp meters to measure current quickly and easily simply by clamping them around wires, eliminating the need to shut off the power. The Clamp on Leak HiTester 3283, which was launched in 1997, long served as Hioki's fl agship instrument for measuring leakage current, earning it broad adoption among users responsible for production plant and building management and maintenance inspections over many years.
However, measurement was not a simple process, with operators typically required to copy down readings by hand on paper in the fi eld, which forced them to spend time later checking the results against equipment sites, and use other instruments such as recorders when they needed to investigate current leakage (intermittent leakage) issues to determine when they were occurring. Hioki developed the CM4002 and CM4003 to provide capability for investigating current leakage issues through efficient, high-precision measurement.
AC Leakage Clamp Meter CM4003

Wireless Adapter Z3210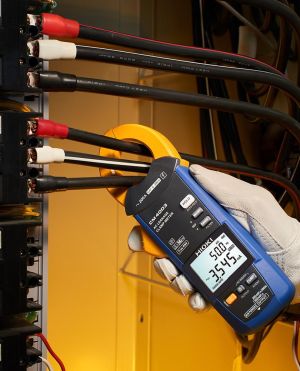 Key Features
1. Streamlining investigations of current leakage with the Z3210 and GENNECT Cross
When connected to the optional Wireless Adapter Z3210, the CM4002 and CM4003 can be paired wirelessly with a tablet or smartphone using Bluetooth®. GENNECT Cross, a free application software from Hioki, can then be used to place measurement results on site photographs and construction drawings that have been imported into the handset so that leakage locations can be quickly identified.
The application software also provides event recording functionality, a convenient tool for investigating leakage events whose timing is unknown. To utilize the function, users simply place the instrument in the field and configure event settings with the leakage current value and other conditions they wish to detect. Events are recorded in the instrument's built-in memory as they occur, allowing the user to recover the data later and check for leakage events.
Other functionality such as the ability to generate PDF reports from recorded data in the field further boosts work efficiency.
2. High-precision, high-reliability leakage current measurement using a newly designed sensor
To measure minuscule leakage currents, an instrument must be engineered to resist the effects of external magnetic fields. The CM4002 and CM4003's newly designed sensor uses high-permeability magnetic materials that resist the effects of external magnetic fields for its internal core and shielding. By blocking magnetic fields from the surrounding environment, these materials reduce the effects of such fields by 50%* compared to the previous model.
A new international standard governing leak clamps, IEC 61557-13, requires that the instruments be capable of measuring extremely small leakage currents at a higher level of precision than in the past. The CM4002 and CM4003 comply with the standard's performance criteria to deliver highprecision, high-reliability measurement.
*

Typical value when measuring a 20 mA leakage current in an external magnetic field of 400 A/m.
3.Ability to measure everything from leakage current to load current
The range of values for which accuracy is guaranteed‒0.060 mA to 200.0 A‒has been expanded from the previous model (1.00 mA to 200.0 A) to include minuscule currents. As a result, the instruments can be used in a greater variety of settings. Thanks to a clamp diameter of 40 mm, the instruments can be easily clamped around thick cables.
4. Convenient functionality specifi c to the CM4003
Output function (waveform/RMS): The CM4003 can record waveforms and fl uctuations when used with a recorder.
External power supply function: The CM4003 can operate continuously for an extended period of time when used with the optional AC Adapter Z1013.
PRIMARY APPLICATIONS
Leakage current measurement: Insulation management and leakage checks
Load current measurement: Electrical equipment inspections
*

Company and product names used in this release are the trademarks or registered trademarks of their respective owners.
About HIOKI
Established in 1935, HIOKI E.E. CORPORATION (TSE: 6866) has grown to become a world leader in providing consistent delivery of test and measuring instruments through advanced design, manufacturing, and sales and services. By offering over 200 main products characterized by safety and quality while meeting an expansive range of applications, we aim to contribute to the efficiency and value of our customers' work in research and development, production and electrical maintenance. HIOKI products and services are available around the world through our extensive network of subsidiaries and distributors. Information about HIOKI is available at www.hioki.com.