HIGH VOLTAGE UNIT U8974
1000 V High-voltage Direct Input Module for Memory Recorders
The Hioki U8974 input module features direct high –voltage input of up to 1000 V DC and 700 V AC without using a differential probe. This is ideal for primary and secondary measurements of UPS power supplies and commercial power supply transformers, for recording the primary and secondary waveforms of inverters, and for measuring high-voltage power supply lines, such as 380 V and 480 V systems used in many countries.


Key Features
Input unit capable of DCV and ACV high voltage input

Isolated 2 channel input

Maximum rated voltage to ground: 1000 V AC or DC (CAT III), 600 V AC or DC (CAT IV)

Directly input up to 1000 V DC or 700 V AC

High-speed sampling of up to 1MS/s
Model No. (Order Code)
| | |
| --- | --- |
| U8974 | For the MR6000, MR8847A, MR8827, and similar products |
Note: This module must be used with the Memory HiCorder. Input cords are not included. Please purchase them separately.
Direct, high-voltage input without differential probes
The U8974 is ideal for measuring the primary and secondary sides of UPS power supplies and commercial power supply transformers. It can measure high-voltage power lines, including 380 V and 480 V circuits found in many countries. With high-speed sampling at up to 1 MS/s and 16-bit resolution, it can also be used in load rejection testing and switch testing.
Analyze correlations between phenomena, including voltage levels before and after generator disconnection, RPM fluctuation rates, governor servo operating status, and voltage governor switching timing.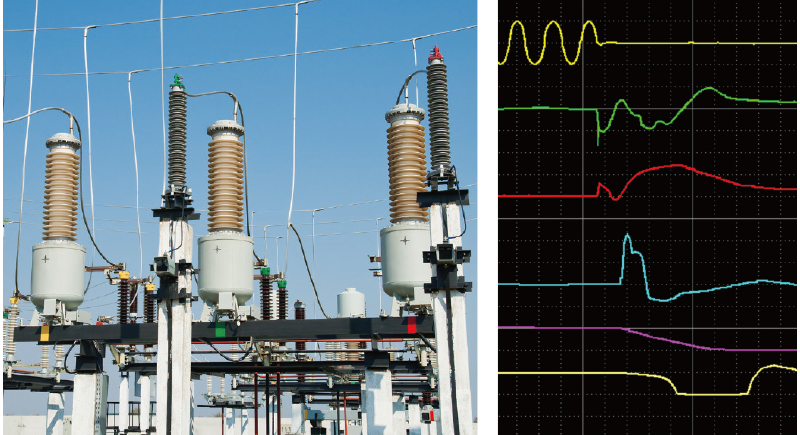 List of Available Memory HiCorders
Please refer to the table here for the types of input units that can be used for each Memory HiCorder.
Basic specifications
Accuracy guaranteed: 1 year
Measurement functions
Number of channels: 2, for voltage measurement, DC/RMS selectable
Maximum rated voltage to ground: 1000 V AC or DC (CAT III), 600 V AC or DC (CAT IV)
Input terminals
Banana input terminal (Input impedance: 4 MΩ, Input capacitance: 5 pF)
Measurement range
200 mV/div to 50 V/div (DC mode), 8 ranges
500 mV/div to 50 V/div (RMS mode), 7 ranges
Measurement resolution
1/1600 of measurement range (using 16-bit A/D conversion)
Maximum sampling rate
1MS/s
Measurement accuracy
±0.25% f.s. (with filter 5 Hz, zero position accuracy included)
RMS measurement
RMS accuracy: ±1.5% f.s. (DC, 30 Hz to 1 kHz), ±3% f.s. (1 kHz to 100 kHz)
Response time: High speed 150 ms, Medium speed 500 ms, Low speed 2.5 s
Frequency characteristics
DC to 100 kHz (-3dB)
Input coupling
DC/GND
Maximum input voltage
1000 V DC, 700 V AC
Dimensions and mass
106 mm (4.17 in) W × 19.8 mm (0.78 in) H × 196.5 mm (7.74 in) D, 230 g (8.1 oz)
Included accessories
None
---
Related Products