AC/DC CURRENT PROBE CT6844A
High-precision Current Testing
Hioki's clamp type AC/DC current sensors can be connected directly to Hioki Power Analyzers and Memory HiCorders.
Also, it can be connected to Power Meters, Oscilloscopes, DMMs, etc. by using an optional sensor unit.
Use with an instrument with a high input impedance of 1 MΩ or higher.
Key Features
Frequency bandwidth DC to 500 kHz
Rated current 500 A AC/DC
Power supplied via the measurement instrument (when connecting Hioki Power Analyzer or Memory HiCorder)
Ideal for use in environmental testing with broad -40°C to 85°C temperature range
Ideal for EV inverter evaluation and PV power generation PCS evaluation
Single-handed operation and robust locking mechanism
Model No. (Order Code)
Note: This product cannot be used alone.
Clamp-type sensors that eliminates the need to cut lines
Clamp-style current sensors can be affixed without cutting the line under measurement. Thanks to that design, they can measure current in applications where it's not possible to cut lines, including testing of EVs on chassis dynamometers and evaluation of operational solar power systems.

Fuel efficiency testing that complies with the WLTP international standard
The CT6840A series can measure current in operating vehicles since there's no need to cut cables. Combined with a power analyzer, these instruments can accurately integrate current and power during charging and discharging of system batteries in order to make WLTP-compliant fuel efficiency measurements.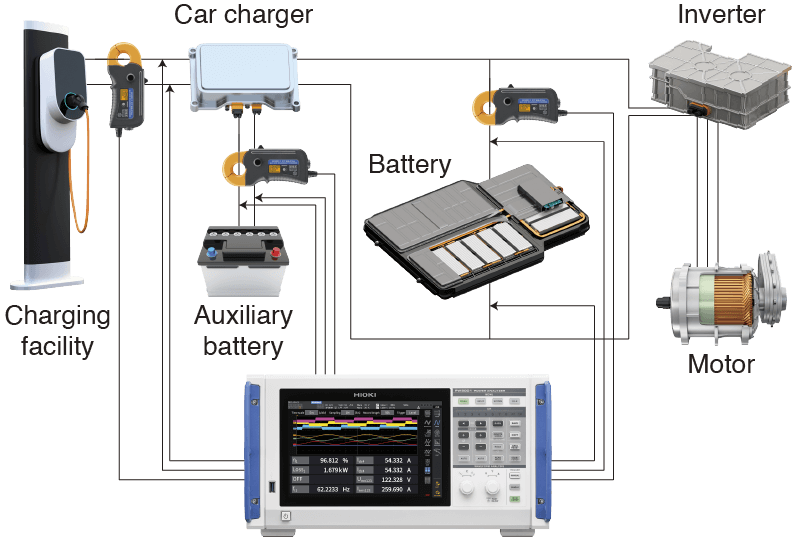 Realizing unparalleled measurement precision in a clamp-style design
While clamp-style current sensors are generally praised for their convenience, they usually pose disadvantages in terms of measurement precision. However, the CT6840A series delivers unparalleled measurement precision in a clamp-style design, allowing accurate measurement of DC power in battery-powered EVs and solar power systems.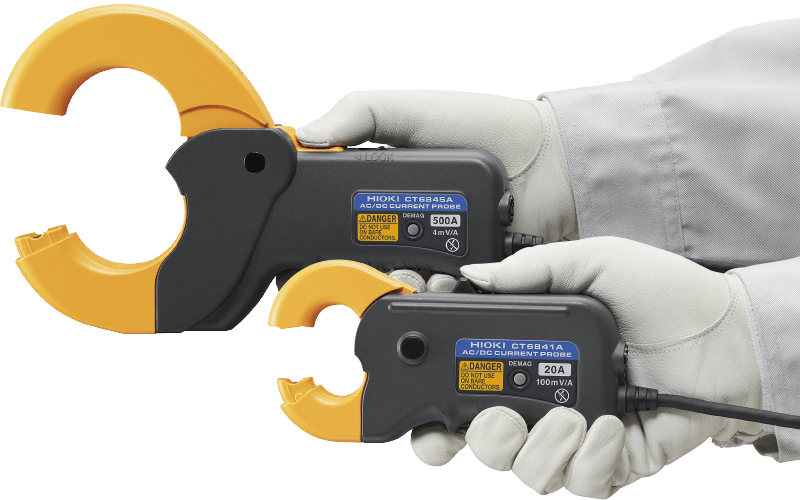 Five-model line with a maximum current rating of 1000 A
Rated current/Frequency band/Diameter of measurable conductors
CT6841A: 20 A/DC to 2 MHz/φ20 mm or less
CT6843A: 200 A/DC to 700 kHz/φ20 mm or less
CT6844A: 500 A/DC to 500 kHz/φ20 mm or less
CT6845A: 500 A/DC to 200 kHz/φ50 mm or less
CT6846A: 1000 A/DC to 100 kHz/φ50 mm or less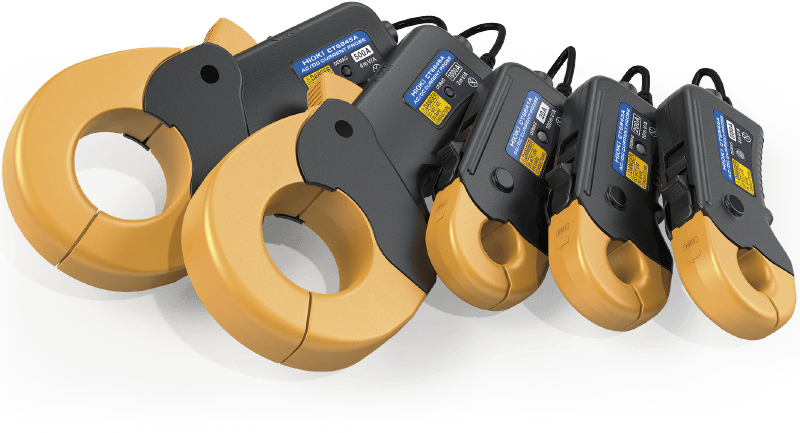 Accurate current measurement across a broad operating temperature range of -40°C to 85°C
Temperature characteristics are an issue for current sensors that can manage DC current. The CT6840A series uses the flux gate detection method. Unlike the standard Hall element detection method, the flux gate method is more resistant to temperature variations, allowing instruments to accurately measure current in a variety of test environments.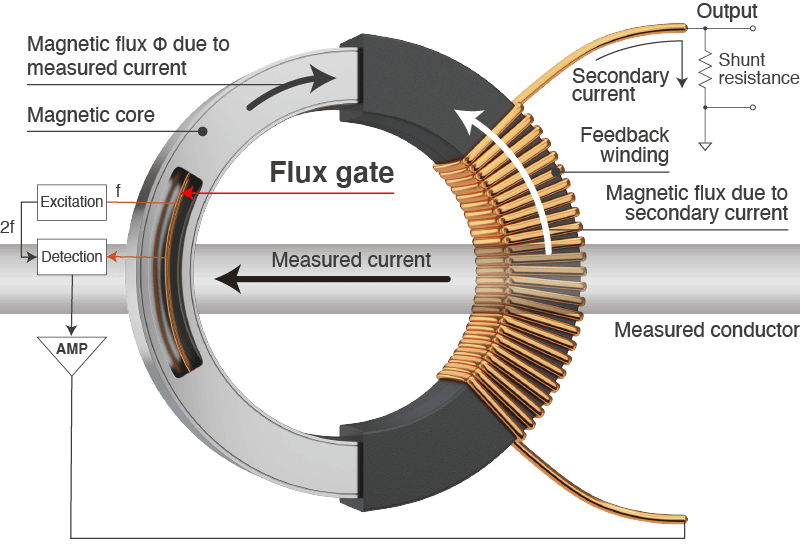 Compatible with the Power Analyzer PW8001's automatic phase correction function
The CT6840A series provides automatic phase correction for automatically correcting current sensor phase just by connecting to the Power Analyzer PW8001. This function automates configuration of phase correction values, a process that previously had to be carried out manually, eliminating settings errors and facilitating accurate power measurement. (All current sensors have phase characteristics, and the Power Analyzer performs phase correction so that power can be measured accurately.)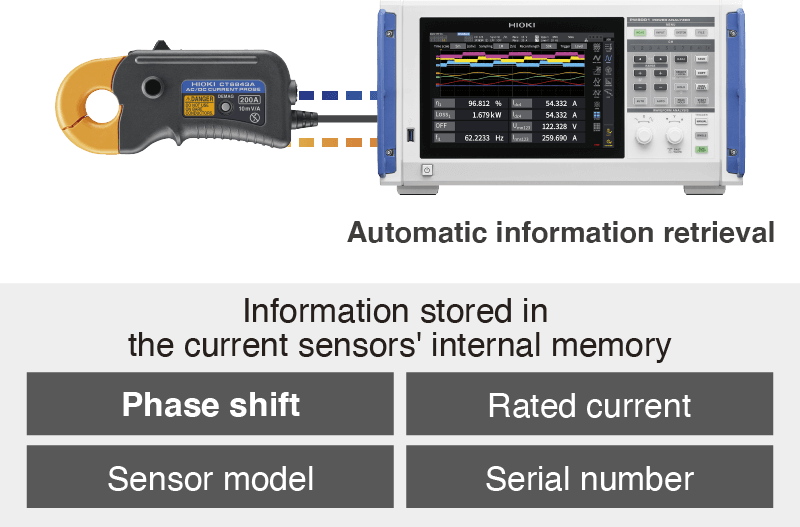 Basic specifications
Accuracy guaranteed: 1 year
Rated current
500 A AC/DC
Frequency bandwidth
DC to 500 kHz
Diameter of measurable conductors
Max. φ 20 mm (0.79 in.)
Max. allowable input
±800 A peak
(Within 20 ms in an environment of 40°C/104°F or less)
Output voltage
4 mV/A
Output resistance
50 Ω ± 10 Ω
Accuracy (amplitude)
±(% of reading + % of full scale)
DC: 0.2% + 0.02%
DC < f ≤ 100 Hz: 0.2% + 0.01%
Linearity
±20 ppm Typical
Common-Mode Voltage Rejection Ratio
(CMRR)
DC to 1 kHz:150 dB or greater
1 kHz to 10kHz:135 dB or greater
10 kHz to 100 kHz:120 dB or greater
100 kHz to 300 kHz:100 dB or greater
(effect on output voltage and common mode voltage)
Automatic phase correction
Automatically performs phase correction when connected to PW8001
Operating temperature, humidity
-40°C to 85°C (-40°F to 185°F), 80% RH or less
Standards
Safety IEC 61010 Type D
EMC IEC 61326
Withstand voltage
AC 4260 V
Power supply
Power suppled via the Power Analyzer PW8001, PW6001, PW3390, Sensor Unit CT9555, CT9556, CT9557, or 3CH CURRENT UNIT U8977
Max. rated power
7 VA or less (When measuring 500 A/55 Hz with ±12 V power supply)
Dimensions and mass
Approx. 153 mm W × 67 mm H × 25 mm D
(approx. 6.02 in. W × 2.64 in. H × 0.98 in. D), 400 g (14.1 oz.)
Cable length
Approx. 3 m (9.84 ft.)
Included accessories
Markup bands ×6, Carrying Case, Instruction Manual
External power supply, connection cord (5)

CONNECTION CORD 9165
Cord has metallic BNC connectors at both ends, use at metallic terminal, 1.5 m (4.92 ft) length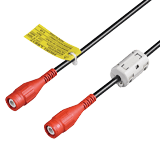 CONNECTION CORD L9217
Cord has insulated BNC connectors at both ends, 1.6 m (5.25 ft) length
Conversion cable/extension cable (2)
The CT9902 connects up to 2 cables in series (Accuracy addition required)

CONVERSION CABLE CT9901
ME15W (12 pin) to PL23 (10 pin) connector

EXTENSION CABLE CT9902
5 m (16.41 ft) length, ME15W (12 pin) - ME15W (12 pin) connector