SENSOR UNIT CT9556
Power supply for high-precision current sensors
Hioki pass-through current sensors and clamp on current probes are best-in-class current sensing devices for use with power meters, Memory HiCorders and high performance oscilloscopes. The CT9556 is 1-channel sensor unit and power adapter for any of the CT686x series, 9709 and CT684x series current sensors and probes that provides waveform and RMS output.


Key Features
Power supply for high-precision current sensors with waveform output / RMS output functionality
Model No. (Order Code)
| | |
| --- | --- |
| CT9556 | For the CT6841-05, etc., ME15W connector |
Using with a data logger to perform high-precision current measurement
In this setup, waveform output is monitored on the DC current side, and RMS output is monitored on the AC current side of the circuit. Even a logger that lacks RMS conversion functionality can be used to measure AC current. A wireless logger can also be used. If a high-precision voltmeter is used, both the AC and DC currents can be measured with a high degree of precision.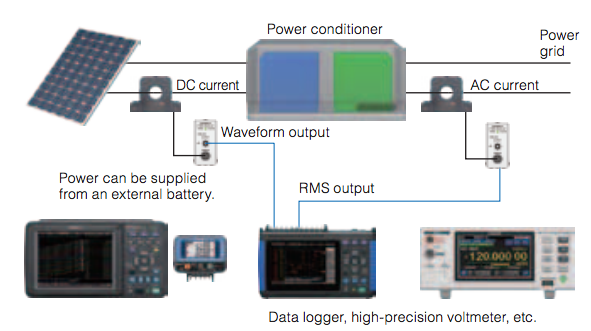 Basic specifications
Accuracy guaranteed: 1 year
Connectable current sensors
Current sensors with a Hioki ME15W (male) output connector (CT686x-05, 9709-05, CT684x-05, etc.)
*The separately available Conversion Cable CT9900 is required in order to use a current sensor equipped with a PL23 (10-pin) terminal
Output Terminal
BNC Terminal
Output voltage
Waveform output: 2 V f.s.
RMS output: 2 V DC f.s.
Output resistance
50 Ω
Operating temperature range
-10°C to 50°C (14°F to 122°F)
Power supply
AC Adapter Z1008 (100 to 240 V AC, 50/60 Hz, maximum rated power when used with sensors: 45 VA)
External power supply (10 to 30 V DC; maximum rated power: 15 VA)
Dimensions and mass
33 mm (1.30 in)W × 67 mm (2.64 in)H × 132 mm (5.20 in)D (excluding protruding parts), 200 g (7.1 oz)
Included accessories
AC Adapter Z1008 ×1, Power cord ×1, Instruction manual ×1
Options (5)

CONNECTION CORD 9165
Cord has metallic BNC connectors at both ends, use at metallic terminal, 1.5 m (4.92 ft) length

CONVERSION CABLE CT9900
Convert PL23 (10-pin) terminal to ME15W (12-pin) terminal

CONVERSION CABLE CT9901
ME15W (12 pin) to PL23 (10 pin) connector

CONNECTION CABLE CT9904
ME15W (12 pin) terminal to ME15W (12 pin) terminal, 1 m (3.28 ft) length (for connecting CT9557 total output to PW6001 or PW3390 only)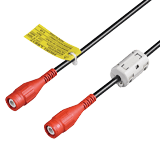 CONNECTION CORD L9217
Cord has insulated BNC connectors at both ends, 1.6 m (5.25 ft) length