AC/DC AUTO-ZERO CURRENT SENSOR CT7742
Accurate, Long-term Recording and Easy Output Settings
Hioki clamp on meters are best-in-class measuring devices incorporating Hioki's expertise in current sensing technology. The CT7742 is a 2000 A AC/DC Current Sensor that pairs with the detachable Display Unit CM7290 for convenient field testing, while delivering an extended temperature range and auto-zero adjustment to minimize drift due to wide temperature changes that occur during long-term testing.  Further extend the functionality of this system by connecting the Display Unit with a Hioki memory recorder or logger.

CAT IV 600 V

Key Features
Accurately measure and record even when the temperature changes

Ideal for site inspections by using detachable Display Unit

Four output formats to output data to loggers or other devices (via Display Unit): WAVE, RMS, PEAK, Hz
Model No. (Order Code)
| | |
| --- | --- |
| CT7742 | 2000 A AC/DC, φ55 mm (2.17 in) |
Note: CT7700 series cannot be used alone. Use with the Display Unit CM7290, CM7291 to connect with Data Loggers and Memory HiCorders. When used in combination with CM7290 or CM7291, the frequency band of current display and waveform output becomes narrow.
Connect to Recorders, Data loggers, and Oscilloscopes
Must be paired with the Display Unit CM7290 or CM7291 to operate as a standalone unit. Add an output cord to deliver signals to a data logger or Memory HiCorder for the following types of output:

• A DC or AC (up to 5 kHz/10 kHz) current waveform as-is (using WAVE mode for waveform output)
• An analog signal generated by converting the input waveform to a series of RMS values (using RMS mode for RMS output)
• An analog signal generated by detecting the current waveform's peak value (using PEAK mode for peak output
• An analog waveform generated by detecting the frequency of the current waveform (using FREQ mode for frequency output)

Broad temperature range
A wide operating temperature range of -25°C to 65°C (-13°F to 149°F) lets you use the sensor even in sub-freezing temperatures and on hot summer days.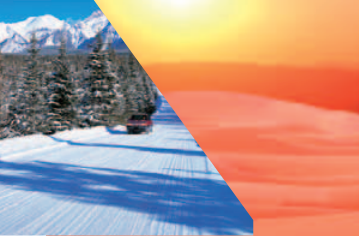 Take measurements without shifts in the zero-point, even during extended recording with temperature variations
Because temperature variations cause the zero-point to shift when using a conventional DC current sensor to measure DC current, it is necessary to perform zero-adjustment periodically when recording data over an extended period of time with such a sensor. This shortcoming is caused by the effects of the Hall element that conventional DC current sensors use to to detect current. Hioki's new auto-zero current sensors incorporate a new switching-based offset cancellation circuit developed to address this problem. The new design minimizes zero-point shift, making it possible to record DC current values over an extended period of time without the need for periodic zero-adjustment.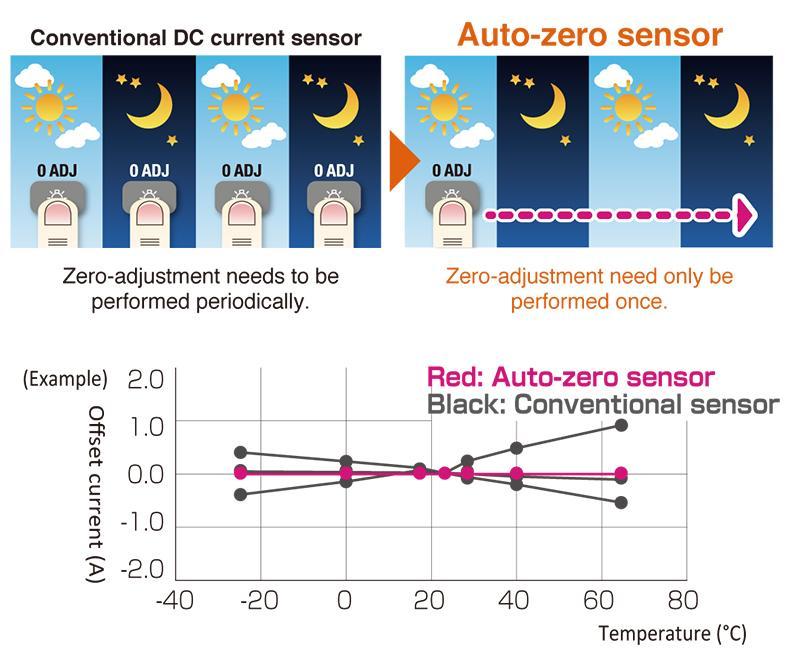 Transfer data wirelessly using Bluetooth(R) to GENNECT Cross mobile app
Pair with the CM7291 Display Unit to send measurement data to a smartphone or tablet using Bluetooth® wireless technology. Use the GENNECT Cross dedicated app to display and review measured values and waveforms in real time.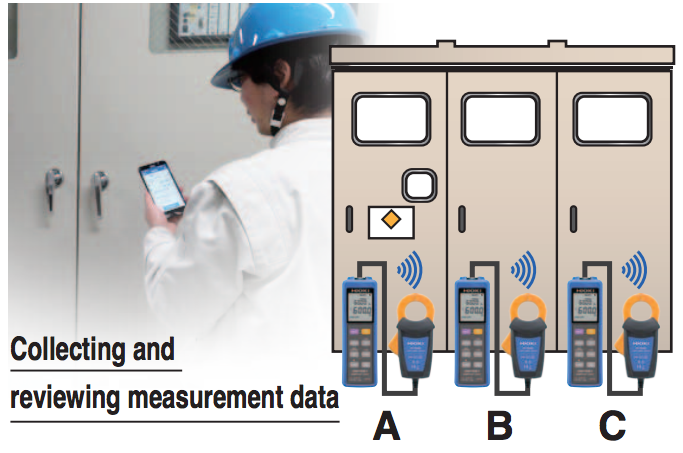 Basic specifications
Accuracy guaranteed: 3 years
Rated measurement current
2000 A AC/DC
Max. measurement current
2000 A
(requires derating at frequency)
Max. allowable peak input
2840 A peak
Bandwidth
DC to 5 kHz (-3dB)
(When used in combination with CM7290 or CM7291: DC 3 Hz to 1 kHz)
Typical phase accuracy
±2.3 deg. (DC < f ≤ 66 Hz)
Output rate
0.1 mV/A
Max. rated voltage to earth
AC/DC 600 V (CAT IV)
AC/DC 1000 V (CAT III)
Core diameter
φ 55 mm (2.17 in) or less
Output connectors
HIOKI PL 14
Operating temperature range
-25 °C to 65 °C (-13 °F to 149 °F)
Dimensions and mass
64 mm (2.52 in)W × 195 mm (7.68 in)H × 34 mm (1.34 in)D, 510 g (18.0 oz), Cable length 2.5 m (8.20 ft)
Included accessories
None
Display, Output (9)

EXTENSION CABLE L0220-01

EXTENSION CABLE L0220-02

EXTENSION CABLE L0220-03

EXTENSION CABLE L0220-04
EXTENSION CABLE L0220-05

EXTENSION CABLE L0220-06

EXTENSION CABLE L0220-07
Case (2)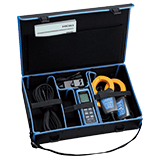 CARRYING CASE C0221
For storing sensor ×3, CM7290 ×1, AC adapter ×1, output cord, and 30 m extension cable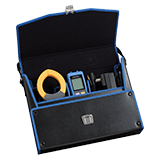 CARRYING CASE C0220
For storing sensor ×1, CM7290 ×1, AC adapter ×1, and output cord
Output cord (3)

OUTPUT CORD L9095
Connect to BNC terminal, 1.5 m (4.92 ft) length

OUTPUT CORD L9096
Connect to terminal block, 1.5 m (4.92 ft) length
---
Related Products