AC FLEXIBLE CURRENT SENSOR CT7040 series
Flexible 600 A/6000 A AC Current Sensors in 3 Sizes
Hioki clamp sensors are best-in-class measuring devices incorporating Hioki's expertise in current sensing technology. The CT7040 Series compromise of 600A/6000A AC flexible current sensors in three different loop sizes that pair with the detachable Display Unit to measure large currents in crowded wiring and confined spaces.

CAT IV 600 V, CAT III 1000 V

Key Features
Thinner cables are easier to use in confined spaces and with complicated wiring

Supports large current measurements up to 6000 A

Wide 10 Hz to 50 kHz band with excellent frequency characteristics

Choose from three conductor diameter sizes

Ideal for site inspections by using detachable Display Unit

Four output formats to output data to loggers or other devices (via Display Unit): WAVE, RMS, PEAK, Hz
Model No. (Order Code)
| | |
| --- | --- |
| CT7046 | 6000 A, φ254 mm (10.00 in) |
| CT7045 | 6000 A, φ180 mm (7.09 in) |
| CT7044 | 6000 A, φ100 mm (3.94 in) |
Note: CT7040 series cannot be used alone. Use with the Display Unit CM7290, CM7291 to connect with Data Loggers and Memory HiCorders. When used in combination with CM7290 or CM7291, the frequency band of current display and waveform output becomes narrow. CT7046, CT7045, and CT7044 are a flexible current sensor for measuring large currents. It is not suitable for measuring minute current such as leakage current.
A comment of Good Design Award 2016
"I was impressed with the high level of functionality combined with a compact design and a dustproof and waterproof enclosure as well as the high level of technical skill evident in the integration of multiple types of plastic and two cables. These appealing products also exhibit beautiful finish quality."
Connect to Recorders, Data loggers, and Oscilloscopes
Must be paired with the Display Unit CM7290 or CM7291 to operate as a standalone unit. Add an output cord to deliver signals to a data logger or Memory HiCorder for the following types of output:

• A DC or AC (up to 5 kHz/10 kHz) current waveform as-is (using WAVE mode for waveform output)
• An analog signal generated by converting the input waveform to a series of RMS values (using RMS mode for RMS output)
• An analog signal generated by detecting the current waveform's peak value (using PEAK mode for peak output
• An analog waveform generated by detecting the frequency of the current waveform (using FREQ mode for frequency output)

Broad temperature range
A wide operating temperature range of -25°C to 65°C (-13°F to 149°F) lets you use the sensor even in sub-freezing temperatures and on hot summer days.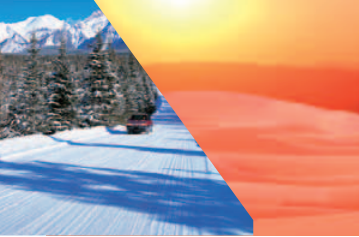 Transfer data wirelessly using Bluetooth(R) to GENNECT Cross mobile app
Pair with the CM7291 Display Unit to send measurement data to a smartphone or tablet using Bluetooth® wireless technology. Use the GENNECT Cross dedicated app to display and review measured values and waveforms in real time.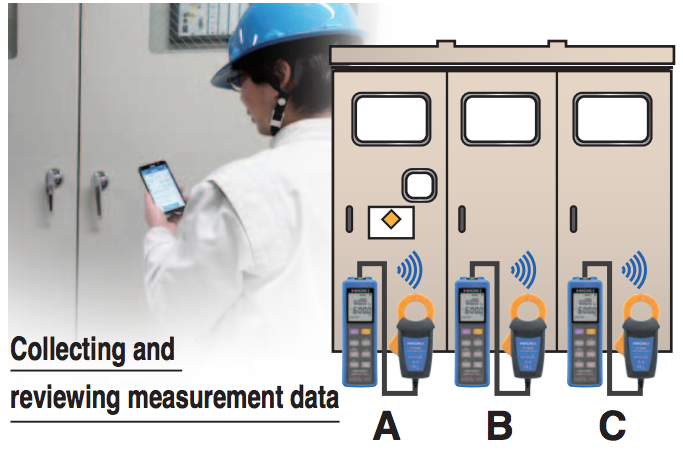 Basic specifications
Accuracy guaranteed: 1 year Waterproof characteristics intended to maintain measurement function; measuring energized parts while instrument is wet will increase risk of electric shock.
 
CT7046
CT7045
CT7044
Rated measurement current
6000 A AC
Internal Measurement range
600A AC/ 6000A AC (Range is controlled by main device)
Max. allowable input
10000 A continuous (at 6000 A range, 45 to 66 Hz, requires derating )
Bandwidth
10 Hz to 50 kHz (±3dB)
(When used in combination with CM7290 or CM7291: 10 Hz to 1 kHz)
Amplitude and phase accuracy
±1.5 % rdg. ±0.25 % f.s. (f.s. is internal range, 45 to 66 Hz) ±1 deg
Output rate
1 mV/A (600 A*), 0.1 mV/A (6000 A)
*Selectable only when used with CM7290, CM7291, PQ3100
Max. rated voltage to earth
AC 600 V (CAT IV), AC 1000 V (CAT III)
Loop diameter
φ 254 mm (10.00 in) or less
φ 180 mm (7.09 in) or less
φ 100 mm (3.94 in) or less
Dust and water resistance *
IP54 (when connected to a supported instrument, Do not make measurements when wet.)
Output connectors
HIOKI PL 14
Operating temperature range
-25 °C to 65 °C (-13 °F to 149 °F)
Dimensions
Flexible loop cable diameter: φ7.4 mm (0.29 in), Cable length: Between flexible loop and battery box: 2.3 m (7.55 ft), Output cable: 20 cm (0.66 ft), Battery box25 mm (0.98 in)W × 72 mm (2.83 in)H × 20 mm (0.79 in)D
Mass
186 g (6.6 oz)
174 g (6.1 oz)
160 g (5.6 oz)
Included accessories
Instruction manual ×1
Output cord (3)

OUTPUT CORD L9095
Connect to BNC terminal, 1.5 m (4.92 ft) length

OUTPUT CORD L9096
Connect to terminal block, 1.5 m (4.92 ft) length
---
Related Products