Product Feb. 22, 2021Nagano, Japan
Hioki Launches Battery HiTester BT3561A, BT3562A and BT3563A
Instruments simplify and accelerate automatic testing of lithium-ion batteries
Hioki is pleased to announce the launch of the Battery HiTester BT3561A, BT3562A and BT3563A.
Hioki battery testers have been the de facto standard for quality testing of lithium-ion batteries for 35 years. These updated models deliver various improvements. The high-precision measurement capabilities of the previous models have been augmented with improved tolerances for path resistance in order to keep measurement errors from halting automatic testing lines as well as significantly improved resistance to static electricity. These enhancements will make it easier for customers to build automatic testing systems and significantly reduce downtime.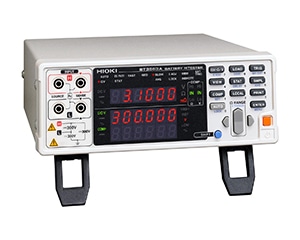 Battery HiTester BT3563A
Additionally, the instruments can be combined with the Switch Mainframe SW1001/SW1002, a multichannel switch, to provide highly reliable multichannel measurement with minimal measurement error.
The updated models promise to make a significant contribution to streamlining quality testing of lithium-ion batteries, a product characterized by rapidly growing production volume.

Switch Mainframe SW1002
DEVELOPMENT BACKGROUND
Demand is currently growing for lithium-ion batteries as a power source for an array of devices, from smartphones to electric vehicles (EVs) and large, grid-tied storage batteries, making them increasingly valuable devices for society. Battery production plants are working to accelerate and automate high-precision testing lines so that they can supply high-quality batteries at volume. In doing so, they face the need to build multichannel automatic testing systems and reduce production line downtime. Hioki redesigned the previous models to resolve these issues at battery production plants and developed an updated line of products that is ideal for embedding in automatic testing systems.
The company's long-term management policy, Vision 2030, establishes the goal of working together with customers worldwide to build a sustainable society. Efficient production serves to reduce CO2 emissions during the manufacturing process. Furthermore, high-quality batteries can be reused, which means they can ultimately be expected to lower CO2 emissions throughout the lithium-ion battery life cycle.
KEY FEATURES
1. NEW: Simplified development of large-scale automatic testing systems
The new products' most noteworthy feature is a 3× increase in tolerance for path resistance (the resistance component characterizing the path connecting the instrument to the battery under test) over previous models.
Path resistance encompasses the wiring resistance of the cables and relays (which are used to automatically switch the connection between the instrument and battery when measuring multiple batteries) needed by the system as well as contact resistance that occurs as probe tips experience wear. Measurement errors occur when this path resistance exceeds a certain value, causing production line stoppages and imposing cost and man-hour penalties by requiring manufacturers to build systems with lower path resistance. These issue have served as barriers to site work. The new instruments' significantly improved path resistance tolerance reduces line stoppages caused by the effects of path resistance and man-hours spent developing solutions, bringing significant reductions to running costs associated with maintenance management of automatic testing systems, especially large-scale implementations.
Until now, manufacturers have had to fabricate switching boards that used relays to achieve multichannel measurement. In addition to being labor-intensive, this approach was poorly suited to high-precision measurement due to its tendency to generate measurement errors. In addition to being designed so that it's easy to embed in systems, Hioki's Switch Mainframe SW1001/SW1002, a multichannel switch, provides highly reliable multichannel measurement with minimal measurement error.
2. NEW: Prevention of failures and downtime caused by static electricity
Batteries become electrically charged during transport. When those batteries are tested, their static charge can damage the instrument being used. The BT3561A, BT3562A, and BT3563A deliver significantly improved resistance to static electricity. Since the new instruments can withstand the application of a ±30 kV static charge to their inputs, instrument failures due to static electricity will no longer cause downtime.
*

Test conditions: ±30 kV, IEC 1000-4-2 contact discharge
3. NEW: Standard LAN interface
The BT3561A, BT3562A, and BT3563A ship standard with LAN and RS-232C interfaces. These features allow them to flexibly accommodate connections with control devices that use PLCs (devices used to automatically control one or more machines).
4. NEW: Smooth upgrade path
Full compatibility with the previous models keeps upgrades in production settings simple, ensuring that instrument replacement work won't cause downtime.
5. High-precision measurement for essential testing in production processes
The BT3561A, BT3562A, and BT3563A provide simultaneous, high-precision measurement of internal resistance (AC-IR) for testing the performance of lithium-ion batteries and open-circuit voltage (OCV) for testing battery safety.
In some applications, lithium-ion batteries are used as pack or module batteries that consist of multiple connected cells. However, variations in cell quality can prevent modular batteries from delivering the expected level of performance, making it important to manufacture cells of uniform quality. Accurate, efficient measurement serves to reduce variations in cells during the initial phase of production, helping manufacturers produce safe module and pack batteries that provide long service life.

Principal Applications/ Customers
Quality testing during the lithium-ion battery manufacturing process, shipping inspection processes, and acceptance inspection processes
Manufacturers of high-performance lithium-ion battery cells, battery packs, and production equipment
Lineup
Battery HiTester BT3561A (for use with compact packs up to 60 V)
Battery HiTester BT3562A (for use with medium-size packs up to 100 V)
Battery HiTester BT3563A (for use with large packs up to 300 V)
Switch Mainframe SW1001(3 slots)
Switch Mainframe SW1002(12 slots)
*

The Multiplexer Module SW9001/SW9002 is required in order to use the Switch Mainframe.
*

Company and product names used in this release are the trademarks or registered trademarks of their respective owners.
About HIOKI
Established in 1935, HIOKI E.E. CORPORATION (TSE: 6866) has grown to become a world leader in providing consistent delivery of test and measuring instruments through advanced design, manufacturing, and sales and services. By offering over 200 main products characterized by safety and quality while meeting an expansive range of applications, we aim to contribute to the efficiency and value of our customers' work in research and development, production and electrical maintenance. HIOKI products and services are available around the world through our extensive network of subsidiaries and distributors. Information about HIOKI is available at www.hioki.com.