AC/DC CURRENT BOX PW9100A
Direct Current Measurement Element that Delivers a Wide Bandwidth and Superior Accuracy
Hioki benchtop power meters and power analyzers are best in class power measuring instruments for measuring single to three-phase lines with a high degree of precision and accuracy. The PW9100A is a direct AC/DC current measurement option for the Hioki Power Analyzers that delivers wide bandwidth and high accuracy testing across 3 or 4 channels of input. The option is ideal for applications requiring direct input connections when testing the power conversion efficiency of motors, primary and secondary side of inverters, hybrid and electric vehicles, and renewable energy equipment.

Key Features
World-leading measurement bands and accuracy

Wide-band DC to 3.5MHz, 50A AC/DC rated input

±0.055% power accuracy in combination with PW8001(with U7005)

120 dB CMRR (100 kHz)

Full-rack size suitable for test/evaluation benches

Current measurement option for Hioki Power Analyzers
Combined accuracy with HIOKI power analyzer PW8001, PW6001 and PW3390 is specified. For details of combined accuracy, refer to the instruction manual.
Model No. (Order Code)
| | |
| --- | --- |
| PW9100A-3 | 3 ch |
| PW9100A-4 | 4 ch |
The optimal device for testing inverters
Direct-coupled type current testing device
For more reliable wideband high-accuracy measurements.
Delivering a direct-coupled type current testing device that brings out the Hioki Power Analyzer's maximum potential. The existing direct-input type power meter can be replaced easily.

Use two PW9100A-3 devices (the 3 ch models) for 6-channel measurements.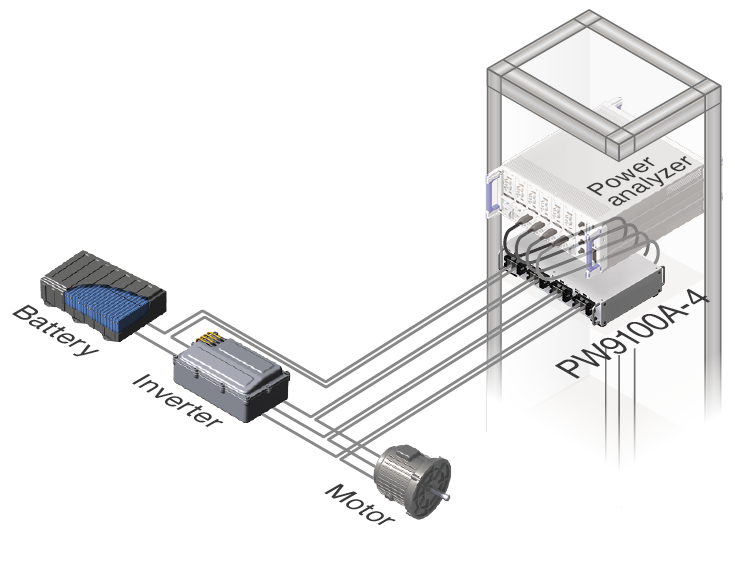 Automatic detection capability for even greater convenience
Automatic current sensor detection by Power Analyzer PW8001
The PW9100A is equipped with a memory (I2C-EEPROM).
The PW9100A has a built-in highly accurate current sensor, which can measure current by direct connection.
When the current sensor is connected to the Power Analyzer PW8001, the phase correction data, rated current, sensor's model name, and serial number are automatically recognized by the instrument.

In the past, phase correction values had to be entered manually.
However, thanks to the automatic detection system of current sensor information, forgetting settings and typing errors are eliminated, allowing for more accurate power calculations.
Basic specifications
Accuracy guaranteed: 1 year
Measurement line type
Isolated input, DCCT input
Rated primary current
50 A AC/DC
Number of input channels
PW9100A-3: 3 channels
PW9100A-4: 4 channels
Maximum input current
60 A, within derating. However, up to ±200 A peak is allowable if within 20 ms (design value)
Amplitude and Phase accuracy
DC (±0.02 % rdg. ±0.007 % f.s.)
45 Hz < f ≤ 65 Hz (±0.02 % rdg. ±0.005 % f.s., Phase: ±0.1 deg.)
Accuracy is defined to 1 MHz
Output voltage
2 V/50 A
Measurement terminals
Terminal block (with safety cover), M6 screws
Input resistance
1.5 mΩ or less (50 Hz/60 Hz)
Input capacitance
Between measurement terminals and case (secondary side), 40 pF or less, defined at 100 kHz
Operating temperature and humidity
Temperature: 0°C to 40°C (32°F to 104°F), Humidity: 80% RH or less (no condensation)
Power supply
Power supply from Power Analyzers
Dimensions and mass
430 mm (16.93 in) W × 88 mm (3.46 in) H × 260 mm (10.24 in) D, Cable length: 0.8 m (2.62 ft)
PW9100A-3: 3.7 kg (130.5 oz), PW9100A-4: 4.3 kg (151.7 oz)
Included accessories
Instruction Manual ×1
External power supply, Connection cord (5)
Compatible products PW3335, PW3336, PW3337, MR6000, MR8847A, MR8827, MR8740T, MR8740, MR8741,MR8870, MR8880, MR8875

CONNECTION CORD 9165
Cord has metallic BNC connectors at both ends, use at metallic terminal, 1.5 m (4.92 ft) length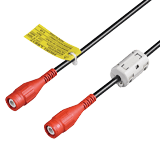 CONNECTION CORD L9217
Cord has insulated BNC connectors at both ends, 1.6 m (5.25 ft) length
Conversion/Extension cables (2)
Only 1 unit of CT9902 can be used at any one time.

CONVERSION CABLE CT9901
ME15W (12 pin) to PL23 (10 pin) connector

EXTENSION CABLE CT9902
5 m (16.41 ft) length, ME15W (12 pin) - ME15W (12 pin) connector
Rack mount (0)
Rack mount hardware
Made-to-order, for EIA/JIS
Please contact your authorized Hioki distributor or reseller for more information