AC CLAMP METER 3280-10F
Rugged & Compact, Essential Equipment for Professional Electricians: Measure Current and Voltage with a Single Instrument
Hioki clamp meters are best-in-class measuring devices incorporating Hioki' s expertise in current sensing technology. The 3280-10F is an average rectifying 1000A AC clamp meter that features a broad operating temperature range of -25°C to 65°C, thin and compact clamp core and optional flexible current sensor that you can attach to let you get into the tightest spots.

CAT IV 300 V (Current)
CAT III 600 V (Current)
CAT III 300 V (Voltage)
CAT II 600 V (Voltage)


Using 3280 series AC clamp meters: Introduction to functionality and measurement methods
In addition to AC current measurement, these clamp meters provide voltage and resistance measurement as well as continuity check functionality.
Their compact size, low-profile design, and resistance to both rough handling and extreme temperatures make them essential tools for any electrician.
Key Features
Measure the fundamental waveform component using the average rectified method

Expanded -25°C to 65°C operating temperature range

Connect the CT6280 flexible sensor to measure up to 4199 A in thick or paired wires

Drop proof design withstands drop from a height of 1 meter
Model No. (Order Code)
| | |
| --- | --- |
| 3280-10F | Average rectified |
| 3280-70F | 3280-10F, CT6280 bundled model |
Note: The 3280-70F includes both the meter and an AC Flexible Current Sensor. 1. AC CLAMP METER 3280-10F ×1 2. AC FLEXIBLE CURRENT SENSOR CT6280 ×1 3. CARRYING CASE C0205×1
Using 3280 series AC clamp meters: Difference between mean value and true RMS measurement
Measurements taken with the Hioki 3280-10F (which uses the mean value method) and the the Hioki 3280-20F (which uses the true RMS method) are compared.
Observe the difference between readings from these two types of instruments when measuring a distorted waveform that contains harmonic components such as those produced by inverters and switching power supplies.
A pocket clamp meter that can use flexible sensors
When connected to an optional flexible current sensor, the 3280-10F can be used to measure the current flowing in pairs of wires or in tangled or complexly routed wires around which it was not possible to apply a clamp-on sensor in the past.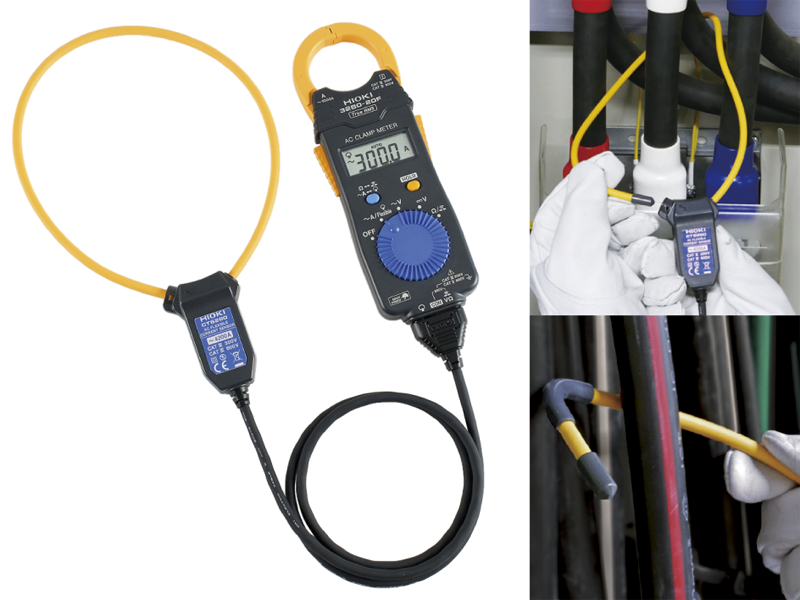 Essential for electrical work: A thin card tester that fits in the pocket with all the capabilities of a clamp meter
The 3280-10F delivers all the functionality of a clamp meter and card tester in the form factor of the latter. In addition to current measurement, this single instrument delivers voltage measurement, continuity check, and resistance measurement functionality.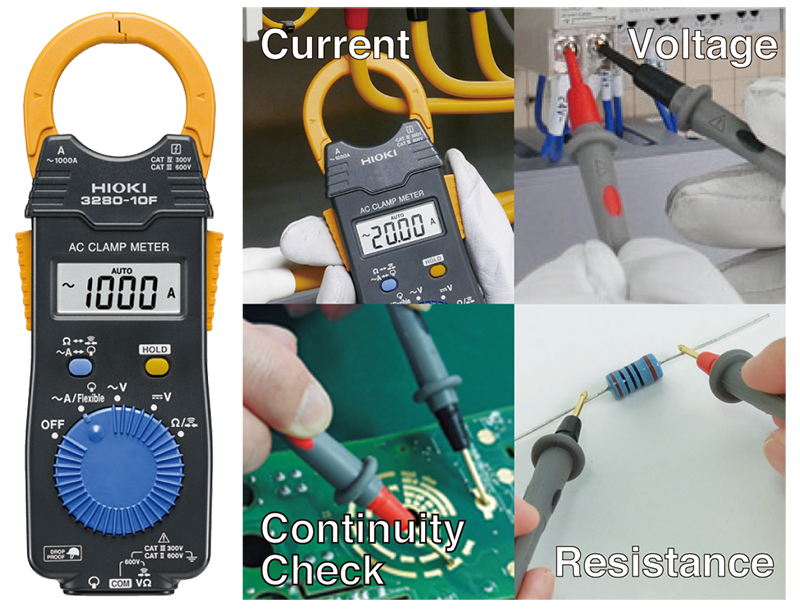 A tough, pocket-size clamp meter with an operating temperature range of -25°C to 65°C
The 3280-10F inherits the drop-proof durability of the previous 3280-10 (making it able to withstand being dropped onto concrete from a height of 1 m) and expands that instrument's operating temperature range to -25°C to 65°C (from the previous 0°C to 40°C). As a result, it can be used in even harsher environments.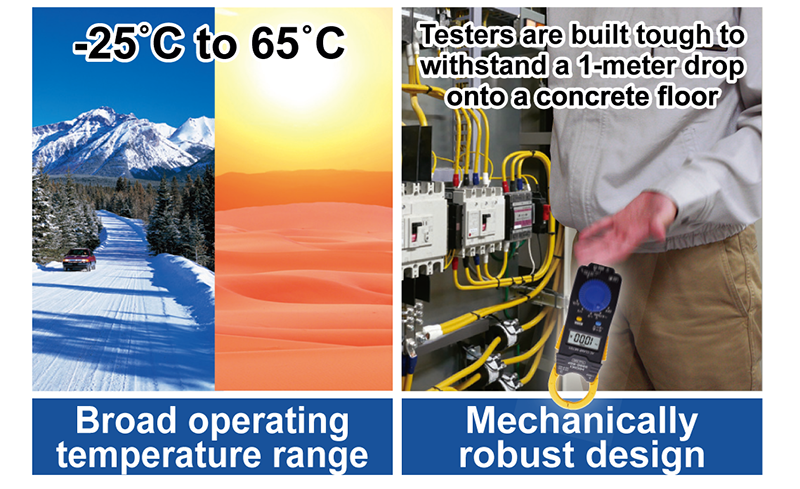 Basic specifications
Accuracy guaranteed: 1 year
AC Current range
41.99 to 1000 A, 3 ranges (50 Hz to 60 Hz, Average rectified),
Basic accuracy: ±1.5 % rdg. ±5 dgt.
DC Voltage range
419.9 mV to 600 V, 5 ranges, Basic accuracy: ±1.0 % rdg. ±3 dgt.
AC Voltage range
4.199 V to 600 V, 4 ranges
(45 to 500 Hz, Average rectified),
Basic accuracy: ±1.8 % rdg. ±7 dgt.
Crest factor
N/A
Resistance range
419.9 Ω to 41.99 MΩ, 6 ranges, Basic accuracy: ±2 % rdg. ±4 dgt.
Other functions
Continuity: Buzzer sounds at 50 Ω ±40 Ω or less, Data hold, Auto power save, Drop-proof from height of 1 meter
Display
LCD, max. 4199 dgt., Display refresh rate: 400 ms
Environmental protection
IP40 dustproof and waterproof
Power supply
Coin type lithium battery (CR2032) ×1, Continuous use 120 hours
Core jaw dia.
φ 33 mm (1.30 in)
Dimensions and mass
57 mm (2.24 in) W × 175 mm (6.89 in) H × 16 mm (0.63 in) D, 100 g (3.5 oz)
Included accessories
CARRYING CASE 9398 ×1, TEST LEAD L9208 ×1, Coin type lithium battery (CR2032) ×1, Instruction manual ×1
CT6280 Basic specifications
Accuracy guaranteed: 1 year
| | |
| --- | --- |
| Core jaw dia. | φ 130 mm (5.12 in) (Cable cross-section diameter: 5 mm (0.20 in); tip cap diameter: 7 mm (0.28 in)) |
| AC Current | 419.9 A/ 4199 A, 2 ranges (±3.0 % rdg. ±5 dgt.) |
| Cable length | 800 mm (31.5 in) |
Included accessories (2)

CARRYING CASE 9398

TEST LEAD L9208
Options (5)
C0205 is an included accessory for the CT6280 and 3280-70F.
L4933, L4934: Attach L9208 with the cap removed.

SMALL ALLIGATOR CLIP SET L4934
Attaches to the tip of the L4932, L9207-10/DT4911, L9206, CAT III 300 V, CAT II 600 V

CONTACT PIN SET L4933
Attaches to the tip of the Test Lead L9207-10/DT4911, L9206, 60V DC/ 30V AC

CARRYING CASE C0205

TEST LEADS HOLDER 9209
Secures one end of each test lead to the rear of the meter
---
Related Products