CLAMP ON PROBE 9018-50
Simply Connect to a Tester or Recorder to Easily Measure Large Currents
Hioki current sensors are best-in-class devices for accurately capturing a wide range of current levels. The 9018-50 is a multi-range 500 A AC voltage output clamp sensor with superior phase characteristics for capturing waveforms with DMMs and Memory HiCorders. Measure AC current on live power lines without needing to cut the wire.


Key Features
Choose from six general-purpose ranges

Accurately record and analyze waveforms and harmonic signals
Model No. (Order Code)
| | |
| --- | --- |
| 9018-50 | Wide band, BNC output terminal |
For 50 Hz/60 Hz commercial power lines; no external power supply required.
Recording of motor rush current
Motor power-on inrush current waveforms can be precisely recorded. The Clamp On Probe the 9018-50 is available for current measurement, as is the Clamp On Leak HiTester CM4003.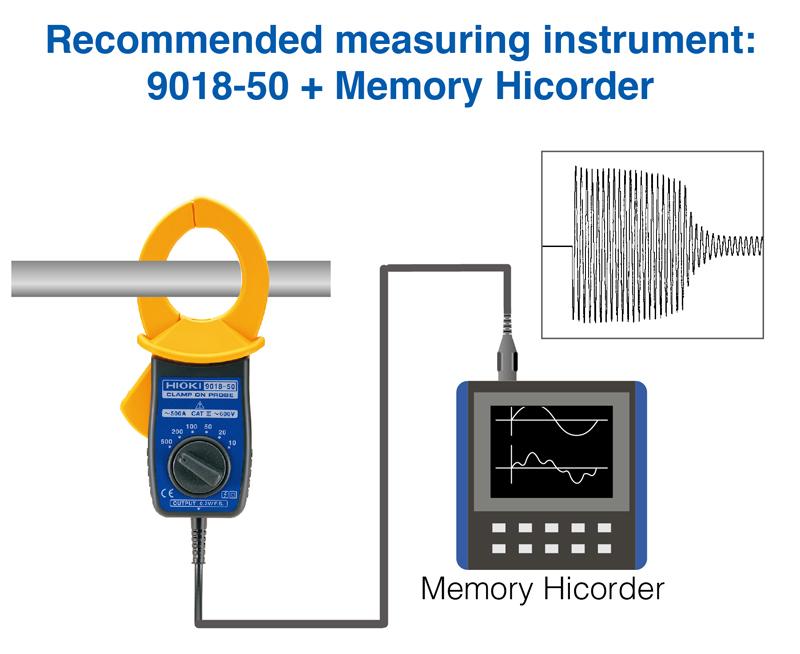 Basic specifications
Accuracy guaranteed: 1 year
Rated current
10 A to 500 A AC, 6 ranges
Accuracy
±1.5% rdg. ±0.1% f.s. (45 to 66 Hz)
Frequency characteristics
Add to amplitude accuracy : ± 1% rdg.
Add to phase accuracy : ± 2.5° for frequencies from 40 Hz to 3 kHz
Output rate
0.2 V AC f.s. (f.s. = setting rage)
(Connect to a voltage input device providing a high input impedance of 1 MΩ)
Max. allowable input
150 A rms continuous (10/20/50 A ranges)
400 A rms continuous (100/200 A ranges)
650 A rms continuous (500 A range)
(For 40 Hz to 100 Hz: 100 %, and for 100 Hz to 1 kHz: within 50 % of derating)
Max. rated voltage to earth
600 V rms (50 Hz/60 Hz, CAT III)
Core diameter
φ46 mm (1.81 in)
Dimensions and mass
78 mm (3.07 in) W × 188 mm (7.40 in) H × 35 mm (1.38 in) D, 420 g (14.8 oz), cord length: 3 m (9.84 ft)
Included accessories
Instruction manual ×1
Options (1)

CONVERSION ADAPTER 9704
Receiving side BNC (female), output banana (male) *Not compatible with older generation Memory Hicorders with banana input terminals
---
Related Products