WIRELESS VOLTAGE/TEMP LOGGER LR8515
Easy, Wireless Collection of a Variety of Data Types, including Voltage Input and Thermocouple Types K and T
Hioki Memory HiLoggers are high-speed data loggers for recording multiple channels of voltage, temperature, resistance or humidity signals, some models providing complete isolation between channels and strong noise resistance. The Hioki LR8515 Wireless Voltage/Temperature Logger provides easy, wireless collection of a variety of data types, including voltage input and thermocouple types K and T, all in a single device.
Key Features
A single device to measure everything from the minute voltages of pyranometers or heat flow sensors to battery voltage to temperature

Compact, two-channel model fits where other devices don't

Download measurement data to a tablet or computer with Bluetooth® wireless technology or capture in real time with the LR8410

Three-way power (AC adapter, AA alkaline batteries, or external 5 to 13.5 V power supply)

Store 500,000 data points per channel
Model No. (Order Code)
| | |
| --- | --- |
| LR8515 | 2 ch, sensor is sold separately |
For the latest information about countries and regions where wireless operation is currently supported, please see the "Specifications" tab. Bluetooth® is a trademark of Bluetooth SIG, Inc. and licensed for use by HIOKI E.E. CORPORATION.
QR Code link to Hioki's Android app*
Scan this QR code* with an Android device to access the Google Play download page directly

*Registered trademark of Denso Wave Incorporated.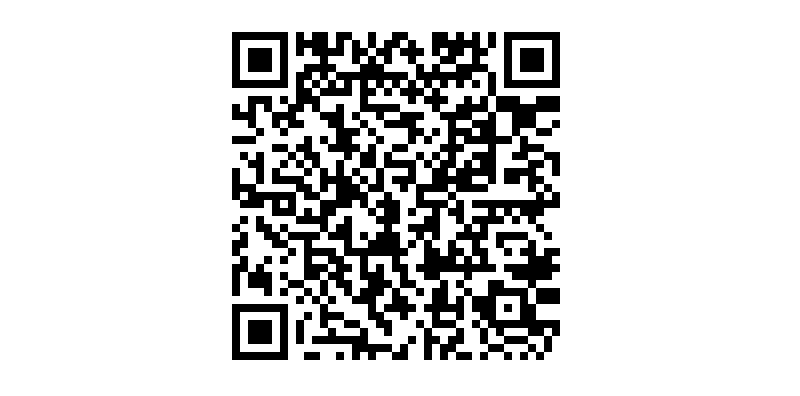 A compact, 2-channel wireless temperature logger with voltage input as well as K and T thermocouple capability
For applications such as
- Checking the correlation of voltage and temperature
- Maintenance of PV systems (while connected to an actinometer)
- Various tests for electronics/automobiles/transportation
- Easily checking heat flows (while connected to a heat flow sensor)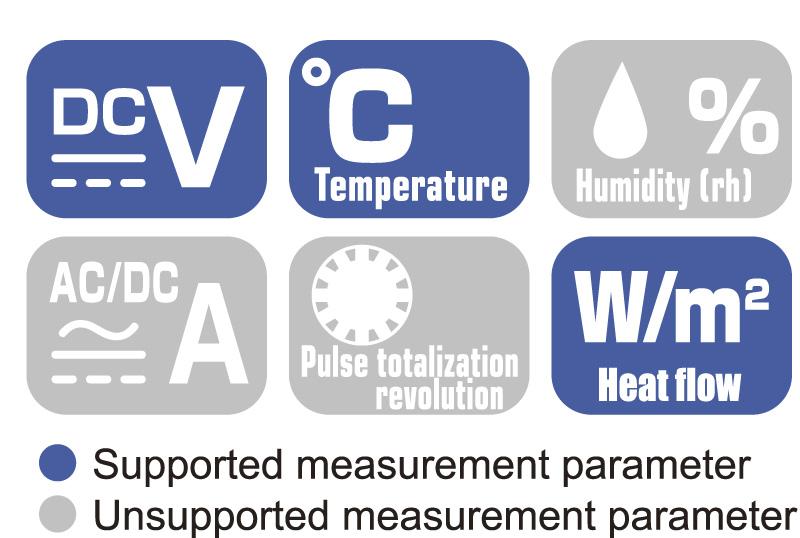 A wireless logger whose data can be captured by a smartphone or PC
Built-in Bluetooth(R) wireless technology.

Use your tablet or PC to collect data even as signals are being logged.

No matter what time during measurement you collect the data, data is automatically merged together into one single file.
Review data trends by observing waveforms and numerical values right there in the field.

*Pictured: LR8514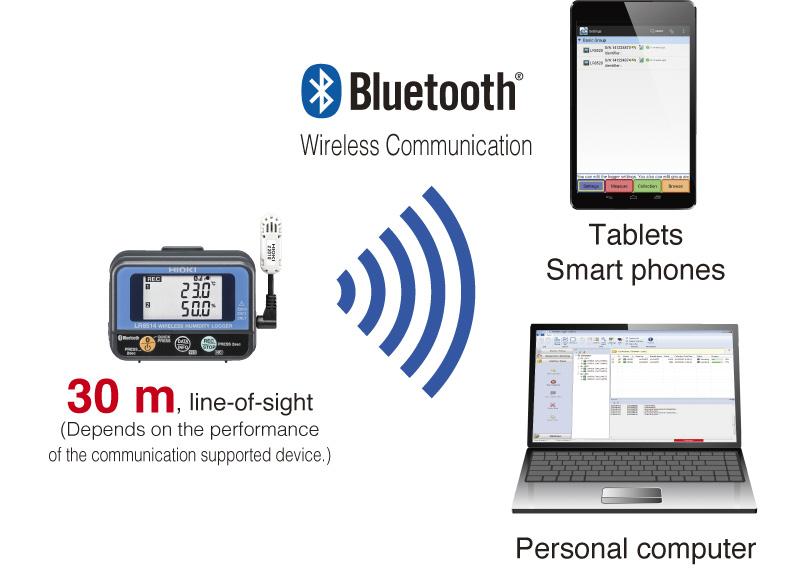 Real-time monitoring
By using the Hioki LR8410-20 to acquire data, you can view the waveforms in real time.

Furthermore, previous waveforms can be viewed while the device is taking measurements.

*Pictured: LR8514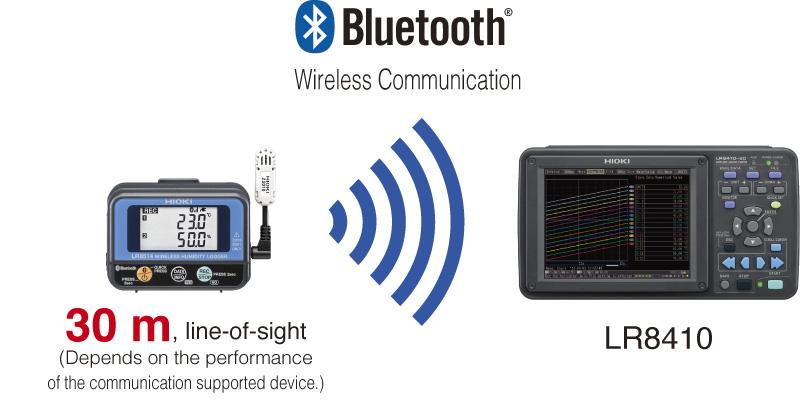 A compact wireless logger that you can place anywhere
Pocket size for installation anywhere.
Use the optional MAGNETIC STRAP to hang it on a wall – solving all of your installation space problems.

Installing a data logger in a switchboard or control panel has never been easier.
Gone is the need to feed wiring through the panel-data collection is done wirelessly so you can close the panel door for safe measurements.

The loggers are also useful for measuring in difficult-to-wire locations, like high places or on moving machines.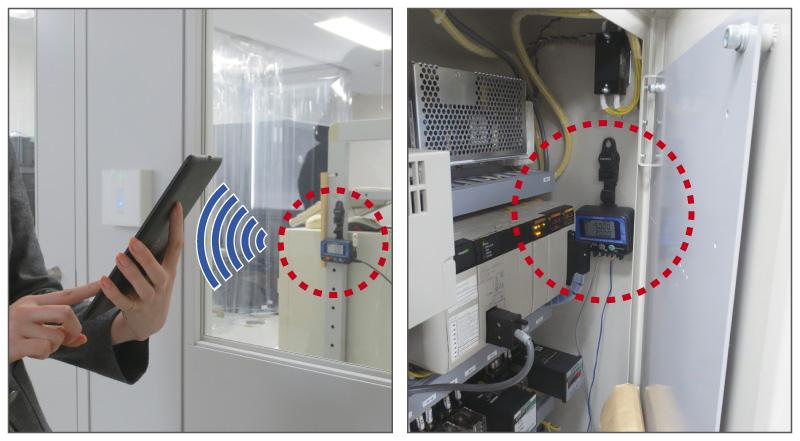 Power with AA batteries or an AC adapter
The logger will operate for about 7 days on two AA-size alkaline batteries.
(Recording interval: 1 sec, with Bluetooth(R) ON)

Since the batteries will last longer the less time the Bluetooth(R) function is operating, the instrument features a power-saving function that automatically turns on the Bluetooth(R) circuit during predefined time periods.

While communications are disabled, data is reliably stored in the instrument's large built-in memory, which can hold 500,000 data points per channel.

Use the AC adapter to record data over extended periods of time with peace of mind.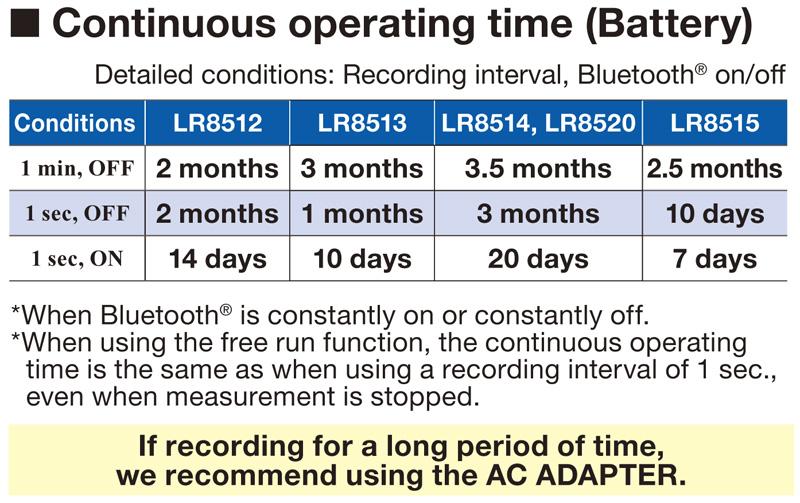 Basic specifications
Accuracy guaranteed: 1 year
Functionality
[Used as standalone product (Data collected manually) ]
Windows PC or Windows tablet (CD-R with software included)
Android smartphone or Android tablet terminal
(Software can be downloaded free of charge from Google Play.)
*Communication range varies with the performance of the computer or tablet (up to a line-of-sight distance of roughly 30 m)
[Used as logging module (Real-time measurement) ]
Device can be used as an LR8410 logging module to record and display data in real time and to control up to 7 units, Communication distance: 30 m
Number of channels
2 ch (isolated; select voltage of thermocouple for each channel), Input terminals: M3 screw type terminal block
Measurement items
Voltage/ Thermocouple (K, T)
Maximum input voltage
±50 V DC, Max. inter-channel voltage 60 V DC
Measurement range
[Voltage] ±50 mV to ±50 V , Max. resolution 0.01 mV
[Thermocouple] -200 ˚C to 999.9 ˚C, Thermocouples (K, T), Max. resolution 0.1 ˚C
Measurement accuracy
[Voltage] ±0.05 mV (50 mV range)
[Thermocouple] ±0.8 ˚C (Thermocouple K -100 ˚C to 999.9 ˚C)
*Reference junction compensation: Switchable between internal and external
*Reference junction compensation accuracy: ±0.5 ˚C
(When using internal compensation, add to thermocouple measurement accuracy.)
*Temperature characteristics: Add (measurement accuracy × 0.1) / ˚C to measurement accuracy.
Display items
Measurement value, date, time, number of recorded data, maximum value, minimum value, and average value
Functions
Alarm, Scaling, Recording operation hold function, Erroneous operation prevention, Comment recording function, Power saving function, Authentication function, Free run
Recording
[Capacity] 500,000 data items for each channel [Mode] Instantaneous value [Interval] 0.1 to 30 sec, 1 to 60 min, 16 selections
Power source
AC Adapter Z2003 (AC100 V to 240 V, 50 Hz/60 Hz), AA alkaline batteries (LR6) ×2, External power DC5 V to 13.5 V (can also be supplied from USB bus power, with a conversion cable)
Continuous operating time
([Capacity] 500,000 data items for each channel) (23˚C)
2.5 months (Recording interval of 1 min, Bluetooth® OFF), 7 days (Recording interval of 1 sec, Bluetooth® ON), 2 days (Recording interval of 0.1 sec, during real-time measurement with the LR8410)
Dimensions and mass
85 mm (3.35 in) W × 75 mm (2.95 in) H × 38 mm (1.50 in) D, 126 g (4.4 oz) (Not including the battery)
Included accessories
CD-R ×1 (Instruction Manual, Logger Utility, Wireless Logger Collector), Measurement Guide ×1, Caution for Using Radio Waves × 1, AA alkaline batteries (LR6) ×2
Countries and regions where wireless operation is currently supported (LR8515)
Last update: August 2022
| | |
| --- | --- |
| Countries and regions where wireless operation is currently supported | Australia, Austria, Bangladesh, Belgium, Bulgaria, Canada, Chile, China, Colombia, Croatia, Cyprus, Czech Republic, Denmark, Estonia, Finland, France, Georgia, Germany, Greece, Hong Kong, Hungary, Iceland, Indonesia, Ireland, Israel, Italy, Japan, Kenya, Latvia, Liechtenstein, Lithuania, Luxembourg, Macao, Malta, Myanmar, Netherlands, New Caledonia, New Zealand, Norway, Poland, Portugal, Romania, Saudi Arabia, Singapore, Slovakia, Slovenia, Spain, Sweden, Switzerland, Taiwan, Thailand, Turkey, United Kingdom, United States, Viet Nam |
| Note | Use of devices that emit radio radiation requires approval in the country of use. Thus, use of the instrument in a country or region where they have not been approved may be subject to penalty as a violation of law. |
Other options (2)

AC ADAPTER Z2003

MAGNETIC STRAP Z5004
For the PC (1)