Product Aug. 26, 2021HIOKI E.E. CORPORATION
Hioki Launches Digital Multimeter DT4261
The IEC61000-4-30 standards
Hioki is pleased to announce the Middle Model Digital Multimeter DT4261.
When the Wireless Adapter Z3210 is installed, Bluetooth® wireless communication is enabled. It will boost work efficiency in the field by entering your measured data directly into Excel templates. Furthermore, when using with the free GENNECT Cross mobile app, you can perform simple harmonic analysis.
KEY FEATURES
At present, Hioki has been expanding our lineup of on-site measuring instruments that support Bluetooth® wireless communication in order to streamline electrical equipment inspection performed by electricians and maintenance technicians. The increase of efficiency cuts the costs of these technicians, but in addition, in certain regions like the home country of Hioki, Japan, the aging population and decline of skilled technicians in the labor force has become an issue. Partly due to this market environment, we at Hioki have focused on improvement of work efficiency using IoT.
Features
1. One-touch design that makes it easy to attach and detach the sensor to CAN cables while retaining the previous model's performance
Non-contact CAN sensors require a power supply to operate. Whereas the previous model used either a 10 to 30 V DC power supply or an optional AC adapter, the SP7001-95 can operate on USB bus power. Since the device can be easily powered by the computer or Memory HiCorder being utilized to analyze data, it can be used anywhere.
2. Harmonic Measurement
When combined with the free GENNECT Cross mobile app, you can perform simple harmonic analysis. Applications for this function include harmonic measurement of power conditioners for solar systems and problem analysis of power supply systems.
3. Ensuring Safety through Mechanical Innovations for the Test Lead
Typically, technicians must be careful not to measure voltage while a test lead is plugged into the current terminal rather than the voltage. Otherwise the fuse to blow, ending in a fuse that needs to be replaced and lost man hours until the replacement. Hioki, however, solved this problem through innovation with the Middle Model Digital Multimeter DT4261. The multimeter's terminal shutters are linked to the instrument's rotary switch in way that blocks access to test lead terminals that aren't being used. This makes it physically impossible to insert test leads into the wrong terminal.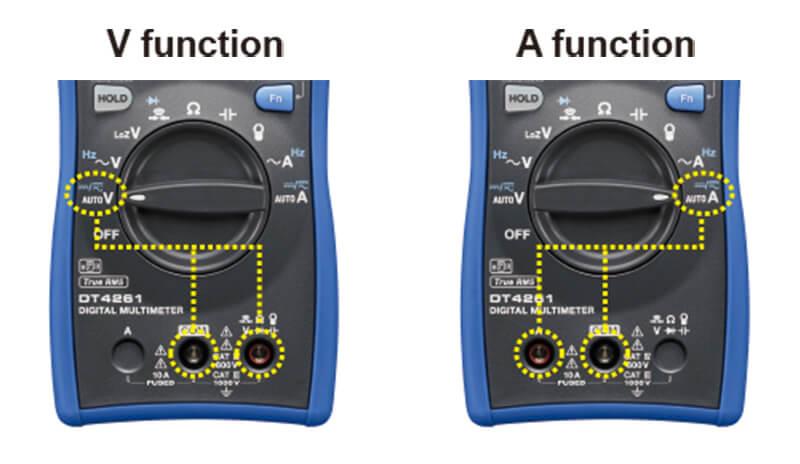 In addition, Hioki's new test lead now incorporates easily adjustable sleeve instead of a cap for greater convenience and safety. The design lets you change the measurement category simply by sliding the test lead's protective finger guard up or down and locking into place. This makes it easier than ever to measure safely, and as an added bonus, you no longer have to worry about losing caps.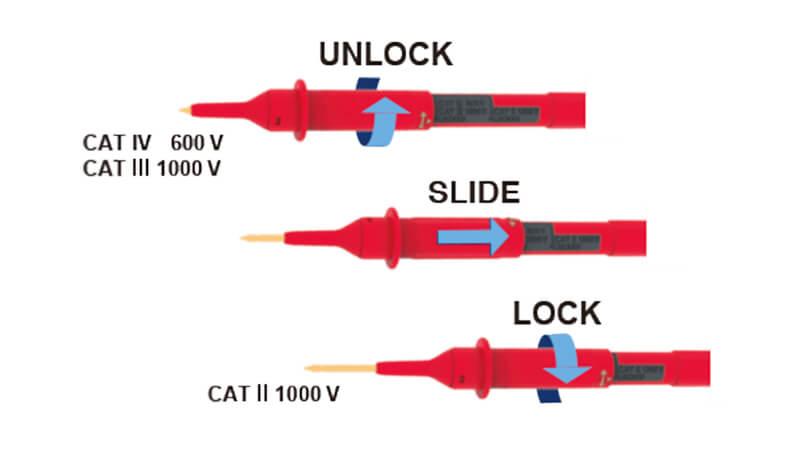 Main Uses
Electrical equipment maintenance, verification and troubleshooting in electrical work
Lineup
Digital Multimeter DT4261
Digital Multimeter DT4261-90 (set with Wireless Adapter Z3210)
Wireless Adapter Z3210: accessory
*

Company and product names used in this release are the trademarks or registered trademarks of their respective owners.
About HIOKI
Established in 1935, HIOKI E.E. CORPORATION (TSE: 6866) has grown to become a world leader in providing consistent delivery of test and measuring instruments through advanced design, manufacturing, and sales and services. By offering over 200 main products characterized by safety and quality while meeting an expansive range of applications, we aim to contribute to the efficiency and value of our customers' work in research and development, production and electrical maintenance. Hioki products and services are available around the world through our extensive network of subsidiaries and distributors. For more information, visit us at www.hioki.com.