Product Oct. 03, 2023
Extended offer until December 31, 2023: FREE Multimeter with every BT3554 Battery Tester
Updates : Oct. 13, 2023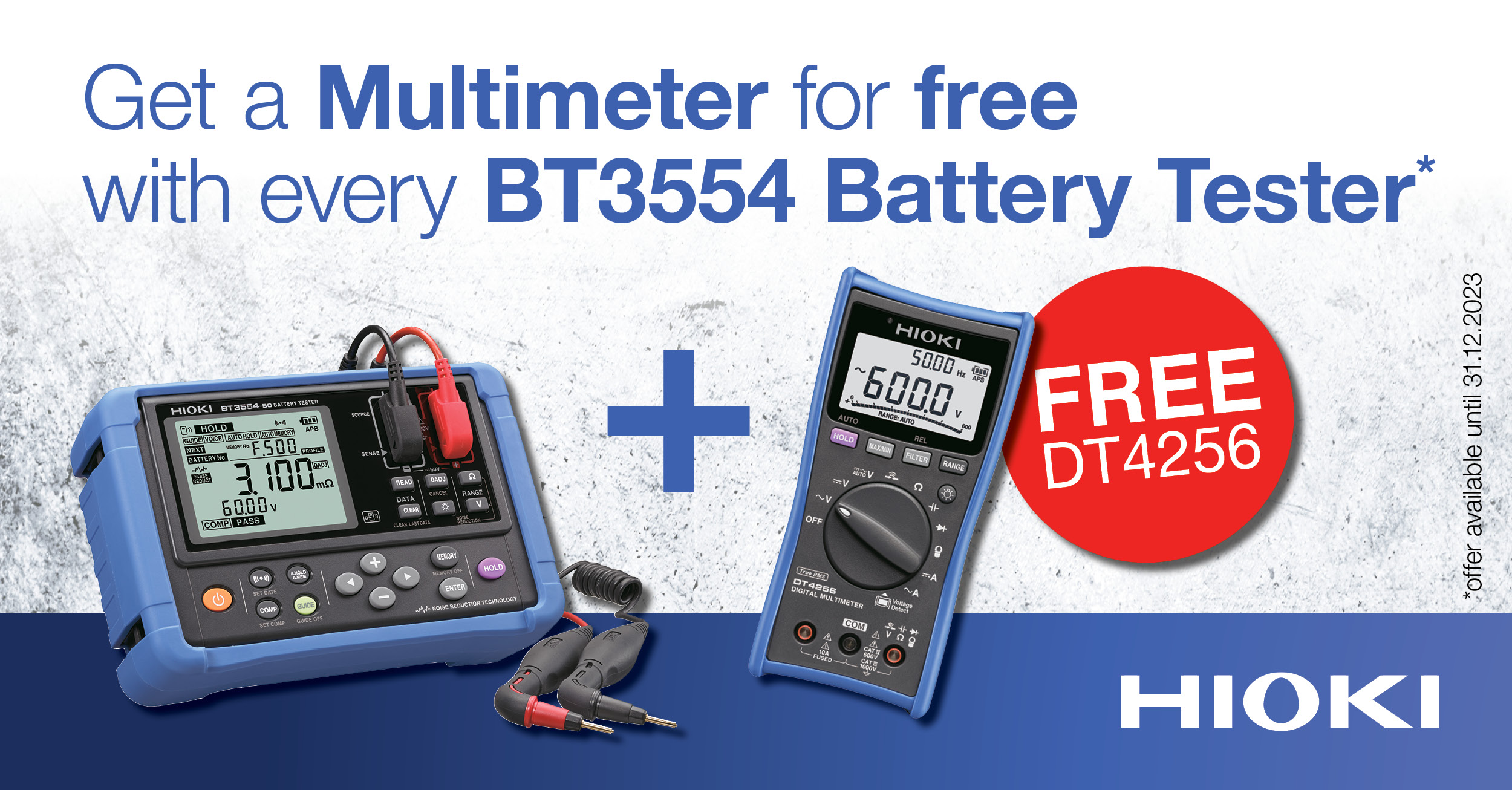 *Extended offer exclusive for Europe until 31.12.2023
Don't miss out on this limited time offer! Get HIOKI's most popular DMM free of charge when you buy HIOKI's de-facto standard BT3554 battery tester.
Whether you choose a model of the trusted BT3554 Battery Tester series with or without Bluetooth transmitter, and whether you choose a model including a straight probe (9465-10) or an L-shaped test probe (L2020), you'll receive a free HIOKI DT4256 digital multimeter with your purchase from one of our participating partners in Europe.
➡️ Austria: Universal Elektronik Import GmbH
➡️ BeNeLux: Batenburg Applied Technologies
➡️ Czech Republic & Slovakia: TESTOVACÍ TECHNIKA s.r.o.
➡️ Denmark: GOmeasure ApS
➡️ France: Equipements Scientifiques S.A.
➡️ Germany: CalPlus GmbH OR Elektronik-Kontor Messtechnik GmbH OR reichelt elektronic GmbH & Co. KG
➡️ Greece: NetScope Solutions S.A.
➡️ Italy: Asita S.r.l.
➡️ Poland: Labimed Electronics Sp. z o.o.
➡️ Portugal: Instrumonit
➡️ Slovenia: BELMET MI
➡️ Turkey: YTC Test Cihazları
➡️ UK & Ireland: MDL Technologies
➡️ All European countries: Premier Farnell Limited
OR Contact us for more information at hioki@hioki.eu
☝️ The BT3554 Battery Tester series perform complete measurements in less than 2 seconds and represetnt the de-facto standard for time-efficient battery maintenance checks. Two voltage ranges of 6V and 60V, four resistance ranges from 3mΩ to 3Ω make the BT3554 series the perfect tool VRLA battery testing regardless of the size and capacity.
Product information: >BT3554
☝️ The #DT4256 Digital Multimeter from HIOKI is a professional, 𝗵𝗶𝗴𝗵𝗹𝘆 𝘃𝗲𝗿𝘀𝗮𝘁𝗶𝗹𝗲 DMM with all AC and DC voltage types and current functions that you expect in this class.
Product information: >DT4256
*𝘰𝘧𝘧𝘦𝘳 𝘢𝘷𝘢𝘪𝘭𝘢𝘣𝘭𝘦 𝘶𝘯𝘵𝘪𝘭 31.12.2023 ❗