ARBITRARY WAVEFORM GENERATOR UNIT U8793
Output signals measured with a Memory HiCorder to simulate anomalous events for scenario testing
The Arbitrary Waveform Generator Unit U8793 is a plug-and-play module for the Hioki Memory HiCorder to create a function generator, arbitrary waveform generator, and waveform measurement in a single device.   Easily observe waveforms while varying test conditions, such as changing the signal's amplitude and frequency as well as programming various waveforms to output in order.


Key Features
Output arbitrary waveform signals up to 2 channels

Output problematic waveforms recorded with the Memory HiCorder up to 15 V

Output customized arbitrary waveforms signals up to 15 V

For use with Hioki Memory HiCorder series (cannot use with 8847 or MR8847)

Built-in function generator and sweep function

Isolated between unit and output, and between all channels
Model No. (Order Code)
| | |
| --- | --- |
| U8793 | For the MR8847A and similar products |
Note: This module must be used with the Memory HiCorder. Output cords are not included. Please purchase them separately.
Waveform Maker Software included
After you install the included SF8000 Waveform Maker software on your computer, you can create waveforms easily by either entering them directly or by entering the formulas behind them. You can also quickly add noise and multiply waveforms.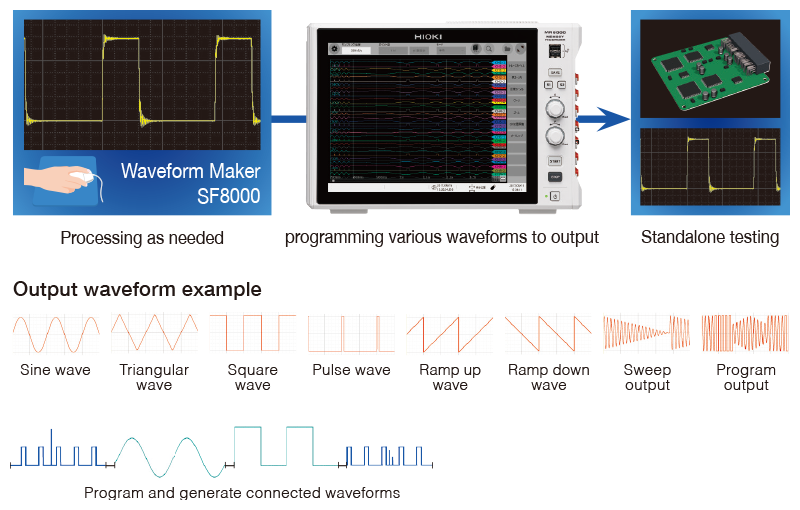 Anomaly Simulation
Reproduce and output the observed waveforms without modification. When resolving problems observed during research or development, you can reproduce such problems for efficient testing. For example, you could output actual waveforms recorded from a car without modification, and then use them for standalone testing. You can also generate isolated output of up to 15 V while varying the signal's amplitude and frequency without using a generator or amplifier, which is traditionally necessary. For example, you can create a power waveform such as power supply dips, instantaneous interruptions, and voltage fluctuations to use in an immunity test (to cause malfunctions in equipment caused by power supply harmonics).

List of Available Memory HiCorders
Please refer to the table here for the types of input units that can be used for each Memory HiCorder.
Basic specifications
Accuracy guaranteed: 1 year
Output terminal
Number of channels: 2, SMB terminal (Output impedance: 1 Ω or less)
Max. rated voltage to ground: 30 V rms AC or 60 V DC
Output voltage range
-10 V to 15 V (Amplitude setting range: 0 V to 20 V p-p, Setting resolution: 1 mV)
Max. output current
10 mA (Allowable load resistance: 1.5 kΩ or more)
Function generator
DC, Sine wave, Square wave, Pulse wave, Triangular wave, Ramp wave, Output frequency: 0 Hz to 100 kHz
Arbitrary waveform generator mode
Waveforms measured by MR8847A, etc., generated by Hioki Model 7075, PQ3198, or SF8000, CSV waveforms
D/A refresh rate: 2 MHz (using 16-bit D/A)
Sweep function
Frequency, Amplitude, Offset, Duty (Pulse only)
Program function
Max. 128 steps (Number of loops for each step, Number of total loops)
Other
Self-test function (Voltage), External input/output control
Dimensions and mass
106 mm (4.17 in) W × 19.8 mm (0.78 in) H × 196.5 mm (7.74 in) D, 250 g (8.8 oz)
Included accessories
None
Output cable (2)

CONNECTION CABLE L9795-01
Max. rated voltage to earth: 33 Vrms AC or 70 V DC, SMB to alligator clip, 1.5 m (4.92 ft) length

CONNECTION CABLE L9795-02
Max. rated voltage to earth: 33 Vrms AC or 70 V DC, SMB to BNC terminal, 1.5 m (4.92 ft) length
Use with these Products (3)
*Cannot use with 8847 or MR8847
* Main products are listed below. For more information, please see each product page.
---
Related Products