PHASE DETECTOR PD3129-10
Phase Rotation Meter with Easy-to-Read Arrow and Non-Metallic Contact Clips for 70 V to 1000 V Lines
Hioki's non-contact voltage detection and measurement technology places efficiency and safety as priority considerations with the goal of protecting customers that need to conduct on-site electrical work as part of renovations and expansions of manufacturing plants and buildings. Model PD3129-10 is a non-contact phase rotation meter that detects the phase of electrical current flow within insulated wires without using metallic contact voltage clips. The green arrow indicates normal phase, which can be useful for visual reports that document the proper completion of electrical work.

CAT IV 600 V, CAT III 1000 V


How to use the Hioki Phase Detector PD3129/PD3129-10
Introducing safe, contactless phase detection! This video introduces the Phase Detector PD3129/PD3129-10, which provides visual and aural notification of detection results.
Key Features
Simply clip clamps onto wire insulation

Green LED arrow clearly shows phase direction, perfect for visual reports

CAT III 1000V

Rotating LED indicator shows the phase sequence for a 3-phase power supply at a glance

Intermittent beeps signal positive phase; continuous tone signals reverse phase

Magnetic base allows the instrument to be secured on a distribution panel
Model No. (Order Code)
Easy-to-understand detection of normal phase with lit arrow
The arrow in the center of the instrument turns green to indicate normal phase. In this way, normal phase can be recognized at a glance. In addition, the arrow shows up clearly in photographs, making the PD3129 ideal for documenting proper installation in end-of-project reports.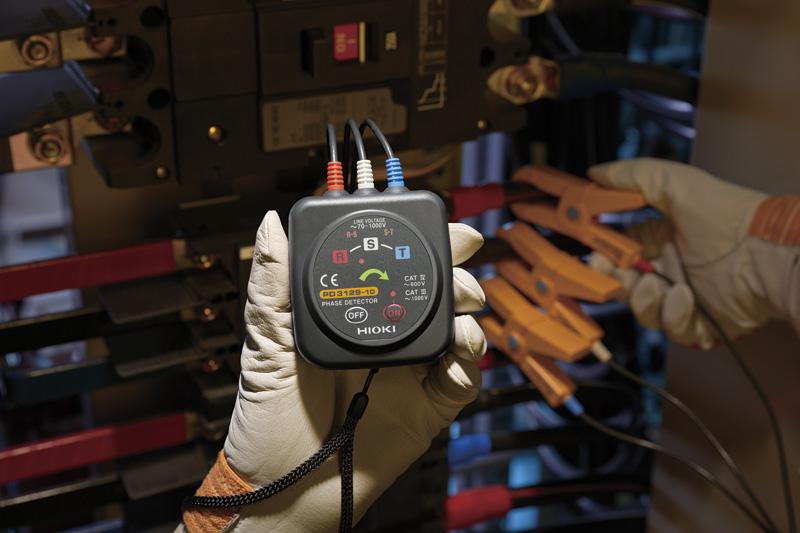 Safe, no-metal-contact design
The PD3129 uses no-metal-contact clips that need only be clipped to the outside of each insulated wire, allowing phase to be detected safely.
Magnetic back for maximum work efficiency
Four magnets on the back of the instrument allow it to be secured in place on distribution panels. By leaving your hands free for other tasks, this feature dramatically boosts work efficiency.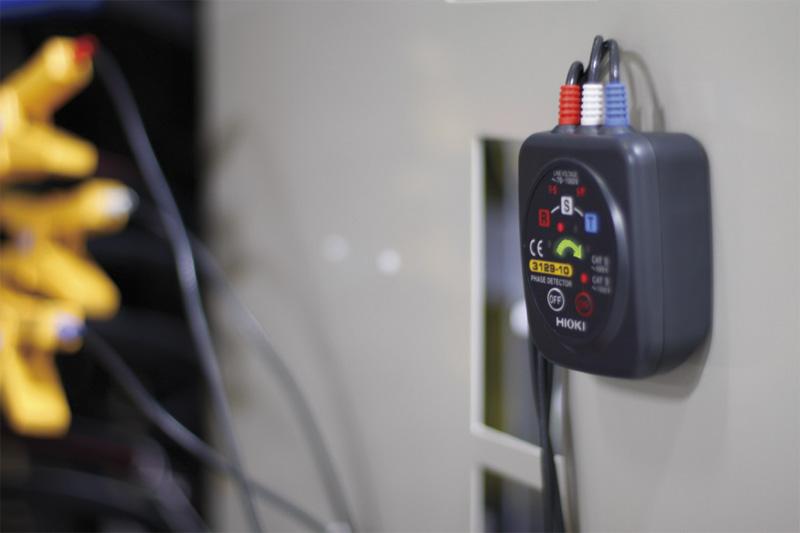 Basic specifications
Functions
Phase detection (positive and negative)
Voltage detection method
Static induction
Voltage range
70 to 1000 V AC (50/60 Hz) (sine wave, continuous input)
Frequency range
45 Hz to 66 Hz
Object to be connected
7 mm (0.28 in) to 40 mm (1.57 in) of insulated wiring
Display
Phase detection : Positive ; 4 LEDs lit in clockwise order and the buzzer sounds intermittently, green arrow lights up
Negative ; 4 LEDs lit in counterclockwise order and the buzzer sounds continuously
Battery check function
Power ON lamp: lights up (Power ON), blinks (Battery LOW)
Auto power off
Auto shut off if no activity is detected after power is turned ON for 15 minutes
Power supply
R6P (AA) manganese battery ×2, Continuous use: 70 hr
Dimensions and mass
70 mm (2.76 in)W × 75 mm (2.95 in)H × 30 mm (1.18 in)D, 240 g (8.5 oz), Cord length : 0.7 m (2.30 ft)
Included accessories
Carrying case ×1, Strap ×1, Spiral tube ×1, Instruction manual ×1, R6P (AA) manganese battery ×2
---
Related Products